Last year the news of an upcoming drama Trial which is based on political scenario of 1970's with the characters of Zulfiqar Ali Bhutto, Indira Gaandhi, Yahya Bakhtiyar and others was mentioned in press reports. As per the press reports in Ocotber 2014 the drama was shot in Lahore where Samina Peerzada is working as Indira Gaandhi, Qavi Khan as Yahya Bakhtyar and Adnan Jeelani as Zulfiqar Ali Bhutto.
There were no further news about this drama, till last week when the Urdu Weekly Akhbar-e-Jehan published the following picture of Samina Peerzada and Adnan Jeelani in the getup of Indira Gandhi and Zulfiqar Ali Bhutto respectively thus confirming such drama is in the making.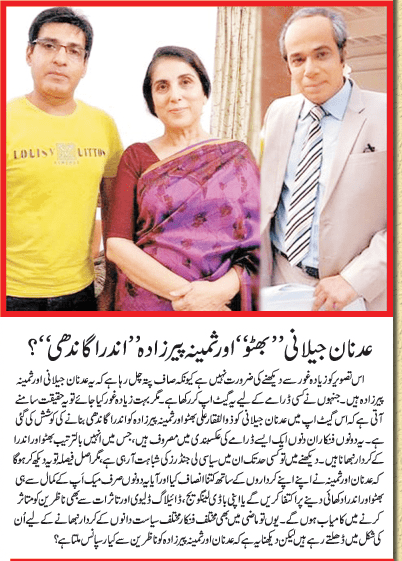 Here are the excerpts published in Urdu press in October – November 2014 about this drama. Apart from these excerpts no further information is available about this drama.
Rashid Nazir Ali