Thank God!! This is not going to be another one of those dramas in which the viewers have to witness not one but two dysfunctional marriages. The best part of this episode despite all the ghisse pitte saas bahu issues was the fact that the writer saved the viewers the trouble of watching another marriage on screen which was bound to be a failure. Ramish's character has been my favorite character right from the get-go. He is an unconventional person in a family of stereotypes who has some principles but he is not someone who will do anything and everything to please the people he loves. He holds his own likes and dislikes very dear to him which makes his character even more human and likeable. Although there are many times when Imran Abbas's acting isn't up-to-the-mark but Ramish Hassan's character has always been very logical and balanced. It is good to see a hero on screen who can take a stand for himself when it is needed with creating unnecessary drama.
Tum Kon Piya has to be one of those very few plays which is a mixture of clichés and some very pleasant surprises which are basically the reason why the viewers have reason to believe that while the writer banked largely on the good girl stuck in a bad situation scenario but she also made an effort to ensure that some of the characters and situations are brand new. Javeria's re-entry in Zarbab's life will give it a new twist. Also, Ramish's father now has a good reason to tackle this whole situation in a different way.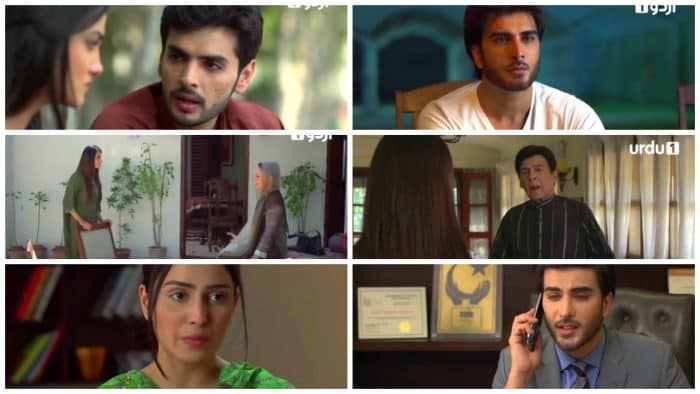 Arif's track is headed exactly where it was expected to go. If he really does end up working for Ramish then there will be constant contact between Ramish and Elma. I also like the way the relationship between Elma and Ramish has been shown after she got married. Unlike the most famous drama of the century Mann Mayal these interactions are more real. Although Elma still thinks of Ramish especially when she feels lonely or needs a friend to talk to but at the same time her efforts to make her marriage work are genuine. Also, Ramish truly does want Elma to be happy although he never wanted a life without her. His concern and love for Elma is genuine and he doesn't think he needs to intervene in her life unnecessarily in order to make her happy.
Zarbab seemed like a harmless person in the beginning. He was always shown as a coward who was scared of every woman in his life who was intimidating or dominating enough. Now that he has a wife like Elma who is neither intimidating nor dominating, he is the one who wants things his way. He knows that his mother makes sure Elma does not get the time to get ready before he comes home but he made an issue out of it tonight which went to show that he is a selfish person. Also, he is one of those people who can't always respect and love people who don't demand his love and respect with the sort of pressure tactics his mother uses and the ones Javeria used to use. Had he been married to Javeria he would have been a perfect husband. While I hate Zarbab's character I absolutely love the way Ali Abbas has translated this character on screen effortlessly.
Sharafat Begum has the same issues with his bahu in every episode and it seems highly unlikely that she will change. Unfortunately this character is clichéd to the core and one dimensional.
The fact that this drama is about much more than just Elma's journey makes it interesting enough. There are characters which are black and white like that of Elma and Sharaft Begum but there also those which have more to offer like that of Ramish and even Arif.
How many of you watched this latest episode? Do share your thoughts about it.
Fatima Awan