A Big Bang Entertainment (hang on – don't run off just yet!) production, Tum Yaad Aye has been on air for quite a few weeks now. Written by Naila Ansari and directed by Aabis Raza, Tum Yaad Aye airs on ARY Digital every Thursday at 9pm.
I began watching Tum Yaad Aye when it first aired and the first few episodes did not blow me away but then I binge watched a few of them together and it has caught my interest. There are a few things which bothered me about the play and I will mention them as I write.
So Tum Yaad Aye is the story of Zainab, mostly known as Zainy (Seher Afzal) and her two 'families'. We are first introduced to Yusuf Kamdan (Nadeem Baig) who is married to Mehtaab (Sania Saeed). Yusuf has two children from his first marriage, Nigaar (Erum Akhtar) and Sherry (Agha Ali). Through conversations we learn that he married Mehtaab when his first wife died and Mehtaab is not much older than Nigaar and Sherry which is why they refer to her as Baji. Mehtaab has a daughter Zainy from her first marriage.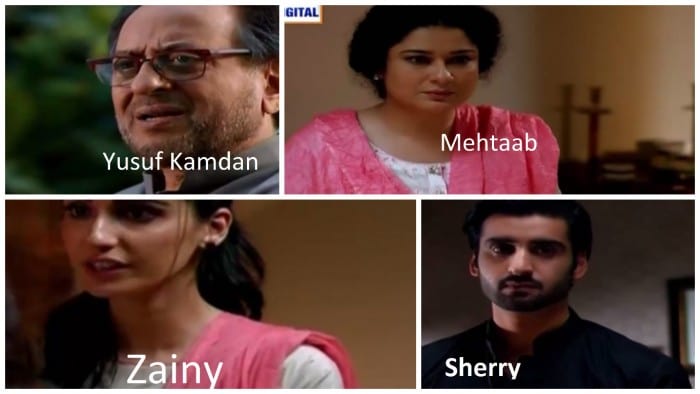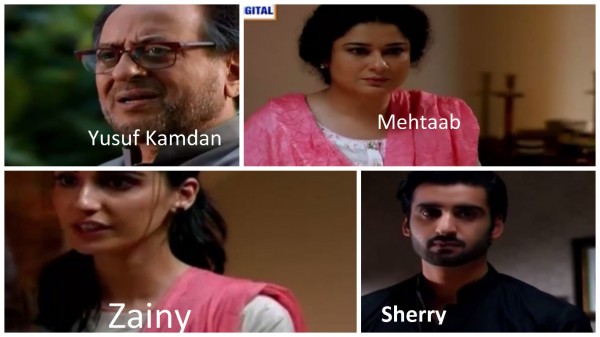 Yusuf loves Zainy like his own daughter – rather more than his own daughter. Sherry is shown to be the obedient, well behaved son who cares for Zainy and Mehtaab as if they truly are family. Nigaar is married and comes to stay at her father's house for a while enroute to Canada. Nigaar has never welcomed Mehtaab as her father's wife and resents her and Zainy's presence in their lives. Her son Sahir seems to be in love with Zainy and after a few 'tantrums' Zainy is engaged to be married to Sahir.
It was around this point that I seemed to lose interest in this drama. I was a bit wary of it from the first few episodes because of 'weirdness' of the relationships. If we are to speak from an Islamic point of view then yes, it is as clear as 'mehram' and 'non mehram' and that is that. But – and I only speak how I feel – the relations that were being moulded into something else seemed too close to comfort for me. Sherry has always thought of Zainy as his younger sister and Mehtaab plants the beginning of something new in his mind. Sahir is told Zainy is his khala and suddenly they are to be engaged. I know, in our culture we call cousins 'bhai' and next thing you know you are getting married to one of them and that is alright, but here I felt a bit uncomfortable. Also, Nigaar seemed as if she hated Zainy and suddenly she agrees to accept her as her daughter in law – huh?!
But that is just me and I am aware everyone has different opinions, which is fine. Anyways, what got me interested again was how thankfully Sherry's new love is not given too much attention and the introduction of Zainy's other family. Normally when a bunch of new characters are introduced after some five episodes of a drama, it throws me off as it did in Mun Mayal. I understand they are introduced as an essential part to the story but I feel so engrossed in the main story that the new characters dilute my interest. Tum Yaad Aye however made me feel differently.
Zainy comes across Mina at her college. Mina works as a librarian and recognizes Zainy and tells her she is her taaya's daughter. Zainy, intrigued to know more about her biological father goes home with Mina and meets her taayi, phuppo (Aisha Gul) and Mina's brother Ahmer (Muneeb Butt). With her engagement to Sahir broken, Zainy is 'free' again and romance begins to blossom between Ahmer and Zainy. Needless to say Mehtaab and Yusuf do not approve of Zainy meeting with her relatives but they feel they can not impose too many restrictions. The latest episode ended with Mehtaab and Yusuf learning of Zainy's love for Ahmer and they express their objection to the relationship but Zainy seems to be adamant she will marry Ahmer. I was aghast at her outrageous comment to Mehtaab when she says that Mehtaab herself has gotten married not once but twice and keeps standing in the way of her marriage!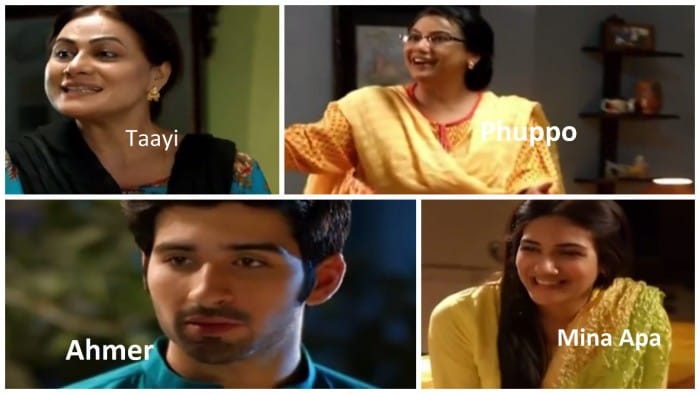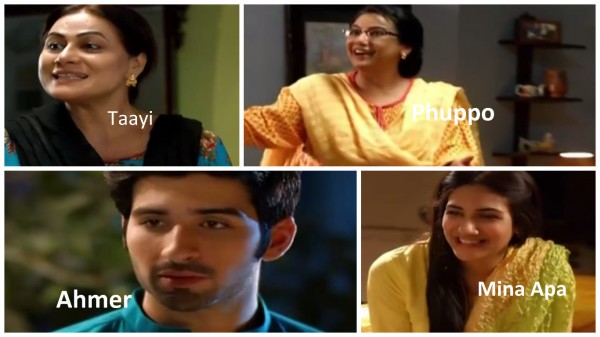 I understand Nigaar's attitude to Zainy would upset her but I do feel Zainy is a bit unreasonable. She has been so sheltered and pampered all her life otherwise that the slightest things cause her to flare up and be over sensitive. Yusuf and Sherry, the ones Zainy has spent most of her life with have done nothing but shower her with love and pampered her no end. So, for us to feel sympathy for her or for her to lash out at them is a bit out of line. I could understand the curiosity and desire though, for her to know who her father was and to spend time with his relatives especially as they are so welcoming.
Zainy's upset at the broken engagement seemed to do more with the loss of a house in Canada rather than the engagement itself. Also, she was at loggerheads with Ahmer one second and the next the way they suddenly seemed to be in love and openly expressing it seemed a bit unreal.
I do not seem to understand Sherry. When Mehtaab encourages him to think of Zainy from a marital point of view, he seems to be interested but his interest in her is at times just the way it was before and sometimes we see him 'wince in pain' such as when Zainy seems to fall in love with anyone but him! Yusuf Kamdan and Co are portrayed as well off, disciplined people who believe in rules and strictly adhering to them. I suppose that is also one reason Zainy is so attracted to her biological father's family because they seem to be full of life and the opposite of the people she grew up amongst.
Mina's conversations with Ahmer and the reference to the endless 'titlees' who keep ringing him make us feel that Ahmer is quite a flirt. Mina keeps telling him to stay away from Zainy so it appears she does have Zainy's best interests at heart. Ahmer was apparently very close to his chacha, Zainy's father so it would not appear that he would be stringing Zainy along but at this point I am not sure he is truly in love with her. Phuppo seems to be genuinely fond of Zainy too and with the exception of Ahmer and Mina's mother, the family does not seem to have anything on their mind except to get to know Zainy for she is their 'blood'.
We still do not know why Mehtaab is not fond of her first husband's family and why she has not let Zainy mingle with them or why they have not tried to meet her before now. Her father was apparently a producer and Ahmer is an actor so they have an artistic background, something Mehtaab refers to in a disdainful way in one of her conversations.
Seher Afzal has performed really well for a newbie. I am not sure if she has appeared in any other dramas before but this is the first time I have seen her in one. I do find her dressing a bit odd though (those waistcoats!)and initially thought it was because I do not live in Pakistan anymore and also am not very into the latest trends but then realized I have not seen such outfits in any of the other current dramas on air.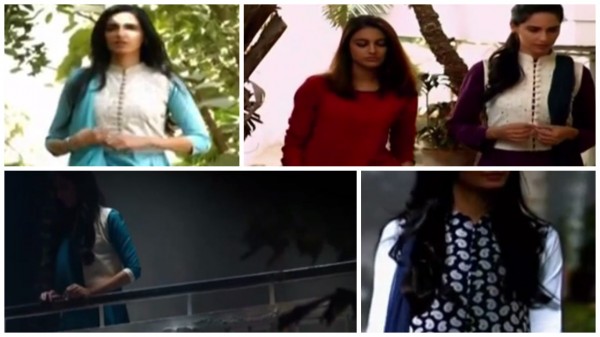 See what I mean? Anyways, Agha Ali has only improved with time and I will admit it is a visual treat to watch him in those shalwar kamiz suits haha. Muneeb Butt and Seher look really good together and all the actors and actresses in this play seem to share good chemistry.
Tum Yaad Aye so far is a decent watch and has become interesting after the introduction of the characters from Zainy's biological family. The story although not extraordinary is different and thankfully free from the typical doosri biwi, saas bahu tracks. It is essentially the story of how a young woman – who is not an angel and has personality flaws- explores different relationships in her life and longs to 'fit' in somewhere and I am enjoying it.
Well, it is obvious Yusuf and Mehtaab do not approve of Ahmer so will Zainy rebel and marry him instead? Or is this where Sherry steps in? How many of you have been watching Tum Yaad Aye and would be interested in a weekly review? Would love to hear your thoughts!
Kunwal Javid