A Big Bang Entertainment (hang on – don't run off just yet!) production, Tum Yaad Aye has been on air for quite a few weeks now. Written by Naila Ansari and directed by Aabis Raza, Tum Yaad Aye airs on ARY Digital every Thursday at 9pm.
I began watching Tum Yaad Aye when it first aired and the first few episodes did not blow me away but then I binge watched a few of them together and it has caught my interest. There are a few things which bothered me about the play and I will mention them as I write.
So Tum Yaad Aye is the story of Zainab, mostly known as Zainy (Seher Afzal) and her two 'families'. We are first introduced to Yusuf Kamdan (Nadeem Baig) who is married to Mehtaab (Sania Saeed). Yusuf has two children from his first marriage, Nigaar (Erum Akhtar) and Sherry (Agha Ali). Through conversations we learn that he married Mehtaab when his first wife died and Mehtaab is not much older than Nigaar and Sherry which is why they refer to her as Baji. Mehtaab has a daughter Zainy from her first marriage.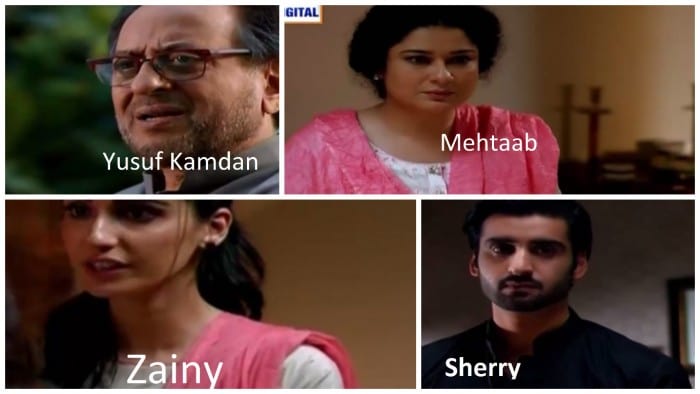 Yusuf loves Zainy like his own daughter – rather more than his own daughter. Sherry is shown to be the obedient, well behaved son who cares for Zainy and Mehtaab as if they truly are family. Nigaar is married and comes to stay at her father's house for a while enroute to Canada. Nigaar has never welcomed Mehtaab as her father's wife and resents her and Zainy's presence in their lives. Her son Sahir seems to be in love with Zainy and after a few 'tantrums' Zainy is engaged to be married to Sahir.
It was around this point that I seemed to lose interest in this drama. I was a bit wary of it from the first few episodes because of 'weirdness' of the relationships. If we are to speak from an Islamic point of view then yes, it is as clear as 'mehram' and 'non mehram' and that is that. But – and I only speak how I feel – the relations that were being moulded into something else seemed too close to comfort for me. Sherry has always thought of Zainy as his younger sister and Mehtaab plants the beginning of something new in his mind. Sahir is told Zainy is his khala and suddenly they are to be engaged. I know, in our culture we call cousins 'bhai' and next thing you know you are getting married to one of them and that is alright, but here I felt a bit uncomfortable. Also, Nigaar seemed as if she hated Zainy and suddenly she agrees to accept her as her daughter in law – huh?!
But that is just me and I am aware everyone has different opinions, which is fine. Anyways, what got me interested again was how thankfully Sherry's new love is not given too much attention and the introduction of Zainy's other family. Normally when a bunch of new characters are introduced after some five episodes of a drama, it throws me off as it did in Mun Mayal. I understand they are introduced as an essential part to the story but I feel so engrossed in the main story that the new characters dilute my interest. Tum Yaad Aye however made me feel differently.