I was glad to see on ARY's facebook page that this is the second last episode of the drama. Surprising as it is that it has managed to hold our interest past the 25 episode mark, it definitely is time for it to wrap up before the viewers begin to feel it is dragging. Today's episode showed the characters' lives move forward and not entirely how I may have predicted.
If Novera spent even half as much time working on her own marriage than she did worrying and trying to poke her nose into Zainy's marriage, she could have possibly made things work for herself and Sherry. Her smiling face when she offers to take Zainy shopping sent alarm bells ringing in my head and true to form, she did not disappoint as we learn she rang Ahmer to come and take Zainy home. Zainy is pregnant and Novera takes it upon herself to inform Ahmer. 'Shauhar tailormade nahin miltay. Mera shauhar tumharay leeyay utra tha, lekin mila mujhay'. How interesting. True, Zainy herself did not wish to be with Sherry but if Novera realized he really was not meant to be hers, then why 'sawaar' herself on Sherry's head?!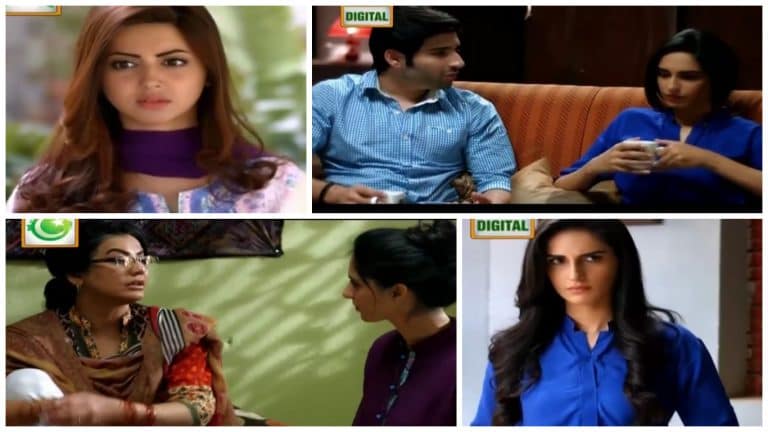 I am not sure if Sherry knew Novera rang Ahmer or had asked her to ring him but he was definitely on Team Novera when he spoke to Yusuf later about how the right thing for Zainy to do is to go back to Ahmer. Yusuf has always been very encouraging to the extent of being borderline pushy when it comes to Zainy's education but I do not think he was wrong to say that they could have waited a few days and let Zainy give her exams. But then later, when Zainy says to Ahmer that giving CSS is her father's dream, he was not entirely off the mark when he said she had not come to his house to fulfil her father's dreams. While I find he is wrong to forbid her to meet her father, I do think Zainy's stance about her exams, education and career is a bit off since these were things she had not discussed and come to a mutual agreement with Ahmer about before marriage and yes, we may say women have the right to do with that they want even if they are married but my personal opinion and the way our society is, makes me think that for Zainy to be so firm about giving these exams and the way she argues with Ahmer rather than rationally discussing it with him, when it was not something they had both mutually agreed on before is a bit out of line. Especially when she justifies it as something that her father wanted to do – the very father she yelled at and gave no respect to in front of Ahmer. But then Ahmer reacts to her attitude by going out of control and that just makes things worse. Anyhow, what Ahmer also said to her about how she could be a bit calm when he is angry and vice versa makes sense but probably not for these two for they are like two peas in a pod as far as maturity, anger and sense is concerned.
With Novera riling Ahmer up, he emotionally blackmails her into telling Yusuf she will not be meeting him again. His reply to her was very sweet and emotional. It was probably what she needed to hear and we see Zainy moving on with her life with Ahmer. We see a different side to Ahmer now where he thinks nothing of using his wife's beauty to his advantage like when he tries to convince her to act in the Ruby Soap commercial. ' Meray dil ki awaz Ruby Soap' what a tagline, LOL! No wonder Zainy said no, although the reasons she cited were obviously different! Aslam Sleazeball/Sb tells Zainy that Ahmer has committed on her behalf to act in his upcoming serial and has also taken an advance off him. He sends Ahmer away on the pretence of checking out a location for a shoot and while Ahmer later swears he did not know of Aslam's intentions, I am still unclear about the advance. Did he commit and take the advance or was that also a fabrication on Aslam's part?