Oh well, just imagine the amount of torture I must've went through by putting an amazing Korean drama on hold to watch this crap in order to review it. I am sure the whole not-so-creative team behind this project must be having a celebratory party in order to enjoy their success at torturing people to the core! I must say, hats off to the producers, the director, the writer & the actors for working on such a pathetic serial & also for proving their dhitai by stretching this hideous hideous hideous drama till 20 episodes!!!
I think what Naani did should serve as a lesson to Samra as well as other parents that smartphones shouldn't be handed over to their kids & definitely not in such a case where your kid is more pakka than it is required for him/her to be. I guess Samra told her daughter off but in stead, she chose to call Rania Aunty to submit the report of the day. Also, it was hilarious that after Naani did her work, Samra then realized that she had to snatch her phone away from her daughter. Like seriously!!! Also, Rania thinks it is Naani who needs love & attention, that's why she thought it was her duty to remind Samra that she should do all that for her daughter but I pity Rania for sympathizing with the wrong person over there because in Samra Naani duo, it is Samra who yearns for love & attention, that is why she was arranging some of it for herself using her Aazar Bhai!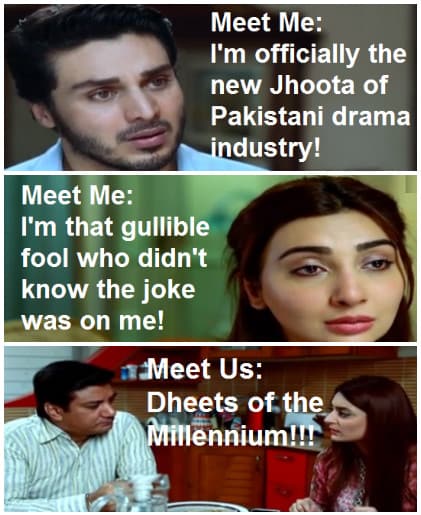 It is so funny that Aazar hit a jackpot where Rania herself allowed him to be with his new found love Samra, but just because he didn't want to show the amount of laddu that were phooto-fying in his heart, he put up a GREAT act in front of his Biwi # 1 that this is something that he doesn't want. The 10kgs of pain along with the makeup that Aazar carried on his face made him look like such a big loser & also a liar because he was lying about his true feelings. What has transpired between Samra & Aazar isn't a secret anymore, so it is amusing to hear him say that he doesn't want to be with Samra & that he only wants to give her some time so that Samra gets emotionally prepared for the divorce. I hate the way Aazar is trying to make himself look like a masoom gugu who doesn't know what life is all about whereas each & everything is working in his favor.
I had a great time watching Rania giving lectures & lessons about life, sincerity, compassion to Aazar while being completely oblivious of the fact that both Aazar & Samra played a joke on her while she was away. Rania felt guilty for harbouring grudges & ill feelings towards Samra but little does she know that Samra isn't sooo bechari & masoom to begin with because Aazar is not her Bhai anymore & that relationship status has been upgraded long time ago!!!
The word Faisla was used so much that I felt like packing them all in a carton & ship them to Faislabad!!! Bara hi koi FAISLA kar liya hai jee Rania bibi ne!!! I swear, I really hope that these guys know how pathetic they look by trying to insert emotions & feelings & seriousness in such a pathetic script. So, Rania being all philosopical & pious believes that Samra needs Aazar's support & Aazar is not the first person in the world to have married twice. Samra also went on a NO NO spree where she kept on insisting that she doesn't want to be with Aazar Bhai, whereas her lungs & heart were screaming YAAASSSSS at the opportunity that knocked at her door!!!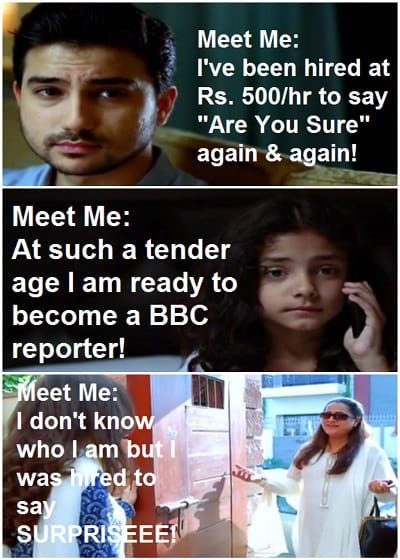 Also, I am amazed that the Aunty who made such a dhamakedaar entry is someone I'm still wondering about. Who is she by the way? Because now when the episode has ended, I still haven't figured that out, lol!!! Also, Tania & Baber struck again with their miserable-selves. It was hilarious to see them fighting over Rania & Aazar's situation & discussing ifs & buts, as if what they say is only something that Rania & Aazar follow, so that is why they were brainstorming to come up with a solution that is so not needed!!! Rania & Aazar have both told them off a million times that they should stop interfering in their lives but they don't seem to register the loud & clear message in their empty heads! I believe if in terms of Dhitai, there's someone that will conitnue the legacy of this team, it would be either Tania & Baber or rather Babbar Sher! Also, the whole emotional speech that Tania delivered in front of her Bhai Jaan to show how much she wants him to be happy with Rania & Daada seemed so forced because she has hated Rania to the core & now to see her lying about what Rania's happiness means to her makes her look jhooti!
This drama is past the tolerance stage & I think they should end this crap ASAP. The writer should be ashamed for coming up with such a hideous drama & all these actors should be ashamed to have worked on it & also, the admins at HUM should be ashamed too for putting this crap at a Friday night slot. Pleaseeeeee end it ASAP & please guys, share your thoughts!
Keep Supporting,
Cheers,
Zahra Mirza.