Directed by Fahim Burney, co-produced by Hammad Abbas and A&F Productions, and written by Fareeda Masroor and Adison Idrees Maseeh, HUM TV's recent offering, Tumhari Natasha airs every Friday at 9:10 p.m.
Partly shot in Dubai, Fahim Burney's signature picture quality, and with Sohaye Ali Abro and Azfar Rehman playing the leads– one glance at the promos, and you didn't have to be a genius to figure out that that it's Fahim Burney's show! Having watched Khoya Khoya Chaand, Yahan Pyar Nahe Hai and Tanhai, I had prepared myself for some over the top situations and clichéd plot twists. It's definitely not a meaty story and has its share of shortcomings, but if you have a penchant for lighthearted stuff, Tumhari Natasha may be your cup of tea.
The story revolves around Natasha (Sohaye Ali Abro) – a self-assured, blunt and lively young woman. Natasha may have all the material luxuries at her disposal, but she doesn't have a perfect family. Her bickering parents, Afnan (Waseem Abbas) and Durr-e-Shahwar (Saba Hameed) have come to a parting of the ways. Afnan and Shahwar could never get along because of their contrasting personalities. Shahwar's a working lady who never got her priorities straight. She always stood aloof from her daughter because her career has always been her first priority. Afnan, on the other hand, proved to be a dutiful father, and showered Natasha with all his love and affection. Since Shahwar was never there for Natasha, Aani, the housemaid, took on the motherly duties. As a result, Natasha dotes on her father and Aani, but has a strained relationship with her mother. Natasha doesn't have much of a problem with her parents' divorce because she believes, and rightly so, that her parents were never together in the real sense so their separation was inevitable. After the divorce, Natasha wishes to live with her father, but Afnan plans on flying to America, where his dusri biwi, Shah Bano needs his care and support because she is a cancer patient. The way Natasha puts it, her father used to be a good, compromising husband, but her mother never saw him as an important part of her life. Seeing her mother's indifference, Natasha herself encouraged her father to go for dusri shadi! I have to say that I don't like how our dramas always show working mothers in a bad light. There are working women who know how to maintain a healthy balance between their professional life and personal life so what's with these stereotypes?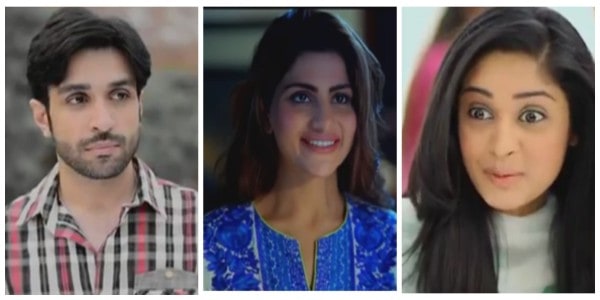 Natasha's family life may be troubled, but her friends are sincere and caring. She confides in her best friend, Sumbal, and the two are so close that Sumbal's entire family knows Natasha very well and Natasha visits them very often. Shahwar doesn't approve of Natasha's frequent visits because she looks down upon Sumbal's class and background. I understand that the dastarkhuwan pay beth kay daal chawal khanay wala fiasco was meant to convey how appallingly low Shahwar's mentality is, but I do feel that it could've been avoided. In sharp contrast to Natasha's unhappy and tension filled home environment, Sumbal's family is picture perfect. They may not be as well-off as Natasha, but they love each other to bits, and are genuinely concerned about one another. Natasha admires Sumbal's family for their strong bonding and longs for the same khuloos and muhabbat. Sumbal's brother, Ahmar (Azfar Rehman) is in love with Natasha, but he cannot muster up the courage to confess his love because of Natasha's social class and the glaring difference between their family backgrounds.
Natasha's other friend, Kaif (Farhan A. Malhi) is in love with her and has proposed to her, but as much as Natasha likes him 'as a friend', she doesn't harbour any special feelings for him. Natasha believes that Kaif's proposal has affected their friendship which is why she no longer feels comfortable when he's around. Natasha repeatedly says that Kaif is her best friend, but from what little we've seen, I didn't quite get the feeling that they were 'best' friends at any point.
Natasha is upfront about her views on love and marriage. Since she never saw her parents getting along with each other, she thinks that marriage itself is a mistake. She doesn't quite believe in love, to which her friend remarks, 'jin ko muhabbat pay yaqeen nahe hota, unhain hi muhabbat hojati.' Well, I guess we can see where this is going. Unfortunately though, Natasha's dad has got some other plans. He wants Natasha to come with him to America, and if she refuses, he wants her to agree to his nephew, Arsalan's proposal. Natasha doesn't want to go to America, and she most certainly doesn't like Arsalan, but she feels that saying yes to Arsalan's proposal is the only way her father would allow her to stay in Pakistan. Natasha gets engaged to her cousin, but tells her father that she won't marry Arsalan before finishing her university and her father agrees, unaware of the fact that this is a sham engagement and Natasha doesn't plan on marrying Arsalan at all. Natasha plans to break off the engagement when the time for marriage approaches. Natasha doesn't seem to be thinking straight and her plans are obviously very irrational but the way she puts it, mein planning pay believe nahe karti, bus jo dil mein aata hai karleti hun. Aur kuch agar koi problem hobhi jaye tou baad mein fix hojaega. Umm, Geet from Jab We Met, anyone?
You'd think that Arsalan too joins the list of Natasha's admirers, but thankfully, he is not interested in Natasha at all, in fact, he's a married man! Arsalan's father doesn't have the best of intentions and he coerced his son into getting engaged to Natasha for the sake of property and jaidad. Natasha's mother may be wrong about a lot of things, but her opposition to this engagement made perfect sense to me because she seems to have an idea about how greedy Afnan's brother is.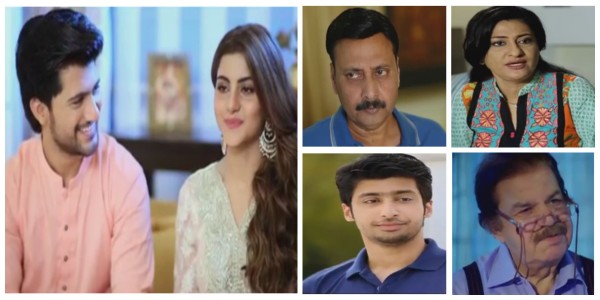 I think Waseem Abbas and Saba Hameed don't even have to make an effort to slide into their roles because they are always given the same dialogues in almost every project that comes their way! Waseem Abbas is not playing the cruel daddy again so that's a relief, but he's playing the disgruntled husband! I don't seem to get Natasha's father because on the one hand, he's parting ways with his wife that too when he has a jawaan daughter, and he also has his dusri biwi waiting for him in America, but on the other, he refuses to give his daughter the liberty to decide who she should get married to. He blindly trusts his brother and nephew so he believes that only Arsalan would prove to be a good husband to Natasha.
Natasha gets to meet Sumbal's neighbor, Qadri Sahab (Qazi Wajid), an elderly man known for foreseeing the future. Qadri Sahab tells Natasha that there is someone who loves her and genuinely cares about her, and it is with him that Natasha will find true happiness. Natasha begins to think it's Kaif who really loves her, and though she insists that the two are and should remain just friends, she tells Kaif that if she ever thinks about marrying someone, it'd be him. At this point, Natasha doesn't have feelings for anyone, but I'm sure that most of us are rooting for Natasha and Ahmar because not only does Ahmar seem very genuine and decent but Sohaye Ali and Azfar Rehman look really cute together.
Anaya Tumhari Hui, Tumhari Natasha etc – am I the only one who finds such titles a little cheesy?
I have no issues with the pace and I hope things don't get stagnant. The actors do seem comfortable playing the roles they have been given. There is no heavy-duty stuff, and I am not watching Tumhari Natasha to be blown away by the story, direction or the performances. I am watching Tumhari Natasha because sometimes I feel like watching dramas I don't have to take very seriously.
How many of you are following Tumhari Natasha? What do you think of these two episodes? Voice your views!
Maryam Mehdi