This episode covered all the tracks in the story flawlessly. Imtiaz's true nature was revealed in this episode and it seemed like he got married to Sajida because he wanted easy access to all the young girls who were constantly in contact with Sajida and not just his little girl. This drama has rightly shown the true depiction of  these monsters who can very often appear to be decent human beings. They are the sort of people who are trusted by especially those who are directly related to the girls they molest. It is a known fact that most of the times child abusers are people who are family members or close relatives/friends who are trusted blindly with these children. Even though Imtiaz's expressions and his reaction said a great deal about his intentions when Sajida walked in the house but even then she did not suspect him for a second. Mothers always try their best to keep their children away from people they feel they won't be safe with but very often the people they trust their children with the most tend to be the ones who harm them.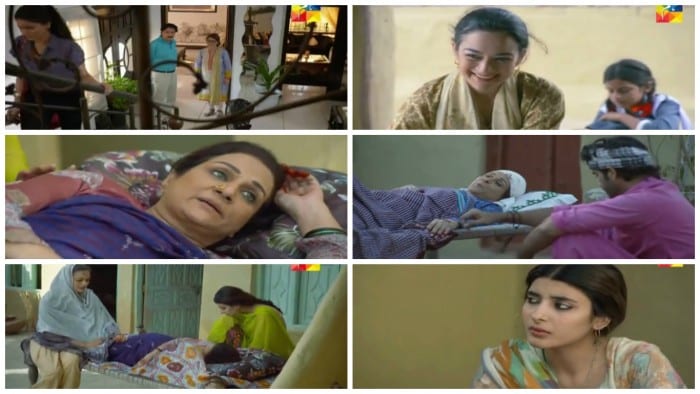 Imtiaz tried to win Meeran over so that she would start trusting him and at some point he will get a chance to do what he wants to do but it was good to see Meeran not accepting the mobile phone from him. This marriage has given Imtiaz the certificate to do what he was seen doing in tonight's episode otherwise Sajida would have never left Zebu with him and Sheedan would never have sent Meeran to his house to get sugar. He is a 'khalu' and 'aba' now therefore Sheedan does not feel threatened from him. I have said this before but I feel the need to say it over and over again that sadly it wasn't the least bit shocking to watch Imtiaz's true colors since we already knew what his character was like. The only shocking bit was that he had the guts to think that he can get away with doing something like this to Meeran since Zebu might be a little girl who can be forced into stay quiet but Meeran most certainly won't do that. Ahsan Khan is superb in this character and Sammiya Mumtaz is equally convincing as the mother who thinks she can trust this man blindly. Sajida thinks she has found the perfect man and has no idea what this man is capable of doing. This is only the second time in his entire career that Ahsan Khan has taken up a role like this and according to him he took it up because this drama will create awareness among people. He feels that people should take action against child abuse and not overlook it.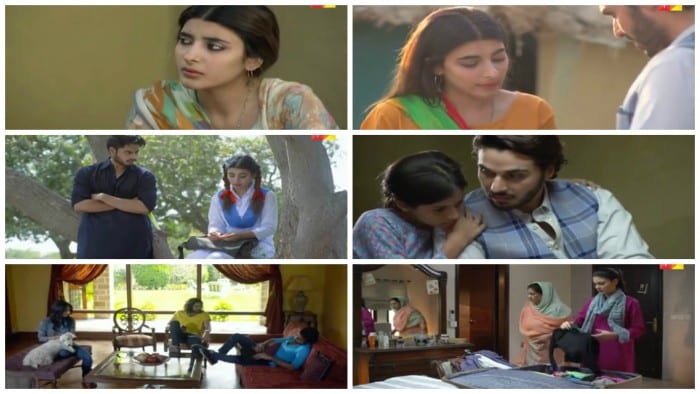 This episode showed a completely different side of Sheedan; she has not been able to bounce back after her husband's death. Sheedan refused to sing because she is depressed and also sick. The situation in her house gets from bad to worse because Meeran is not willing to sing either. I liked the way this whole track was covered, there wasn't excessive rona dhona. Although Sheedan was always the one running the house but her husband was her support. The love between them was highlighted right from the first episode. Bushra Ansari owns her character, she has covered all the different aspects of Sheedan's personality brilliantly. The actor playing the role of mamu is also doing a superb job. Urwa Hocane is also doing complete justice to her character but her make-up really needed to be toned down.
The inevitable happened in tonight's episode – Farwa's mother has finally decided to send her away to another city which means she can no longer be part of the band. Arsh's reaction to this latest development was covered well. He was worried about Farwa at first but once they were selected for the auditions, he was more worried about his band. Am I the only one who finds the actress playing Farwa's mother's role a bit overboard? So much so that I find her funny at times because she seems to be trying too hard. Rest of the actors in this track fit their respective characters perfectly.
Everything about this play so far is great; the script, the direction and the acting but unfortunately the make-up is not up to the mark. A director like Mohammed Ehteshamuddin could certainly have guided the make-up artist if he was a newbie. Meeran looks too white at times, she looks like snow white with that white face and those red ribbons in her braids. Zebu's make-up also looks too artificial at times. This drama sends out a loud and clear message to all the parents out there who think that they can trust someone who looks very decent and loving on the surface with their children. I hope that it will also show how the victims of child abuse can get justice and for once the viewers would like to see the abuser getting punished and not getting shot in the end!
How many of you watched this latest installment? Do share your thoughts about it. If you missed it, watch it on http://www.dramasonline.com
Fatima Awan
Top Trending Video