This episode was thoroughly entertaining and I am really enjoying the recent shift in the story and different changes in the characters. It is definitely time to tune into this drama once again especially for those people who might have stopped watching it after watching the initial episodes. Zaid and Naina's track has taken centre stage and the recent developments have been fast paced as well as interesting. Zaid and Naina both have "gained" something from an experience which initially left them bewildered and upset. Naina has learned that money is not everything, she is quite happy with the love and trust she is getting. Therefore she is doing everything she can to give some love back. She has no idea that Zaid is taking money from her mother therefore she thinks that Zaid has perhaps changed a little. She has also been shown as someone who appreciates every little thing someone does for her and is completely different from Zaid who is selfish and thankless. The shift is Naina's personality is likeable as well as convincing. This change did not come overnight and considering how "insecure" her father always was, it is easy to understand why this new-found trust would give her the courage and confidence to see something positive in an otherwise bleak situation.
Zaid is a selfish and greedy man who is making the most of this opportunity. Right now, even though Naina has changed so much Zaid is not interested in her at all. He notices the changes in her but unlike Naina he fails to see anything positive. He is thoroughly enjoying the fact that he is getting monetary help from Naina's mother but he is so insensitive that he is using the car given to him to give other girls free rides. Naina and his sister still use public transport or walk back home! Until last week I didn't feel the need to judge Zaid's character because he came across as amusing but tonight I definitely felt for Naina. Zaid is cheating on her in so many different ways and he does not even pause for a second to think about how unfair he is being! Sami Khan has translated the character of a self-centered man who has hit a jackpot brilliantly. His expressions and dialogue delivery is always on point and effortless. Madiha Imam is extremely likeable in this role. She has done complete justice to her character and after this episode, I am dreading the fact that she will eventually find out what is going on and she will be heart broken.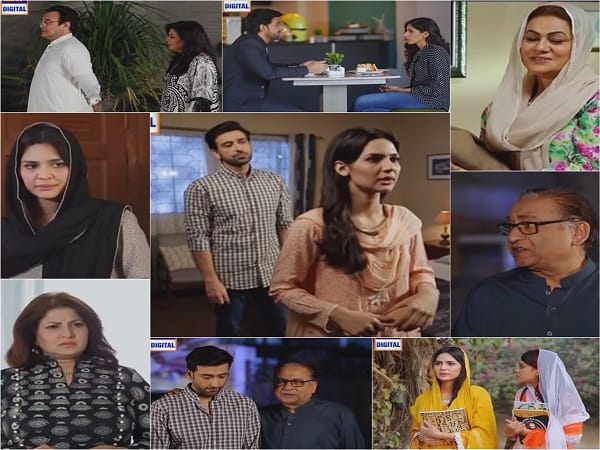 The change in Fayyaz and Nawaz's character is another interesting development. Although the actor playing Nawaz's role completely killed the affect those dialogues could have had but the writer managed to get the message across. Nawaz has finally forgiven Fayaz which means that eventually both these families will meet at some point. Fayaz has also partially forgiven Naina and tried to help Zaid's father today. Zaid's father is completely different from his son – sometimes you wonder who Zaid took after! Zaid's father deserves tons of credit for giving Naina the confidence because of which she has undergone a complete change. Zaid and Naina's scenes continue to be the best part of this drama. Naina's efforts to get closer to Zaid's family are also heart-warming.
In the preview of the next episode Arham was shown trying to get in touch with Zaid. It looked like Zaid will try to get closer to Naina now because perhaps he feels Naina might leave him if Arham comes back. Right now, the story has tons of potential and there is so much to look forward to. If this drama had better production values and the supporting cast was better, it could have been more visually pleasing as well.