Tonight's episode of Woh Mera Dil Tha showed how everyone felt about Zaid and Naina's sudden nikkah once they were out of the initial shock. Zaid and Naina crossed paths for the first time after the nikkah took place and this interaction wasn't different from many other conversations they had earlier when they didn't have a clue that they might end up being with each other in this capacity. The flashback scenes showed how Zaid was dreading spending the rest of his life with a woman he didn't even like and Naina felt like a complete misfit in this new house for obvious reasons. While everyone else is not willing to accept this marriage, Zaid's father is the only one who thinks that life should get back to normal. Zaid's father is turning out to be a likeable character who is kind and practical. His reaction when Naina's father and his boss proposed that he should move to the other office came as a complete surprise. He is the only person who believes that Naina deserves respect even though this marriage didn't take place the way he hoped it would.
Zaid can easily be termed as a flirt and a charmer who simply couldn't care less how these women who he flirts with feel when he walks out on them. The scene in the office also showed that he won't think twice before using a woman who likes her for his own advantage. He is a free bird who is suddenly in a situation which demands being responsible and committed. Naina too is used to living a very different life and will very soon have to live with someone she always disliked. How will these two people who cannot stand each other end up falling for one another? Finding out how this eventually happens has to be the biggest attraction right now. Sami Khan and Madiha Imam's performances have been spot on right from the get-go. Zaid's selfishness and reckless behaviour is often amusing because of the way it has been translated on screen!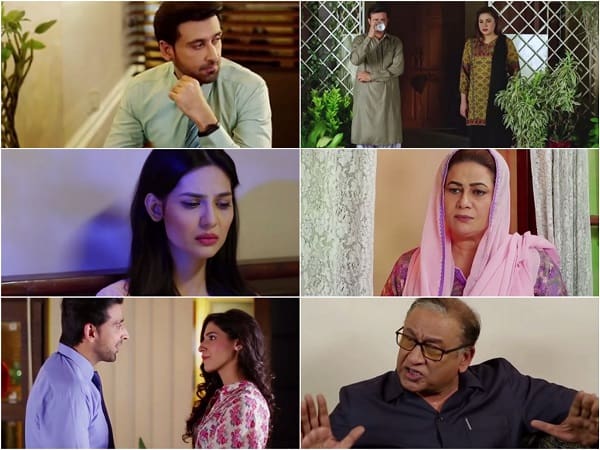 It was good to see Naina's mother trying to get through to her even after all the warnings. We have seen plenty of dramas in which the mothers forget they have a daughter the second they get such a threat! Arham's parents' conversation was an important part of this episode but the actor playing Arham's father's role is not the least bit impressive. With a better supporting cast, this drama could have been more pleasing. Zaid and Naina are the main attractions of this play, they keep on giving you something to look forward to. Their track has tons of potential therefore I am waiting for the time when Naina will finally move in with Zaid and there will be more focus on them.
How many of you watched tonight's episode? Do share your thoughts about it.