Tonight's episode of Zun Mureed had plenty of important and unexpected developments to its credit. Just like every other episode of this drama, this one too showed bitter realities of our society and showed that so-called educated and affluent men were just as capable of hitting their wives as those people who do not know better. It also highlighted the fact that one of the major reasons why most women put up with abuse is that they have no one to turn to! In a society where men are considered superior beings and custodians, it is truly ironic that when these men fail to fulfill their responsibilities, there is hardly anyone who holds them accountable. This episode also showed what kind of men were dead against the Women's Protection Bill and why. Once again, the writer intelligently explained that a man who hits his wife once is bound to do it again by showing the example of the school principal who put up with domestic abuse for the longest time.
Tonight's episode opened with Maryam and her husband discussing the usual problems they face running Sajjad's house and their thoughts on the Women's Protection Bill. The dialogues as usual were extremely well-written and delivered. Maryam's husband is supportive and it is almost as if he has no family or life of his own. Even though she has the perfect married life but she couldn't see another woman, who also happened to be her bhabhi, happy! All these characters and situations are highly relatable since having two different sets of standards and principles for your own self and for others is quite common in our society. Hina Bayat and Khalid Anum's performances have been faultless throughout which is a big reason why it is always easy connecting to their characters.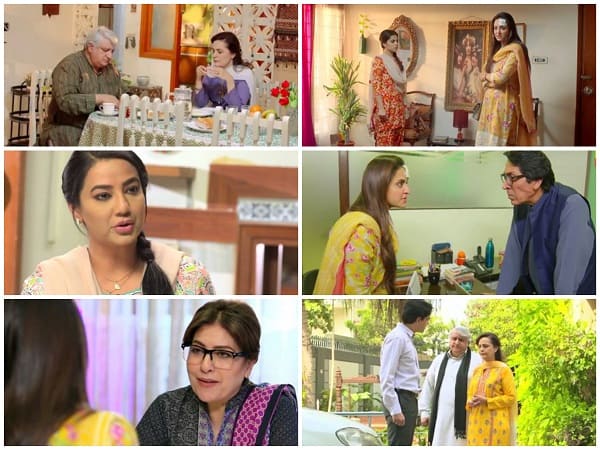 Tabbasum decided she needed to go back to work after her brother's warning. I really like the fact that even though Tabbasum has been through so much but she has never been shown as a victim. Instead of mulling over what her brother said, she decided to do something about the situation. Unlike many other dramas which are bent on making women in such situation the ultimate becharis, this one shows a woman who refuses to be a bechari even though she has very little support. It is also good that Tabbasum has some support in the house, Fariha does whatever she can to help. Tabbasum's encounter with Jamil sahab and later on her meeting with his ex-wife have given a different turn to this story. I am waiting to see how this latest development will affect Tabbasum's track.
Tabbasum's bhabhi got a lot of screen time in this episode as well. All her scenes showed how her constant bickering and brain washing was making it difficult for Tabbasum to live in the house. Tabbasum's brother only wants the kids to go back to their father's house because of the stories his wife told him. Tabbasum does not entertain disrespect and abuse but at the same time she misses her husband and even though she knows that she also has a share in the house, she is letting her brother stay in it. Even when Sajjad wanted her to ask for her share, she didn't entertain that thought. Tabbasum is a strong woman but she is also someone who will compromise to make her relationships work. She is someone who chooses her battles wisely and fights them with all her might. She is definitely one of the finest women leads we have seen in recent times in our dramas.
How many of you watched tonight's episode? Do share your thoughts about it.