A new episode of Woh Mera Dil Tha finally aired this week! ARY constantly keeps on changing the timings of their dramas which can be terribly annoying especially for those viewers who watch these dramas when they air on television! Thankfully this latest episode aired before we forgot all about what happened in the previous few episodes!
This latest episode opened with Zaid flirting with an ex-girlfriend Sonia because that was the only way he was going to get a job. By the end of this episode however, Saba completely ruined his plans and it looks like Zaid will have to work hard to find a job now. For the first time Zaid's father said something good about him when he was telling his other son off for asking for money all the time. Apparently, Zaid isn't as "useless" as he looks and he is capable of using his intelligence for something other than alluring girls. Zaid's character has tons of potential for character development and even with all his selfishness and flaws, he continues to be the most entertaining part of this drama. Sami Khan's effortless portrayal is impressive as usual.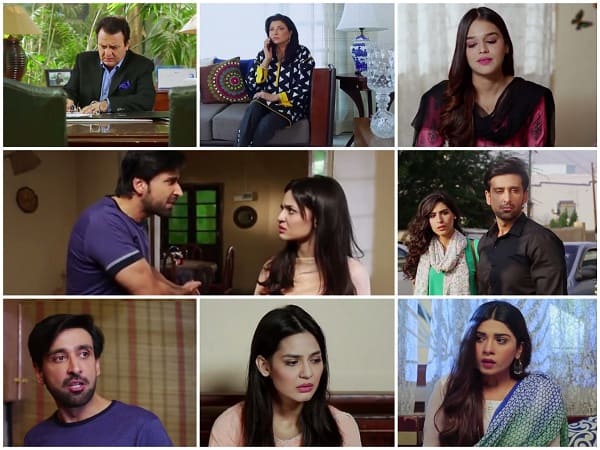 The forced nikkah did not change Zaid and Naina's personalities and their feelings for each other. The only thing that has changed is that these two hate each other more than ever now! Both of them are constantly trying to avoid each other and Zaid has definitely not changed his ways! Whenever they come across each other, the blame game starts which makes it pretty clear that both of them are not going to accept this relationship anytime soon. I really liked the valima dress scene, the dress served as yet another bitter reminder of how Naina's life had changed now. Zaid's sister managed to convince Naina to be part of the valima function, this development too was covered convincingly.
Zaid's father conversation with his wife covered the reasons why he quit his job. This conversation gave the viewers an insight into what was going through his mind. He also said that he would gladly accept another job if it was offered to him by Naina's father because it wouldn't be easy finding a new job. For the first time Naina's mother was shown thinking about that aspect of this track which somehow is being ignored by everyone. The flashback scene suggested that she was wondering if they had made a wrong decision in haste but later on when she talked to Naina on the phone, she once again ignored what she was trying to say. Even if Naina tells her the truth, what's done cannot be undone but the fact that she is holding back keeps you wondering when will she eventually come out with the truth!
The change in Naina's father's attitude could mean that he might eventually forgive his daughter, which could pave way for Zaid to work with him and make his dreams come true! It is difficult to predict what turn the story will take from here. This latest episode covered the pre-valima decisions and arrangements. Will Naina's parents change their mind and come to the valima? How will Zaid and Naina survive when they are forced to share the room??!!!! Waiting to find out!