The Pakistani cinema has recently revived itself from the ashes to compete with the Bollywood and Hollywood productions, and although it's brilliant to see the appreciative initiative it has taken,and the definite underlying potential, I think it'll be a while before we can reach those heights.
Does that put you in a pessimistic mood already? Well I'm here to assure you that the Mind Works Media Production, released on the 26th of June, written and directed by Hassan Rana, isn't entirely a bad watch. But be sure not to compare it to the other abroad films at the cinema, or it'll definitely make you gloom sorely about the money you spent. That being said, I can be brutally honest to say that at least I've done my part of sitting in the show-time of approximately 2 hours and 45 minutes to support the Pakistan cinematic industry.
First things first: let's politely applaud Hasan Waqas Rana's aim about creating awareness among the ordinary citizens of Pakistan about the horrors of war and its traumatic scars that wound the families whose sons, brothers or husbands are martyred while defending the borders and honor of the country. It is undoubtedly a difficult choice for both of them and something that we tend to forget amidst the chaotic routines of our own life. But I think, that with the hassle of trying to do three different parts at once (director, writer and actor), the man missed the finer points of production which I'm here to review, one by one.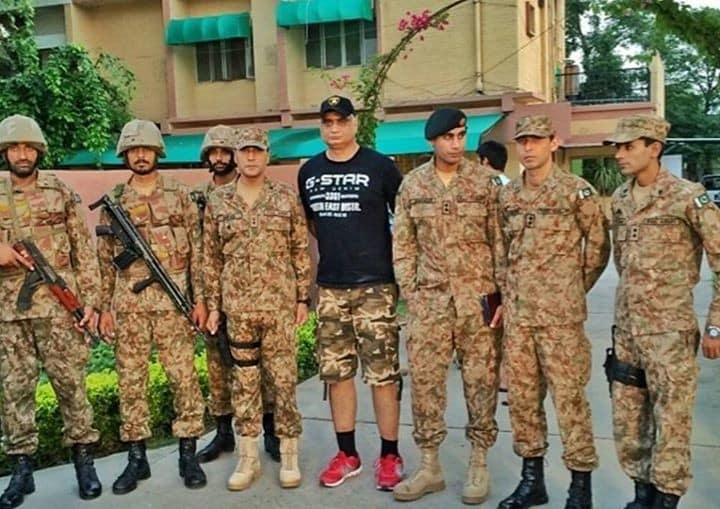 The first 20 minutes of the movie start off by the execution of an operation, where Col Asad (Shaan Shahid) from Special Services Group of Pakistan army (SSG) is leading a rescue mission for Col. Jogezai (Ayub Khoso) who is in terrorist captivity. Asad and his team, which comprises of Capt. Bilal (Bilal Ashraf), Capt Umair (Umair Jaswal) and few other SSG specialists, drop over the enemy installment. It could have been highly constructive and exciting, except it never happens because as they enter the captivity zone and take down the enemies, the movie closes itself in a still-scene which ends quite abruptly and the next thing you know, you're back at the headquarters.
This isn't the only time when you'll notice the awkward transition of scenes. The movie paces in time with action-romance-humor-repeat with little or no amalgamation of all four aspects at one point.
The film continues to introduce the malefactor, Tro Jan (Humayun Saeed) who is the militant leader of a convict group supposedly very evil, and merciless to his enemies. How do we know this? He's the only good-looking Pakistani actor who has been purposefully made to look not-so-appealing by his long shabby mane of hair and weird outfits, the obvious act of terrorism by shooting anyone who comes within his sight and his malicious laugh after he's done with them. His character could have been more in depth and yet there's no obvious explanation of his history as a felon or whether he has any link to a religious/terrorist group but I guess it saved the director from being a victim to any outbursts and critiques from the distinctive communal groups of the country.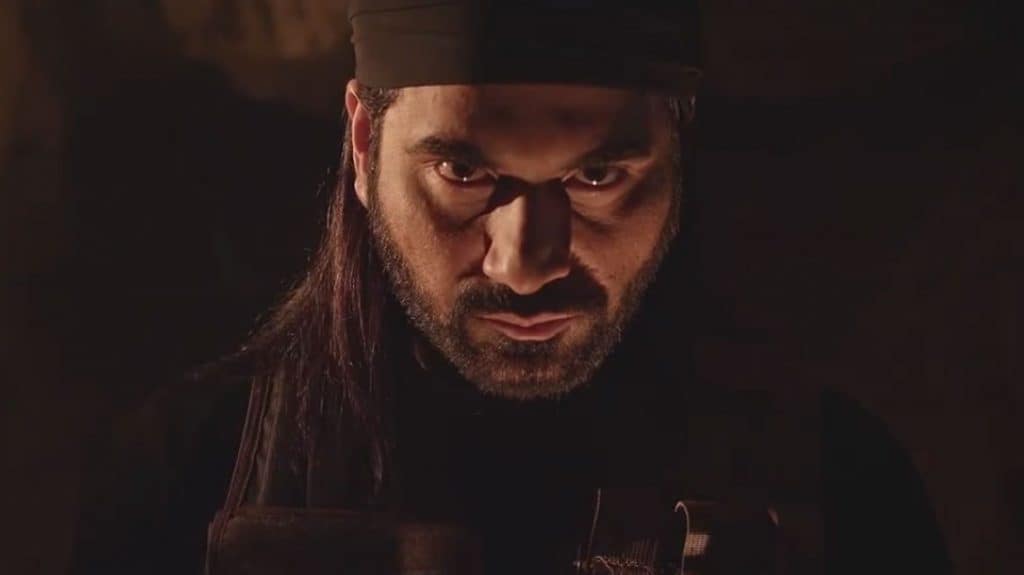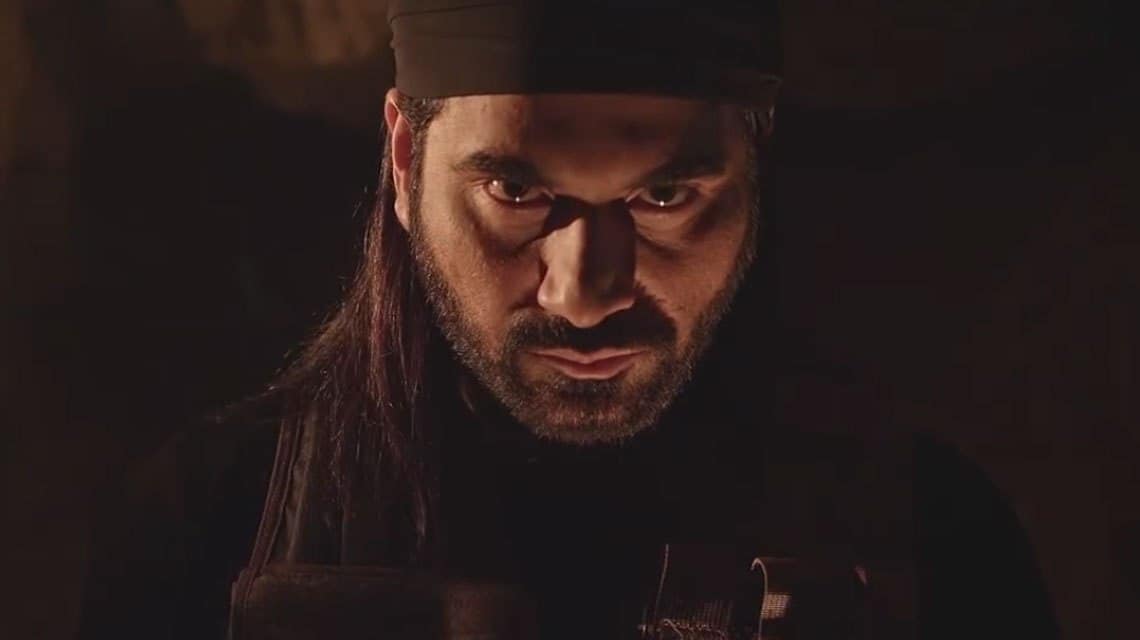 Tro Jan forces one of his (newbie?) followers Baran (Gohar Rasheed) to gatecrash an old friend's wedding, killing everyone and kidnapping his wife Zarmina (Ayesha Omar) as spoils of a war. His only intention is to scare her enough into marrying him which again, doesn't make much sense given his character but it works. The character of Zarmina came as a shock since the actress had absolutely no pivotal role in the entire movie, with a maximum of 5-6 dialogues, never-ending crying and the consistent repetition of 'Tum insaan nahi darinda ho!' 
Concocted in between the good and bad sides are the personal lives and love interest of the soldiers.  Cocky Bilal is secretly in love with the vivacious Jero (Armeena Khan) while his good-humored friend Capt. Asif (Ahmad Taha Ghani) wishes to seek the hand of the serious and studious military gynecologist Samia (Uzma Khan). Col. Imran (Adnan Siddique) is happily married to his beautiful wife Fareeha (Aleeze Nasser), who is expecting soon and finally the complicated lovers-to-friends-to-lovers relationship, shown in fragments of scenes between Col. Asad and journalist Sadia (Sana Bucha) is perhaps highlighted the most. As far as chemistry goes, I personally believed that that of Adnan and Aleeze seemed to appear much more natural and believable as compared to the rest. Samia looked much more attractive onscreen than her friend Armeena, whose acting hasn't quite improved since the release of Janaan. Even Sana Bucha, who is apparently a celebrated hardcore journalist in the film, has no strong character and is more keen about Shan's life and whereabouts, than doing her actual job.  
This is serious mishap in the movie but one that wasn't completely unexpected. With no reference to sexism, I do believe that the lack of any strong-willed woman characters, as well as their noted absence in any army positions (with the exception of Samia) should not be over-looked. It's 2017 and about time that the women are represented as something other than the conceptual idea of a damsel-in-distress.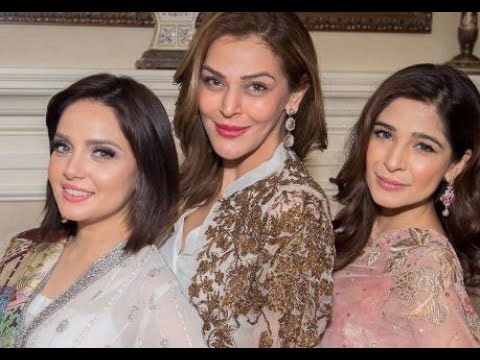 One thing's for sure. Ahmad Taha Ghani, probably intended as sidekick, stole most of the show with his comical acting and nearly perfect deliverance of hilarious dialogues, making it your time's worth. The small telepathic exchange of thoughts in Punjabi between Armeena and Bilal were funny too, but improperly set in.
Speaking of Punjabi, we wish that the screen-play had induced more of our national languages and less of English jargon and slangs which seemed quite out of place. After all, isn't that is one of the objectives of resuscitating the country's cinema?
So after flitting in and out between the scenes of the movie, which seems more and more as a flick visualizing the lavish and posh lifestyle of the army, the film finally brings us to its actual story in the last 30-45 minutes when a military operation conducted in the Piochar region of Swat district was carried out to terminate Humayun's terrorist group once and for all. This, is where we can actually give some credit to Hassan Rana for his direction and writing for these last minutes are suspenseful as the enemy is attacked; and patriotic as soldiers are bombed or bullet-ed to the ground serving their country and sacrificing themselves for their fellow comrades-in-arms. It's also where the entire emotion builds up and you can actually hear and see a few people in the audience, sniffing and shedding a few tears silently, especially when the song  Ae Watan Pyaray Watan resonates through the hall.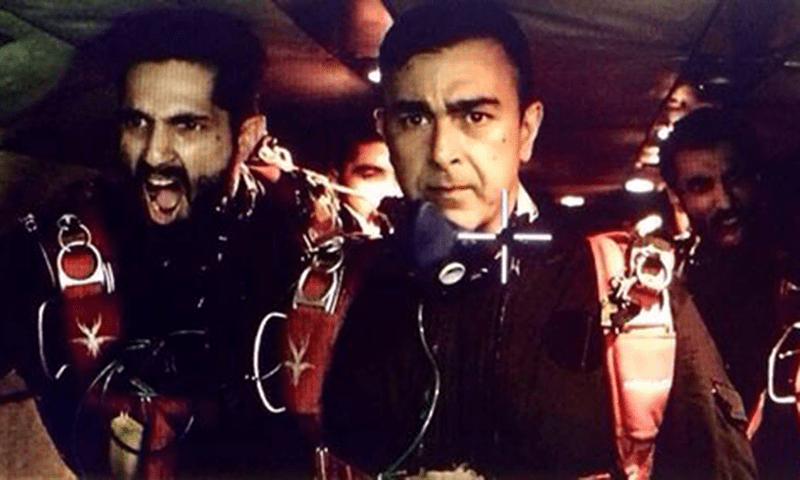 All in all, Yalghaar could (obviously) have been better in so many terms. The songs were good but played in and tuned out too early, probably because there wasn't enough time. Most of the actors had no less than 2 or 3 lines and came on screen for not more than 20 seconds such as Umair Jaswal, Ali Rehman Khan, Ashir Azeem and Haris Bukhari, which makes us wonder why did they agree to take on such small roles anyway. My guess is that the director wanted as many good-looking and charming army civilians displayed, in spite of whatever role they had or whether or not they could even manage to pull it off. The characters didn't have sagacity. The scenes had no coherence in between them. The closing credits rolled in with the pictures of APS victims and other victims of terrorism, played on the backdrop of an emotionally penned song composed by Xulfi, making you ponder over the number of ways this story could have laid itself out in so many possibilities so that its intended moral could have been impressed effectively from the very beginning.
Nevertheless, the sense of nationalism will generally appeal to you as will the film itself, if you are passionate about the army. But considering it as a sequel of Waar, it was consequently, rather disappointing.