Ohkay so, this episode of Ye Dil Mera did not take the story forward but covered the bumpy beginning of Ana's marital life in great detail. Now that I am getting to talk about each episode individually, I will say that in this episode, I did pick some minor issues which could have easily been taken care of. The story of Ye Dil Mera is at this stage where there's a lot of questions that are in the mind of the viewers, so it is going to be an interesting getting the answers slowly & steadily. I think from now onward, it will be more slow paced where one episode will be happening & the next couple of episodes will not show much. This usually is the pattern that our dramas follow, irrespective of the team behind it, but yes, it definitely is an engaging drama which knows how to keep the audience guessing.
Ana & Amaan's Marriage
The letter that Ana wrote to her mother & the prayers that she said definitely showcased the deep rooted fears in her mind related to this new chapter of her life. Ana is naive, that is why she wants to see Amaan the way her heart tells her to. How often does this happen that young girls, when they fall in love continue to give their spouses one chance after another & without analyzing they think they will fix everything with a magic wand. I don't blame Ana for not dealing with this entire situation analytically & not paying heed to the clear warnings she has been getting, firstly because she is in love, secondly because after her father, she felt safe with Amaan, therefore her approach towards her husband at this stage seems realistic. There will definitely come a time when her bubble will not only be burst, but she will be shaken to the core. I also hold Meer Farooq responsible for raising Ana in such an impractical way. She comes from such an over-protective setting therefore she finds it hard to even understand that someone can hurt her. It is interesting to note that every single situation in Ye Dil Mera is interlinked. Meer Farooq is very much aware of all of his wrongdoings, he knows how cruel life & people can be, this is why he has protected Ana so much as he himself knows the harsh realities of life. Little did he know that despite all his efforts, Ana will end up with a man who resents him!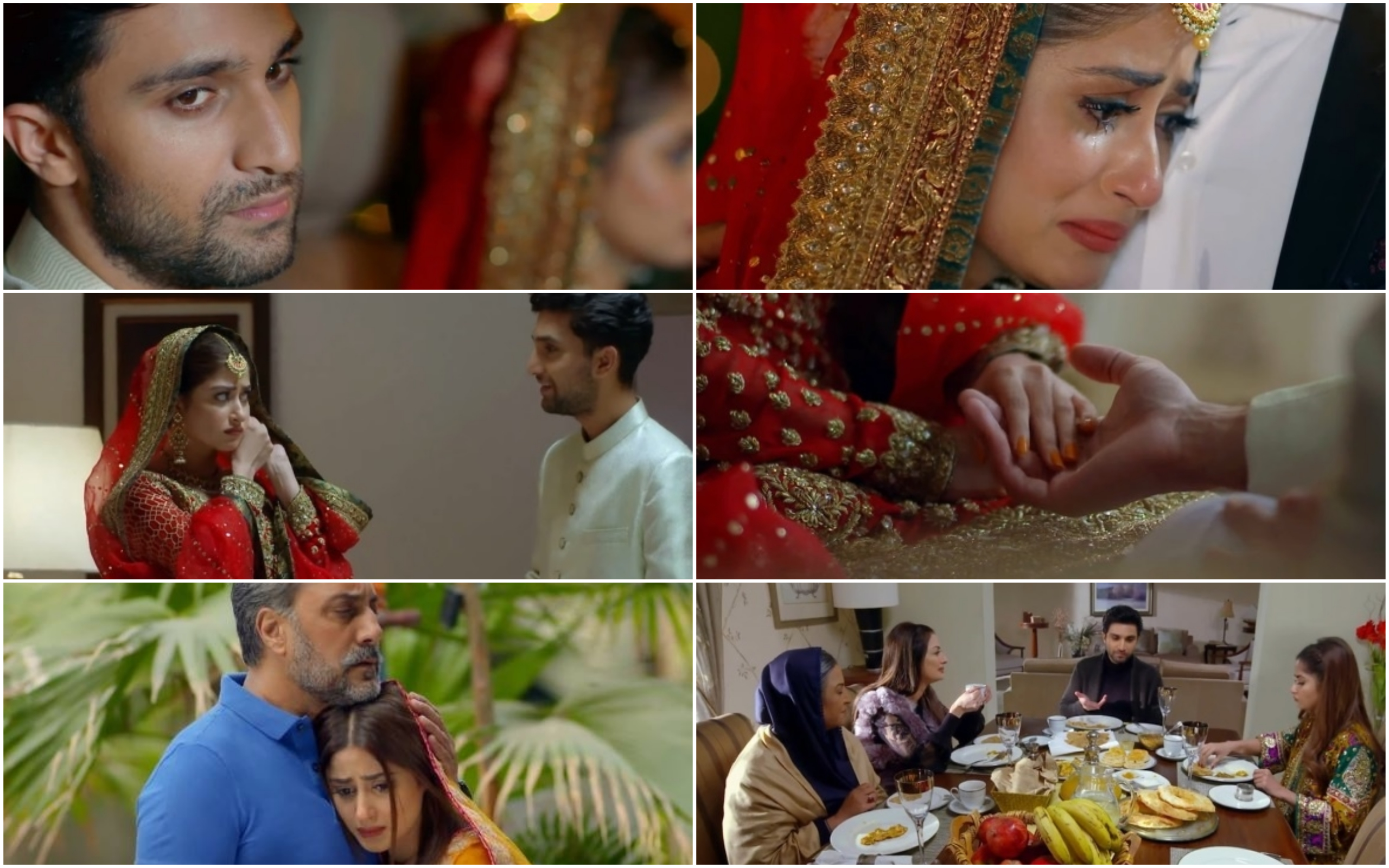 It was the very first time Amaan worded his feelings for Ana. He feels sad for her because he knows he is so focused that eventually, no matter what he does, it will affect her. It was nice to know that Amaan does feel a lot for his wife, eventually he will develop strong feelings for her but then again, he is taking his time adjusting to this change in his life as well. Ana's first interaction with Amaan as her husband was anything but ideal, but then again, despite all her fears, she immediately gave him a chance thinking he deserves it. I think from now onward, it will be interesting to see the shift in Ana's personality & her approach towards everything because Amaan is going to be a very difficult person to deal with.
Amaan has made sure to convey his hatred to Ali Baksh. All the things he said about Ali as well as Farooq were his deliberate attempts to make Ana doubt her father. It is also Amaan's way of testing her patience, as well as understanding how far Ana will be able to take it. Amaan's reiteration of being Ana's favorite & asking her again & again if he is her priority goes to show that somewhere in his heart, he also longs for validation. He is someone who has not only had a traumatic childhood experience but also has spent most of his life surrounded by loneliness, so at this point, though he may not be ready to give Ana the love she deserves, but he definitely expects a lot from her. His character is layered & has so many shades, it is definitely interesting to understand Amaanullah & his reasons. It is like a whole new chapter which comes with every single episode to explore which adds depth in the drama.
Minor Issues
Overall, this episode did not really cover much except giving a detailed introduction to the new chapter of Ana & Amaan's life. Ahad Raza Mir's phenomenal performance remains the strongest aspect of this drama. I am so glad that this episode only had 2 flashbacks, I guess after flashback galore named Ishq Zahe Naseeb, flashbacks have become a pet peeve of mine. The minor issues I noticed was the change in Sajal's lipstick throughout the episode. The red lip color that she wore was far more pretty than the terracotta that she had later applied in all the other scenes as a bride. Farhana's mention of Farooq going to Paris came as a surprise to Ana whereas when Farooq & Farhana had that conversation discussing their travelling plans, Ana was right there. Sajal Aly looked like a doll throughout the episode, however I wish the stylists had chosen better outfits for her. She has definitely rocked the office/professional attire in the initial episodes but the eastern, traditional outfits have been a little off. Farhana's questioning did seem repetitive in this episode, because she has had the same conversation with Nargis Bua as well as Meer Farooq, however I do understand that this is the only way to show how something is not sitting well with her & she is finding it hard to accept the brief information she is getting from everyone about her sister's death. The promo of the next episode also does not suggest a lot of development in the story but yes, Ana is now going to start reading between the lines. However, I feel the question that Ana is asking Amaan in the precap must be related to some surprise he must've planned for her. Let's see. Please share your thoughts about this episode of Ye Dil Mera.
Keep Supporting,
Cheers,
Zahra Mirza.