Ohkay so, I will give credit where it's due before talking about all the things that didn't work for me. This episode indeed had a fraction of important scenes to its credit, however yet again, the story did not move forward & they showed all the things that the viewers have memorized by now. Nothing, absolutely nothing takes away the fact that both Ahad Raza Mir & Sajal Aly have given brilliant performances but honestly speaking, now at this stage of the drama, especially after watching this episode, I felt even their stellar performances were unable to salvage this drama which has completely turned out to be a drag. Although as much as I liked the two scenes of Amaan & Ana, I feel the director relied a lot on them to do the heavy-lifting & wow the viewers – & they did what was expected from them but when the story fails to move forward & everything is just stuck in a rut, nothing works.
Filler Episode Filled With Noise Pollution
The setting in which Bua continued to tell Farhana Khala all the gruesome details about Nilofer's death was so off-putting. Please tell me where this happens on a way to northern areas, while sitting at a 'khokha' as they call it in their native language, two people get to talk about such confidential matters so openly. Plus, this is Pakistan that we're talking about, I couldn't really wrap my head around the fact that two ladies were crying their hearts out & no one bothered asking them what happened. We all know how courteous & concerned people usually are, so no one dared ask them what was happening or what they were going through.
Natasha Hussain was the biggest mistake the casting directors made because if the writer had something this important that Farhana was finally going to be a part of at this stage of her life & the drama, she should've been someone with some acting skills up her sleeves. As much as Naima Khan played her part well while talking about her guilt & regrets, the robotic & constipated (yes I said it) expressions of Natasha Hussain took away the impact this entire scene & confession deserved to make.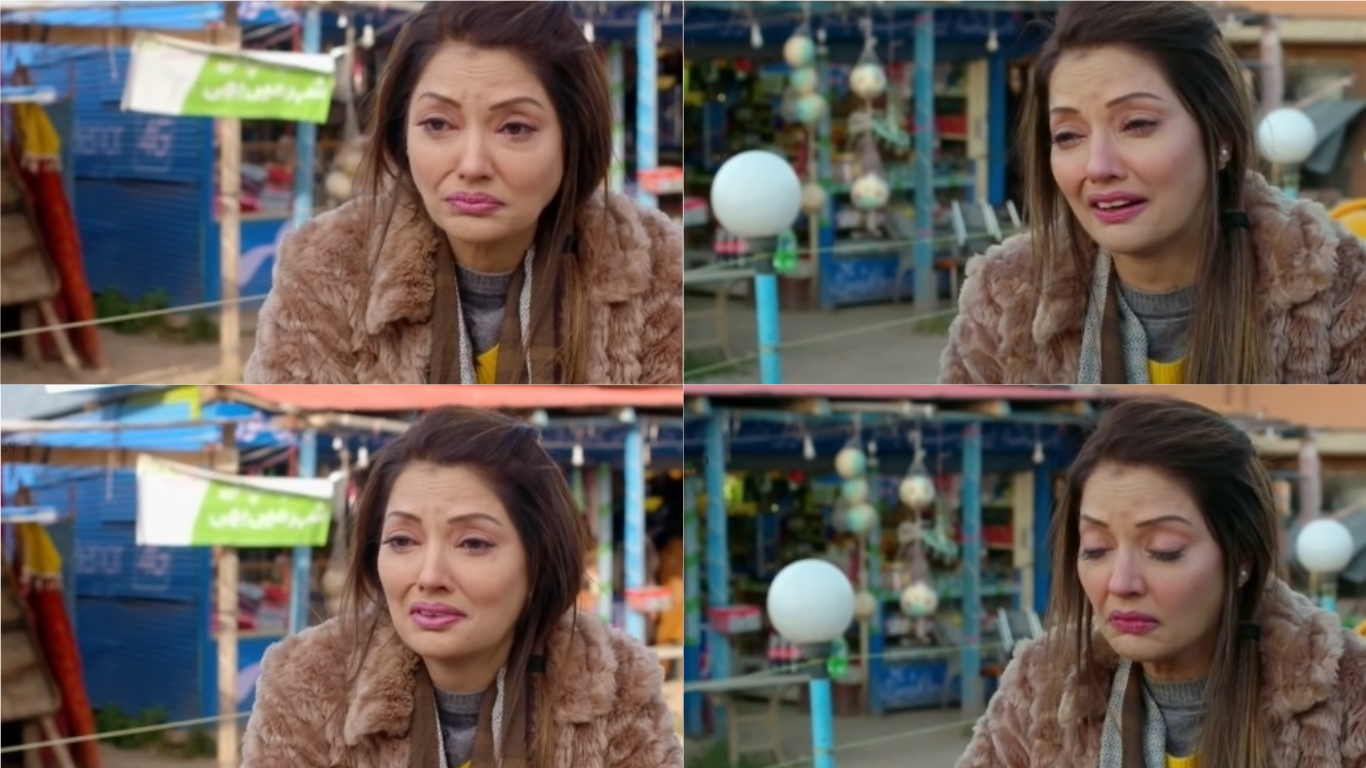 Once again, it remains to be seen whether they are going to actually show how Nilofer was shot & who pulled the trigger in the remaining episodes or they just got done with her end just like that because I actually had to rewind thrice to actually understand that I wasn't missing on how she died. It was absolutely random where the cars just left & cut to the next scene, they had her corpse with Ali Baksh handing sleeping Ana to Nargis Bua. If they really wanted to show the train scene, now was the time but I guess they are going to leave it till the last episode where it will be Ana who will remember everything. Anyhow, going by how everything was shown in this episode, it seemed totally random & haphazard.
This also happened to be one of the loudest episodes of Ye Dil Mera in terms of the background music because I can still feel my ears ringing. Be it the scene where Nilofer was running away with Ana, or the scene with Amaan & Meer Farooq exchanging yet another empty threats, or with Ali Baksh & his goons searching for Nilofer & then finding her or Nargis Bua & Farhana Khala finally making it to Amaan's cottage, the music was the loudest which was actually deafening!
Meer Farooq's change of location is another interesting point to be noted. Not sure why he isn't in his home anymore from the last few episodes. Obviously they shot these scenes in the lobby of one of the hotels they were shooting in the northern areas, but at least they should've made it believable or similar to his house by showing him in one of the rooms. All these factors actually take away the charm & end up being too distracting.
Ana decided to show to the viewers of Pakistani drama industry that she had this level of acting in her, hats off to Sajal Aly for such phenomenal performance but that's all there's to it. Sadly, the crux of it was just that one fine day, at the comfort of her cottage & after having a proper hair care & blow dry session, she realized that all the dreams that she saw were not mere dreams. How did actually Ana put the pieces of the puzzle together that Ana & Amaan's mothers used to be friends? How did she reach this conclusion? Yes, it is good that they are showing that gradually she is regaining those memories from the past but how so especially when she has not once left her room & stumbled upon evidence waiting for her on the sidewalks of Daryabgah? From the last few episodes, Ana gets a scene or two which happens to be the randomest of all & then the writer expects the viewers to take her character seriously?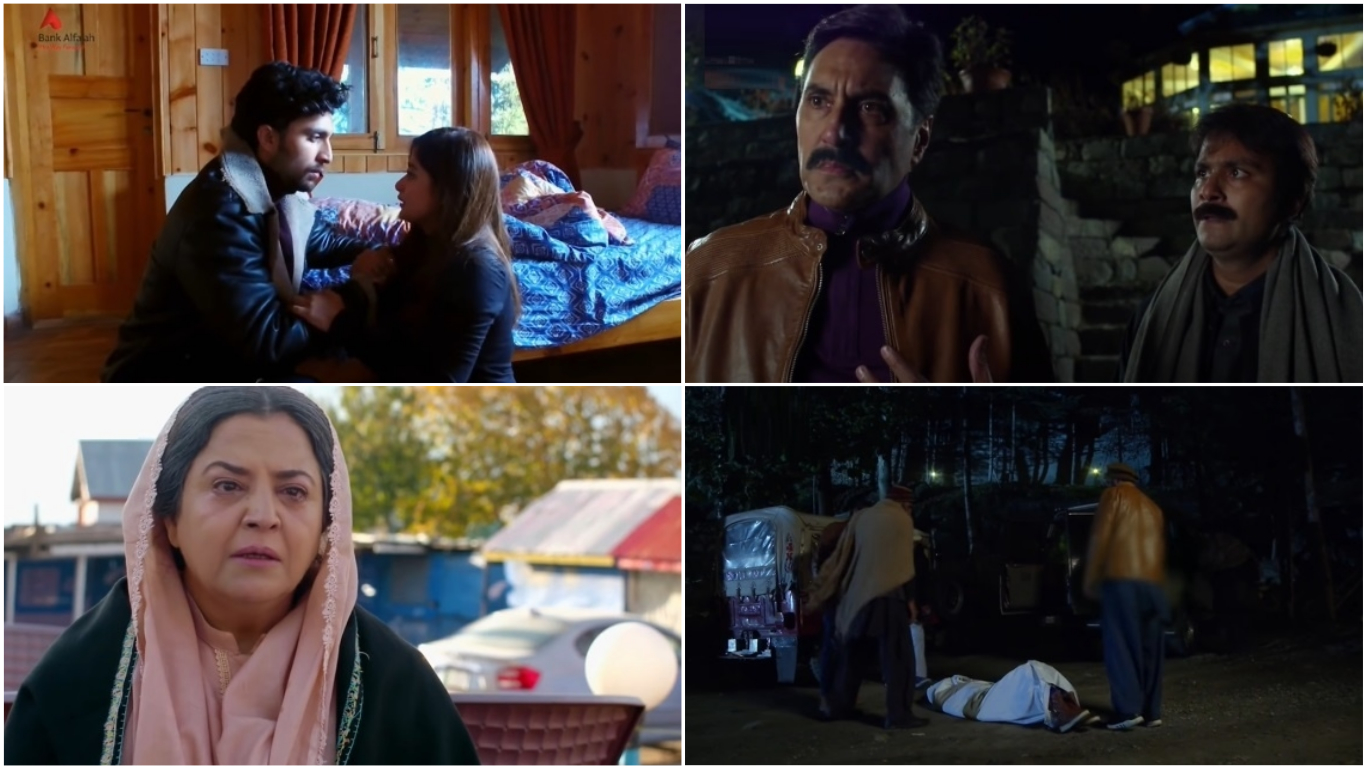 I so wanted Amaan to give her alllllllll the answers that she was looking for, but he just sat there stunned as if all the things she was saying were so new that even Amaan didn't know how to respond? Amaan brought Ana to Daryabagh to remind her of all those memories, so now when she is picking up the pieces, instead of serving her with numerous glasses of water & countless cheese omlettes, he should just tell her the truth. Keeping her in the lurch only after telling her that her father is a murderer is  not making much sense anyways!
Some of the things were made clear that the letter that Nilofer wrote to her father was posted by Nargis Bua after her death & then he kept it a secret from the rest of his family members, this is why Farhana never really knew what went wrong & she didn't have much reason to hold Meer Farooq accountable for Nilofer's death for so many years. It was until she visited Pakistan for Ana's wedding when she started to sense something plus Amaan continued to steer her thoughts & forced her to think about the mystery surrounding Nilofer's death.
Drag
This episode was a filler & it is sad how long they have stretched this drama. Farhat Ishtiyaq is an experienced writer, therefore it is unfortunate to see that she couldn't foresee what might go wrong if she didn't contain the script within limited number of episodes. When it comes to dramas like Yakeen Ka Safar, they do have a margin to stretch & prolong but with thrillers like these, this sort of treatment is a no no but sadly, this is what Ye Dil Mera has come down to.
It seems next week we'll have to tune in to see how far & fast can Ana run because once again, she will behave irrationally even after finding out the truth that eventually made it to her without even moving a muscle. Also, the exchange of expressions between Amaan, Farhana Khala & Nargis Bua in the last scene was so cold & unconvincing it was as if Amaan wasn't even shocked to see them & Farhana Khala was giving him a side-eye saying jante ho mai kaun hoon? Looks like Meer Farooq is going to lose his sanity, hmmm let's just hope the writer does not opt for the easy way out & actually shows him staying sane & paying the price for what he did, that too legally along with Sahib Ali Baksh. I absolutely understand this episode might've worked for a lot of viewers, but it just didn't work for me. Please share your thoughts about this episode of Ye Dil Mera.
Keep Supporting,
Cheers,
Zahra Mirza.