Tonight's episode of Zun Mureed laid the foundations for one of the most important developments in the story which will probably be happening really soon. Zun Mureed's script so far is convincing as well as relevant. The writer has logically shown the repercussions of Tabbasum's decision to file a report against her husband from every possible angle. The drama has a steady pace and apart from showing some of the bitter realities of our society, it also has an inspiring protagonist who continues to fight her case against all odds. This recent episode had a lot of important developments and unlike the previous episodes, Nadia Khan's acting tonight was up to the mark. Tabbasum's character and her struggles are easy to relate to. The dialogues are exceptionally well-written and are the highlight of every episode. Most of these dialogues either represent a certain mindset or give hope to other women like Tabbasum. The writer has tactfully ensured that the women watching this play get fully acquainted with their rights since the line between what a husband can and can't do is intentionally blurred in our society!
Sajjad finally thought long and hard about everything which transpired that day. He was also reminded of all those times when Tabbasum went out of her way to show how much she loved him and also those happy moments when they thought nothing could ever go wrong between them. These were my favorite scenes from this episode because they helped the viewers connect to Sajjad's character and understand what was going on in his mind. Sajjad was still too angry to admit that he was wrong, every time he thought about what Tabbasum said and how she made him feel, instead of feeling guilty, he became even more upset. Sajjad continued to judge Tabbasum and failed to reflect upon his own actions. On the contrary, it looked like, he blamed Tabbasum for ruining their "perfect life" by taking this extreme step. Although, Sajjad is now willing to be flexible but he is not going to accept that he was wrong. His manliness won't allow him to accept his mistake and as a result even if Tabbasum does come back, there will still be major differences between them. Omair Rana has done complete justice to his character. His solid performance makes it easier for the viewers to understand the character since Sajjad's character is layered therefore only a solid performer could have brought it to life impeccably on screen and Omair Rana has done just that!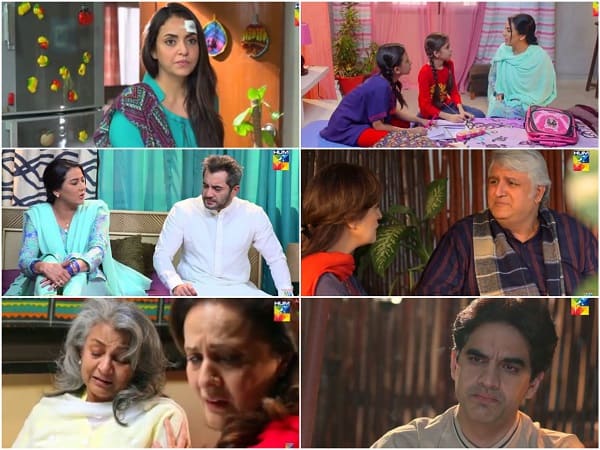 Tabbasum always knew that the road she had chosen to take won't be an easy one but even then she didn't expect everything to go this wrong. It is true that Tabbasum has a share in her parents' house but her brother doesn't want to hear about it. If he gives her the share which is rightfully hers, she won't have to be dependent on anyone but in our society when sisters ask for their share, brothers most often get offended! Although, Tabbasum never asked for her share but even then her bhabhi managed to use this matter against her. The fact is that Tabbasum's brother is not doing her a favor by letting her stay in this house. I absolutely love the way Tabbasum's character has been etched-out, she is strong but she isn't unreasonable or insensitive. Her character is positive and her dialogues are always meaningful. The phone call from the school principal was an important development in this episode, I am waiting to see what she has to say to Tabbasum.
Bi Jaan and Maryam's conversation in this episode was disturbing! Unfortunately, there are plenty of such mother and sister in laws in our society who cannot see their brothers and sons happily married. The bahus are always treated as outsiders or lesser humans because they are seen as a threat! Shamim Hilali and Hina Bayat both have been performing really well throughout. I especially liked Shamim Hilali's expressions today when she wrote on her white board. With the exception of few of the supporting actors, all the other performances tonight were right on point. With a better cast and production values, this drama could have been even more impactful and perhaps more enticing for some of the viewers too.
This was one of my favorite episodes of Zun Mureed. How many of you watched it? Don't forget to share your thoughts about it.