With this episode Tabbasum finally managed to make up her mind about what she needs to do next. Tabbasum's brother talked to Fari hoping that she would help him convince Tabbasum to go back to Sajjad but his plan totally backfired. Fari's character continues to be a breath of fresh air. Although the actress playing Fari's role always wears more make-up than is necessary just like Rubina but the character itself is so positive and likeable that you can't help but appreciate it. Fari suggested to Tabbasum that they should rent a place where they can keep the children with them too. This was a brilliant idea and with the help of Sidra, the execution was easier than Tabbasum ever thought it would be. While there are women like Mariam, Tabbasum's bhabhi and mother in law who cannot see Tabbasum happy or growing, there are also women like Sidra and Fari in this play who are wise, sensitive and practical and very willing to help. Tabbasum's character itself has a great deal going for it. I don't remember watching another play in which the viewers got to see a woman's journey like this. Everything is being covered in detail and logically. We have watched many dramas covering domestic abuse but most often the women are shown as victims and there is very little that they do to make the most of their situation. The focus is usually on the protagonist's majburis and sufferings as opposed to showing how a woman can cope with such a situation with perseverance. Also, most often even if a woman manages to stand on her own it is usually in the last episode and sudden! I am also glad that there isn't another man in Tabbasum's life who could possibly be the "saviour", she is fighting this war all on her own with the support of her sister and now Sidra. It is always good to see a female protagonist who is her own hero!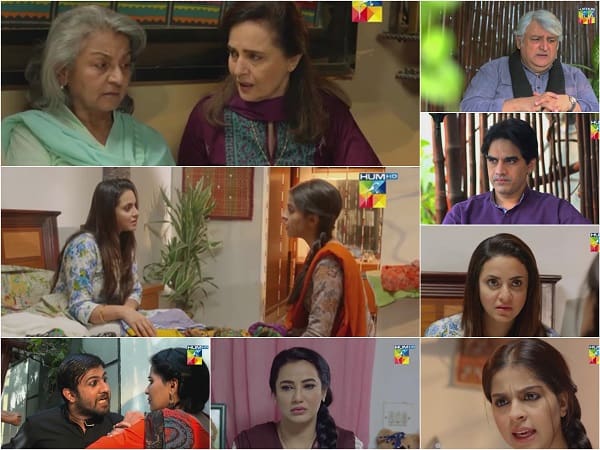 Abid still wants Tabbasum to come back but he isn't as rigid as he was before. Everything he did tonight was completely in line with his character. After listening to all the problems which Sajjad and the children have been going through, he did not only allow Mariam to visit and help but also went himself to convince Sajjad to bring Tabbasum back. Bi Jaan finally tried to tell Sajjad and Mariam the truth about Rubina but Sajjad did not even bother reading what she had written and Mariam did not believe. This part was really convincing as well. I was waiting for Bi Jaan to tell someone since she has seen what Rubina is capable of doing.
Once again the scenes covering what the children were going through were right on point. Sajjad is too busy trying to prove to himself that he can manage on his own and does not take anything the children say seriously. Children need more than just food and a place to live. More than anything else, they need someone who will be there for them all the time. Sajjad is definitely not the kind of parent who can do that! Tabbasum was the one who was looking after the kids before and now too she is the only one who can give her children the kind of love and attention they need.
This episode laid the foundations for what is coming ahead. In the next episode Rubina will execute her plan and the preview of the next episode also suggested that she might have given Bi Jaan more sedatives than she could tolerate. I am looking forward to what the next episode will have in store. Will Sajjad eventually realize his mistake or will Sajjad and Tabbasum go their separate ways for good? Waiting to find out!