Tonight's episode of Zun Mureed covered a great deal from Sajad's growing frustration to the issues Tabbasum was facing in her brother's house. This episode also focused on showing the negative effects this entire development had on the children who were always loved and were well taken care of by their parents. All of a sudden they lost their mother and Sajad who was already not used to looking after them, found it really difficult to handle them. Marium's husband is gradually running out of patience and she too is finding it hard to cope with the situation. Despite of the difficulties Sajad's family is facing because they cannot handle the kids or the house, they continue to blame Tabbasum for everything. When the children do not listen to them, it is Tabbasum's fault because she spoiled them! When the maid gives them a tough time, that is also Tabbasum's doing. The general trend in this house is that no one takes responsibility for anything, everyone uses Tabbasum like a punching bag. Even Bi Jaan who cannot even feed herself likes to feel in control by treating Tabbasum and even her children as outsiders. Bi Jaan's expressions when Marium's husband told her to go home also showed how controlling she was even in this situation.
The flashback scenes tonight and Tabbasum's conversation with her sister showed the only reason why she managed to juggle so much in all these years was because her husband acknowledged and appreciated everything she did. Tabbassum's dialogues were written brilliantly and they conveyed everything she was going through faultlessly. Nadia Khan's performance however left a lot to be desired. I fail to understand why, she does not tie her hair. Those perfectly combed and straightened loose hair do not go well with her situation at all. Apart from her dialogue delivery, Nadia Khan needs to focus on her outlook as well especially if she is going to play such roles in the future too. Thankfully Tabbasum's character has been etched-out so well that even with her average performance it isn't difficult to understand what Tabbasum is going through. The overall impact of everything she is going through definitely lessens but the character is still easy to connect to. Tabbasum explained why she didn't think she deserved to be kicked out of her own house, her dialogues clearly show that she is a strong woman who knows the difference between right and wrong which is the best part of her personality.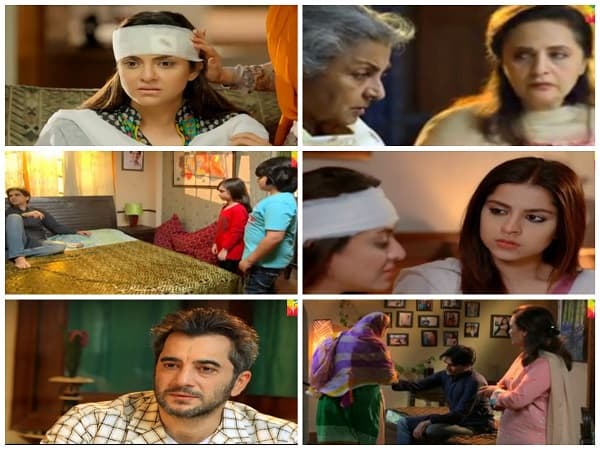 Sajad's growing frustration, anger and his daily struggles were also shown convincingly on screen. Omair Rana has once again nailed a character which is different from many others he has played so far. Sajad is angry and right now he does not regret anything. The children are lonely as well as scared and very soon it seems like Sajad might have to either leave the kids with Tabbasum or bring her back. Bi jaan wants Marium all to herself and I am waiting to find out for how long Marium will be able to fulfill these responsibilities. Tabbasum's bhabhi's scenes could easily have been chopped down. Aisha Gul is a phenomenal actress but I feel she is being typecast lately.
The preview of the next episode showed that the media isn't going to let Tabbasum settle down or make a decision in peace. Bi Jaan once again will instigate her son to leave Tabbasum for good. Overall, this episode was well written and for the most part well executed. This drama has started an interesting debate and it draws the line where it should be drawn! It has my complete attention and I can't wait to find out what the upcoming episodes have in store for us.
How many of you watched this episode? Do share your thoughts about it.