Amna Mufti has handled a sensitive topic with care and utmost clarity. She has also focused on all the aspects relating to the matter. She has also shown how egos ruin relationships and most often people fail to see beyond themselves because they feel they are superior to others. It isn't just Sajjad who feels this way but even Marium and Bi Jaan constantly feel the need to prove Tabbassum wrong. Even though there are plenty of times when you are left wondering if this script could have been translated on screen even more powerfully had the overall treatment given to the play been slightly better but all the scenarios have been penned down in such a manner that understanding these situations is never a problem.
Tabbasum's determination is the best part of every episode. Even though she is being pressurized enormously and is constantly told that she is over reacting, she never questions her actions. The fact that she filed this complaint because she genuinely felt scared and not because she wanted to prove a point makes her actions even more valid. Tabbasum's dialogues have been written in such a manner that through them the writer keeps on reminding the viewers that Tabbasum is not taking a stand because her ego is hurt or that she wants to teach her husband a lesson, highlighting this point was of utmost important and the writer has done just that. It is very common for people to assume that most women who file cases under such laws do so out of vengeance or to prove that they can dominate men. The writer has aptly addressed this misconception and assumption by giving solid reasons. While Tabbasum is genuinely looking out for her own well-being and that of her children, Sajjad's actions are controlled by his ego. He doesn't feel guilty because he is continuously trying to justify his actions. His ego continues to stop him from understanding the situation and his family is feeding his ego more which isn't helping!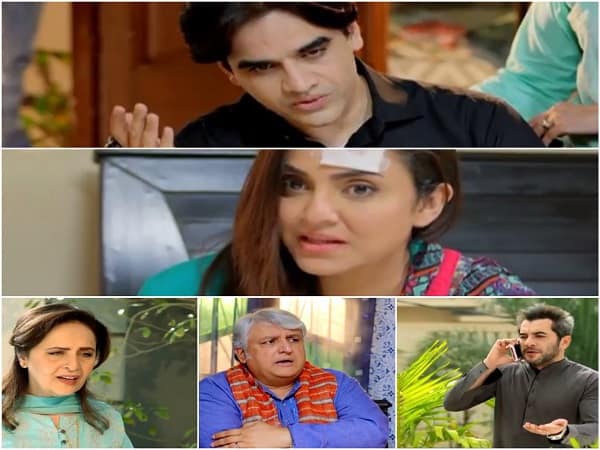 Although Tabbasum's bhabhi's scenes can be repetitive and somewhat clichéd but she realistically represents a large majority of females in our family set-up who are so insecure that they will do whatever it takes to take control of things. The fact is that she is living in a house which is more Tabbasum's than it is hers. She never thinks about how this entire argument started and Tabbasum's brother too cannot see what she has done. She was the one who started the whole argument about the deg and later on she called Tabbasum and told her what her husband had said. She also made a big deal out of what Tabbasum said and now too she continuously keeps on doing whatever she can to make the situation worse for her sister-in-law. She is one of those many people who don't think about the consequences of their actions.
It was good to see Sajjad being judged for his actions for a change too! So far Tabbasum has been blamed by everyone and no one has questioned everything Sajjad did. Sajjad's boss gave him a much-needed reality check but Sajjad's conversation with his friend showed that he didn't learn anything from this entire experience. The preview of the next episode also suggested that Sajjad might be willing to be a little flexible because that is what suits him and not because he feels guilty in any way!
Tabbasum's dialogues tonight were right on point. Even though Nadia Khan's performance is strictly okay but the character continues to impress. Amna Mufti's script is well-thought-out and meaningful and the sole reason why I tune into this drama every week.
How many of you watched tonight's episode? Don't forget to share your thoughts about it.