This episode opened with Nazia's father welcoming her husband inside the house and being really content that she was finally going to go home. Nazia's conversation with Fauzia in the room and Fauzia's take on Nazia's majburis once again highlighted how differently both these women looked at life. This scene did not reveal anything new about their personalities and was yet another scene which showed Fauzia taking a stand for her sister. All of Fauzia's scenes in her own house circle around the same topics and only one aspect of her personality which has made this entire scenario highly repetitive and even with Saba Qamar's exceptional performance, so far the character itself does not have anything grand to offer. I find myself interested in finding out what is going to happen in Fauzia's life next but I don't find myself looking forward to finding out more about her character because the writer is continuously highlighting only one aspect of Fauzia's personality. Having said that, the fact that Fauzia and Abid were shown happily married for at least a few weeks was a good beginning to this track. I am also glad that the writer did not make a bechari out of Fauzia even though her mother in law was continuously complaining.
Most of the scenes in this episode covered how Abid showered Fauzia with as much love as she had expected he would give her except for that one scene which seemed slightly out of context as well. Also, there were a lot of scenes in which Abid's mother openly showed that she was not happy with Fauzia although she took up the household responsibilities. Seemi Raheel is always impressive in such roles therefore it does not come as a surprise that she is performing brilliantly in this drama as well. On the other hand, I am watching Ali Kazmi playing a role like this one for the first time and I must say that he has totally nailed Abid's character. So far, Fauzia has been shown as someone who is confident and outspoken but she is dedicated and good at heart. She wants to enjoy her own life and at the same time she also speaks up for others when she feels that a person is being wronged. Overall, Fauzia's character is simple and does not have a lot of layers. I wonder if the growth of her character will be covered convincingly in the upcoming episodes or not because so far the character isn't etched-out in a way that you instantly connect with her. Her relationship with all the characters around her is almost the same too and there isn't a single character she is emotionally involved with in a manner which would have an impact. Abid's mother's comments about him suggested that he wasn't responsible or dependable.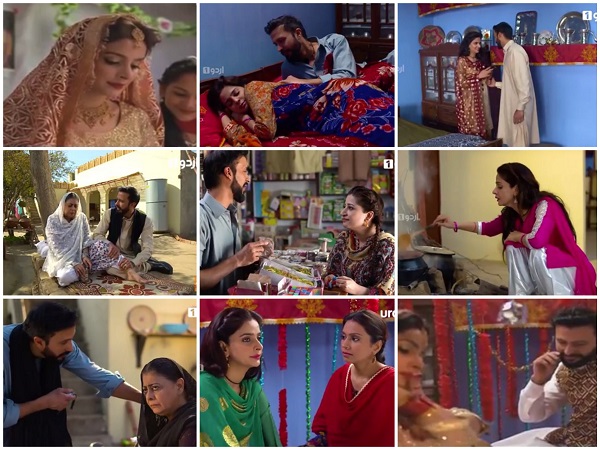 This episode of Baaghi was definitely better than the last few. This new beginning in Fauzia's life is also a chance for the writer and director to explore new dimensions of Fauzia's character, if there are any that is! It seems like an extra marital affair is going to the reason why Abid and Fauzia drift apart. I am wondering how someone like Fauzia will react to such a discovery and what will she do when the marriage starts falling apart. Apart from Saba Qamar's performance, I especially liked her outfits in tonight's episode because they went so well with the character she is playing. She definitely looks and acts the character. Her dress in the last scene also suggested that she had been married for few months now. Love the OST of this show!
How many of you watched this episode of Baaghi? Do share your thoughts about it.