Baba Jani Episode 1 Story Review – First Impression
Baba Jani's Episode 1 was simple and engaging. The first episode of Baba Jani introduced the viewers to all the central characters. The introduction to the characters was quite clear, the performances were up to the mark and the overall feel of this first episode was pleasant. The play has been written by Faiza Iftikhar, directed by Ali Faizan Anchan and produced by Faisal Qureshi & Abdul Qadir Shah under the banner of Connect Studios. Faysal Qureshi, Saba Hameed and Savera Nadeem were last seen together in Qaid-e-Tanhai which was an unforgettable classic therefore that is one of the many reasons why I am really looking forward to watching them all together again on screen. They are all brilliant actors who always deliver no matter what. Faiza Iftikhar's scripts most often have some refreshing aspect and her stories are almost always unpredictable therefore I have huge expectations from this one. This was definitely the kind of episode which piques your curiosity and you want to tune in to the next episode more because of the characters than the story at this point.
Characters and Initial Story
This first episode showed how Asfand (Faysal Qureshi) had worked hard for so many years to provide for his sisters and now he was finally getting his last sister married. Asfand's other two sisters Najiba (Saba Hamid) and Naila (Sundus Tariq) were shown as greedy and manipulative individuals who treated Asfand as an ATM card! They constantly put pressure on him even though they knew that he already had so much to worry about. Asfand was shown juggling a lot of things at once and when he finally thought he could relax now that all his sisters were married, Najeeba reminded him that he also had to get her daughter Alina (Areesha Razi) married since her husband was good-for-nothing! Najeeba constantly complained about how she was married to a man twice her age and clearly all her concern for Asfand was fake. Asfand is engaged to his cousin Mehwish (Faryal Mahmood) and he is in love with her as well. Najeeba sees Mehwish as a "threat" because she feels that if Asfand was to be happily married, he will not look after his sisters any more. Nimra (Madiha Imam) and her mother Sadia's (Savera Nadeem) track was slightly confusing since we don't know yet whether they are related to the family or they are neighbors. Sadia is a widow who has serious health issues but she does not have the resources to get herself treated. The relationship between them was heart-warming.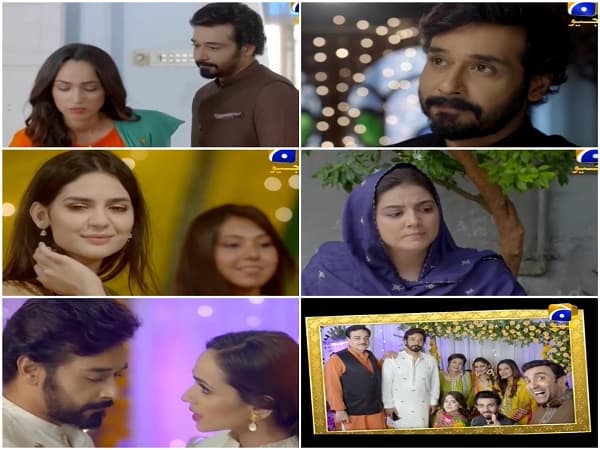 Performances and Situations
The situations shown in this episode were such that they gave a good insight into the characters. Every scene gave some information about these characters. Asfand's back-story was revealed in a brief scene in front of the portrait while his daily struggles were shown through different scenes. Najeeba's deprivations and manipulation both were conveyed convincingly through scenes with her sister, daughter and Asfand. Mehwish's reaction when her mother walked out of the ceremony showed that she was quite capable of getting angry and showing it to Asfand if she did not like something. While her scenes with her mother showed that she had complete faith in Asfand too. Faysal Qureshi's makeover in the show went well with his character. His performance was right on point, as always. Saba Hameed never disappoints, I am looking forward to finding out more about her character. Faryal Mahmood performed her role well too. Savera Nadeem and Madiha Imam did not get a lot of screen time, definitely waiting to see more of them in the upcoming episodes.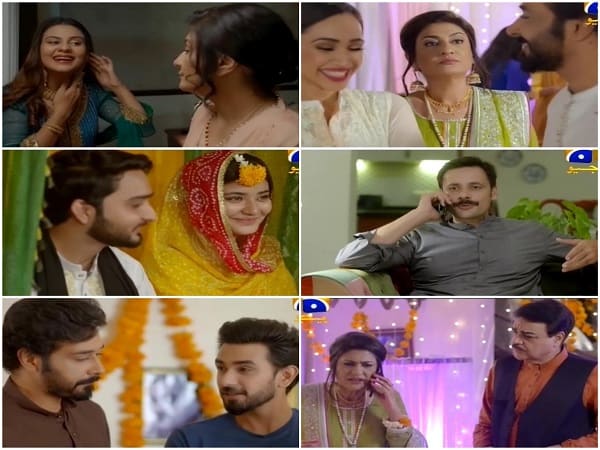 Interesting & Entertaining
This first episode of Baba Jani was interesting and entertaining. It was also visually pleasing. The direction and the editing both were spot on. The production values were impressive as well. Faiza Iftikhar's characters are always convincing and layered therefore although this first episode gave the impression that the characters are somewhat black and white, I am sure that will not be the case!
Preview of The Next Episode
The preview of the next episode showed that Najeeba creates a scene when she goes to ask for Mehwish's hand in marriage for her brother. Will this be the end of Asfand and Mehwish's engagement? Will Asfand see things for what they are or will Najeeba manage to fool him? I am waiting to find out!