The one and only makeup product that in itself is enough to make a statement is none other than the red lipstick. All the acclaimed and famous makeup artists who have had the privilege of working on an array of beautiful skin tones have reiterated that the skintones Pakistani women are blessed with are perfect for carrying the red lipstick. This is the reason why red lipstick is enough on its own to brighten up the face, make the smile appear wider and teeth look brighter.
The red lipstick in itself has different undertones, some are muted, some mixed with blue, some have orange undertones and then it also gets deeper and darker – all these beautiful shades of red look absolutely beautiful on Pakistani women. Pakistani celebrities represent the beauty of Pakistan and the gorgeous skin tones that this region has, therefore every time they have worn a red lipstick has shown how Pakistani women can rock it flawlessly.
Let's take a look at the beautiful pictures of Pakistani celebrities wearing Red Lipstick:
[lwptoc]
Aamina Sheikh
Aamina Sheikh is a perfect example of showing how gorgeous red can look on the Pakistani skin tone. She makes it obvious that the face just brightens up with this one particular makeup product and with a skin as clean and beautiful as Aamina's, a simple red lipstick is all that you need!
Aiman Khan
It is a rarity to see Aiman Khan wearing red lipstick, but when she does, she becomes quite a head turner. Aiman Khan usually wears less makeup, therefore wearing red not only gives her a different look but also makes her look very glamorous.
Alizeh Shah
The eye-candy of Pakistani drama industry Alizeh Shah has steered away from wearing red lipsticks on a regular basis where she makes appearances on the TV; in shows or dramas. However when it comes to photoshoots, she has worn the red lipstick and has shown how gorgeous she looks in all the different shades of red.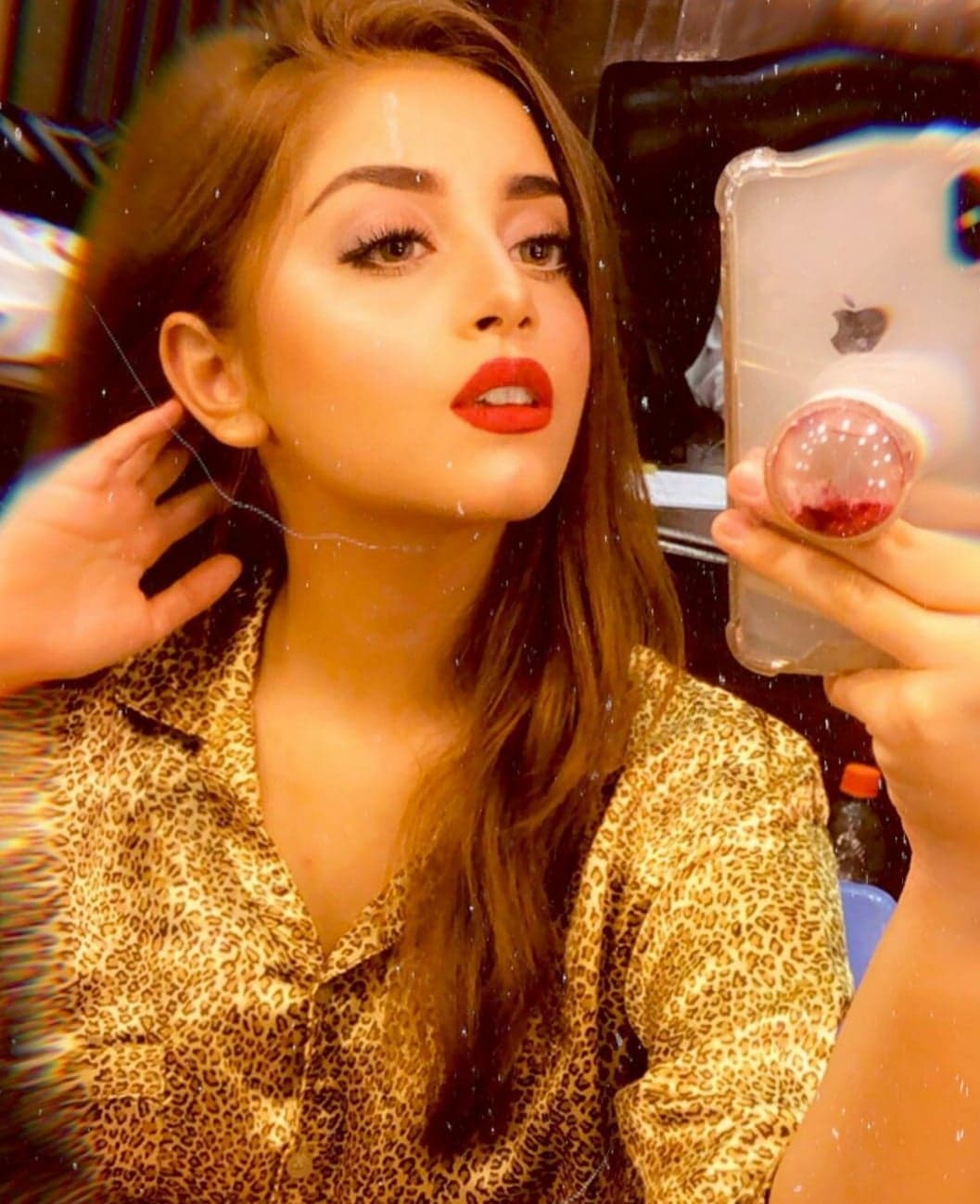 Ayesha Omar
As stated by Ayesha Omar, give the woman a red lipstick and she will conquer the world, no wonder why her body language actually shows the confidence wearing red lipstick instills in a woman, who is fiercely ready to take on the world.
Ayeza Khan
Ayeza Khan always goes for muted and neutral lipstick shades in her day to day lives. It seems she has kept the red lipstick reserved for the bridal photoshoots and the few times she has worn the red lipstick, it has wowed everyone because she looks attractive and gorgeous.
Hania Amir
Hania Amir shows how effortlessly one can look glamorous if they find themselves the right shade of red, matte or glossy, it doesn't matter. Not much is needed on the rest of the fact because the red lipstick does all the talking!
Hareem Farooq
Hareem Farooq always goes for pinkier lipsticks because she likes to keep her makeup natural and fresh but the few times she has worn the red lipstick has given her an uber glamorous look.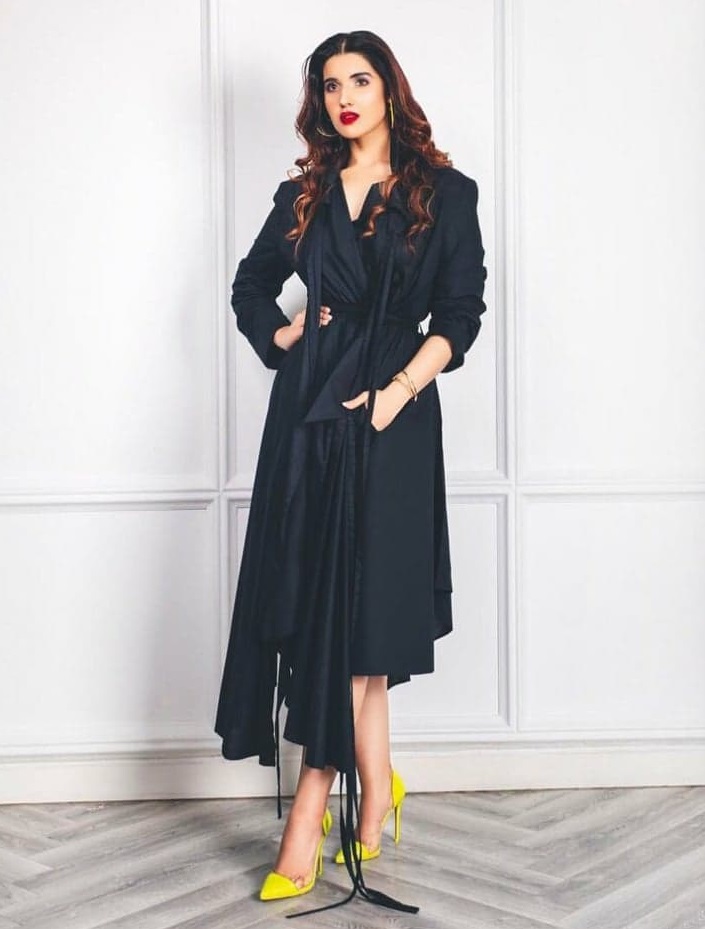 Kinza Hashmi
Kinza Hashmi is more into natural no-makeup makeup looks but when it calls for an occasion, she has carried red lipstick and has floored everyone with how beautiful she has looked. Kinza has also worn red lipstick in a few of her bridal photoshoots and has made it look like red is totally her color.
Mahira Khan
Everyone by now is well aware of the fact that Mahira Khan likes to keep it simple, natural in her no-makeup makeup look, but what happens when she wants to look glamorous and take the glam to the next level? She relies on red lipstick!
Mawra Hocane
Mawra Hocane is one of those celebrities who likes to keep it super simple when it comes to makeup because she doesn't like wearing much of it. However on a few occasions when she has worn the red lipstick, she has made everyone feel she should wear it more often because of how beautiful she looks.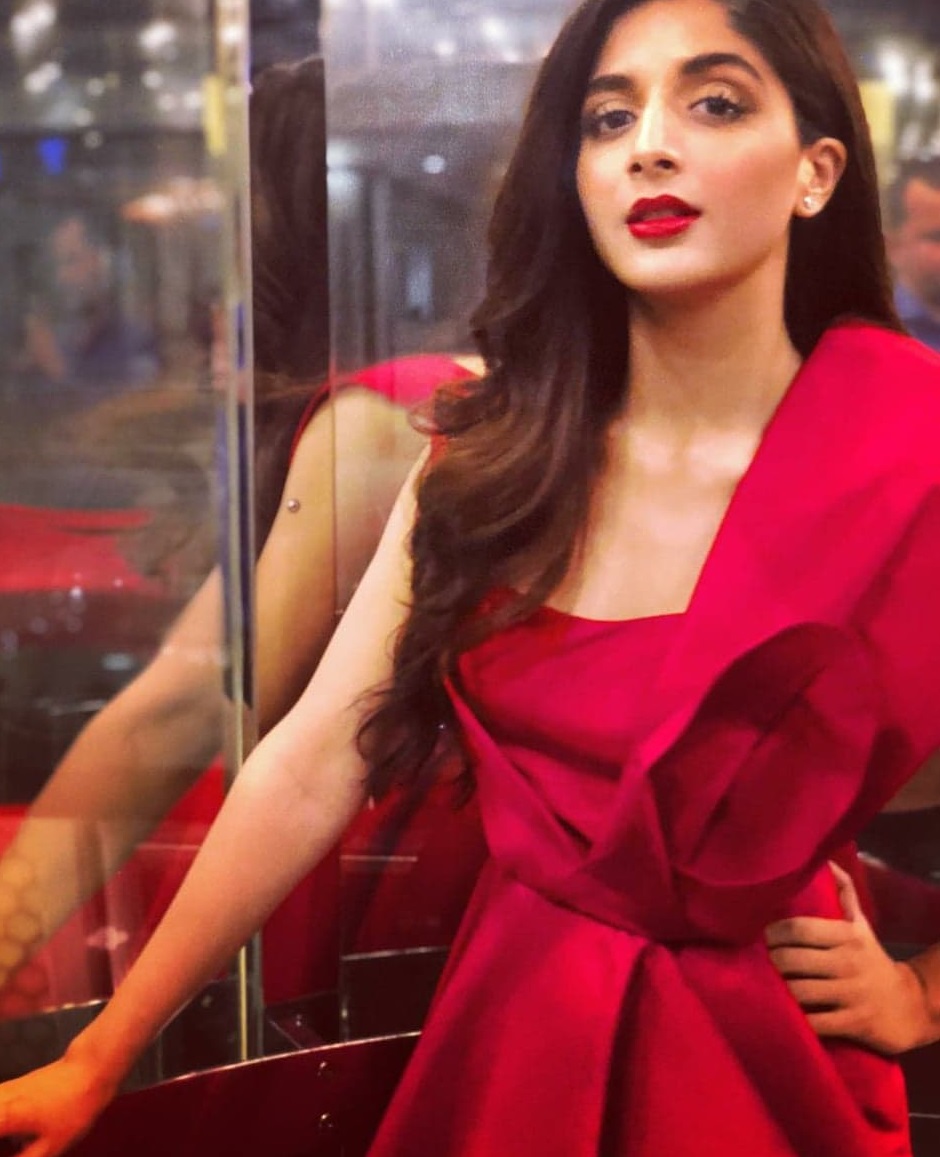 Maya Ali
Maya Ali has shown that it depends heavily on the kind of mood she has to wear the red lipstick and when she wants to look effortlessly glamorous, she relies on it. Maya's skin tone is beautiful and she should wear red more often.
Minal Khan
It is also a rarity to see Minal Khan wearing red lipstick because her signature makeup style is minimal, accentuating her natural beauty with the right kind of natural looking makeup. However, the few times she has worn the red lipstick, she has shown that red is her color.
Nimra Khan
Nimra Khan loves red lipstick and going through her pictures, she has shown that when she wants her mood or face to lighten up, she wears red lipstick; be it at her home or when she is just done with her obligatory prayers. Red is definitely Nimra's color.
Sajal Aly
Sajal Aly is more of an eye-liner girl, she always lets her eyes do the talking but the few times she has worn the red lipstick, she has looked stunningly beautiful. Sajal should carry the red pout more often.
Sana Javed
Sana Javed is more into no makeup looks but she has shown that when she wants to look effortlessly glamorous, red lipstick is her go-to.
Sanam Jung
Sanam Jung has worn different shades of red lipstick over the years and has shown that she can carry each one of them beautifully. Sanam Jung is definitely one of those girls who likes to brighten up her face with the help of red lipstick. On the days when she doesn't want to wear much makeup, she wears the iconic red lipstick.
Sanam Saeed
Over the years, Sanam Saeed has kept it very real and natural and has not relied on a lot of makeup. This is the reason, the few times she has worn the red lipstick, she has looked glamorous and gorgeous, showing that she is capable of pulling off any shade of red!
Saniya Shamshad
Saniya Shamshad is fond of makeup and has worn different shades of red over the years – in dramas, in her regular life and on TV appearances. Red is truly her color and makes her look attractive. She has the perfect lip shape to carry the gorgeous shades of red lipstick.
Sarah Khan
Sarah Khan has worn a variety of lipsticks. It is obvious that she is not only fond of wearing makeup but knows how to make unique shades of lipsticks work on her, be it corals or pinks or brighter shades. Sarah Khan has worn red lipstick quite a few times and has shown that she can pull this shade of lipstick off too.
Sonya Hussyn
Sonya Hussyn has been very bold with her makeup choices. She loves wearing makeup and a few times she does try to wear natural looking makeup but it shows that she can carry those bold and glamorous looks flawlessly. Sonya Hussyn has the kind of features that are made for makeup. This is the reason out of so many actresses, Sonya happens to be the one who has worn red lipstick the most. She can carry all the shades of red beautifully. Her perfectly shaped lips are meant for the bolder shades.
Ushna Shah
Ushna Shah is more into glossy, glowy and natural looking makeup. She has worn red rarely and looking at the few of these pictures of her, we feel obliged to advise her to wear red more often because she looks gorgeous in red.
Yumna Zaidi
Yumna Zaidi is very much into natural looking makeup. She has recently started wearing more makeup whereas when she stepped in the industry, she was all about natural beauty which was accentuated with little to no makeup. Red is truly Yumna's color and she should wear it more often because it brightens up her already glowy face and makes her look stunning.
Zara Noor Abbas
Zara Noor Abbas pulled out the red lipstick out of her makeup bag on the special occasion of her best friend Sajal Aly's wedding, other than that she has not worn red much but we will advise her to wear it regularly because of how beautifully she can carry it.
Zarnish Khan
Zarnish Khan also wears red only during the photoshoots. She has worn different shades of red and has carried all of those shades beautifully. It goes to show that her complexion is beautiful which is capable of making every shade of red work.
This completes the list of all the beautiful Pakistani actresses who have worn red lipstick. Which one of these pictures are your favorite? Feel free to share your opinion in the comment section.