Opening Thoughts: One Word – Brilliant:
Ohkay so, it was a brilliant episode of Cheekh & it reminded me of those initial episodes which kept me engaged right from the beginning till the end. Finally the main phase of the story has kick-started & I can't wait to see how things will unravel in the future. I loved the way this episode was edited especially because it kept the suspense going & made it a very interesting watch.
Mannat Has Opened Up The Case:
Mannat knew she was better than this, she knew she had this in her but till now, she wasn't pushed to the limit. Mannat mourned the death of Nayab for a long time & just when everyone around her thought that the best solution for her was a change of place, a time away from everyone here, Mannat did agree but still her heart wasn't at ease. What pushed Mannat was her interaction with Shamsa. Even though so far Shamsa hasn't said anything productive but this time around, she definitely deserves the credit for pushing Mannat to that limit where she finally decided to do what was right. Mannat at first thought she should help Ramzan but when she saw him in that condition, it was what convinced her that she shouldn't turn her back towards him, she just shouldn't run away from Nayab & the truth. The expression that Mannat had on her face when she left the police station said it all, after a long long time, probably for the first time Mannat felt at ease, she felt empowered & confident that she could do this. I loved how it was shown that even though Mannat must've taken the impulsive decision to file an FIR against Wajih, but as the episode progressed she regained her calm & composure & fed it to herself that yes, she has waged a war against the culprit so now, all she has to do is stand firm on her ground.
In this episode, I really liked how Yawar came to the forefront & started doing everything he could to protect his younger brother. Although Yawar knows that Wajih is a murderer, for now he only wants to save him & his entire family from getting humiliated. So, Yawar met this friend who happens to be a lawyer (Shabbir Jaan) & just that one powerful scene was enough to showcase the kind of morals & values he professionally holds. For him, maintaining his track record is what matters the most & he clearly mentioned that he will not even think twice before crossing the limits to make sure he wins the case.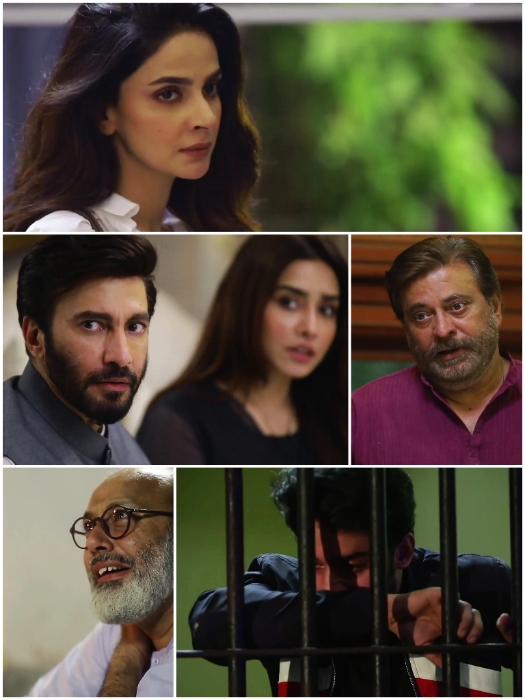 Wajih thought he had won this case, with Mannat leaving, he actually thought he was in a clear & this chapter was closed but what Mannat did shook him to no end. What Wajih feels for Mannat now is sheer hatred. At first Wajih did still maintain some kind of line with Mannat because he had this idea that she won't harm him so he decided not to be reckless with her but now when he will come back, he has made up his mind that he won't spare her.
Yawar decided to finally call & involve Shayan in this matter because he saw how the situation that seemed in control just blew out of proportion. This was yet another way or probably one of the first attempts of Yawar to pressurize Mannat to take the case back & withdraw the FIR. I loved the little interaction that Yawar had with Mannat, it was like at that moment, he finally realized that Mannat was never going to back out. She will not succumb to any pressures, Yawar saw that in her eyes & the satisfaction on Mannat's face after Wajih's arrest actually distressed Yawar even more.
So, Ramzan is out & Mannat is now mustering up the courage because she knows it is going to be a long journey & this is just the beginning. Wajih crossed all the levels of tortures with Ramzan only because of one slap, so I am just wondering what he will do to Mannat now that she sent him to the jail. I am glad that from next week Shayan will be in the picture too, looks like Mannat will have a lot of explaining & convincing to do, to make him understand & realize. I am glad that they have kept things very very real & there's not even a single character or scenario that seems overboard or unrealistic. Superb!
Closing Thoughts – Bilal Abbas As Wajih Is Convincing:
Overall, this episode of Cheekh was simply brilliant. I am glad that after a few slow episodes, they finally moved things forward & also introduced a new character. I have seen a lot such comments where viewers are of the opinion that Bilal Abbas is unconvincing as Wajih & they think some character actor should've played this role. Honestly speaking, ever since this drama began I never really had any opinion about him but while watching this episode, Bilal Abbas as Wajih made a lot of sense to me. I think they have done a right thing by assigning Wajih's character to Bilal Abbas & they have given this character this kind of personality where he seems sweet, innocent & a guy-next-door because of which no one can actually imagine that he'd do something like this & this is what makes things harder for Mannat to convince people that he is the culprit. Usually, we never really know but the most innocent & nice looking people can have such evil intentions & criminal tendencies that after you find out, the first reaction is that of not being able to believe that someone like him could do something like this. In Cheekh, this is what Wajih's character is all about too – a nice, innocent looking guy, everyone's favourite & seemingly gentle & harmless person who has succeeded in making this impression on others, but in reality, he has this side to his personality that no one ever knew existed. So yes, I totally see Bilal Abbas as the right choice because I am glad they didn't show that the criminal should have some kind of creepy aura or something odd about him, people who look very normal can commit such crimes as well. Yes, the only complain I have with him is the mumbling that he does & he definitely needs to work on it. Saba Qamar & Aijaz Aslam were the stars of this episode – loved their acting & expressions. It seemed like they both are two forces to be reckoned with & they both were doing all in their might to make sure they get what they want. Direction is flawless & so is the editing. Very impressed & super excited to watch the next episode. Please share your thoughts about this episode of Cheekh.
Keep Supporting,
Cheers,
Zahra Mirza.