In this episode, Aliya made her entry into Raheel's house but before stepping into his house as a nanny to his kids, she had to have a good impression. Aliya can go to any limits to get revenge from Raheel. I do understand that she and her family have gone through a lot and Raheel not only ruined Farishtay's life but the whole family but the question is 'Is it justified for her to get revenge?' In my opinion, it is not justified for her to get revenge because panchon ungliyaan barabar nahin hoti. She herself has seen how one feels when a family gets ruined yet she's doing what happened to her family to another family. I know that she's ruining the family of the person who ruined her family but she still shouldn't do that and wait for Allah to get back to Raheel.
Nida tells Raheel about the famous baba and tells him that she wants to get her palm read by him. Raheel tells her that he doesn't want to go but Nida still takes him with her. The baba telling her that her happiness is not going to stay long is a reflection of what is going to happen in the future. I myself do not believe in palm reading and the baba was telling her to spend more in Allah's way yet he doesn't know that palm reading is a sin. Nida also has a nightmare that night and this again is a reflection of what is going to happen in the future.


Aliya goes sees Hassan(Raheel's son) in the school and gives him chocolate. Haniya(Raheel's daughter) sees Aliya giving Hassan chocolate so she calls him. Aliya tells Aafaq(we still don't know how he is related to Aliya) to kidnap Hassan and Aafaq does so very smartly.He takes Hassan to the play land and to the mall while a worried Raheel and Nida try to find their lost son.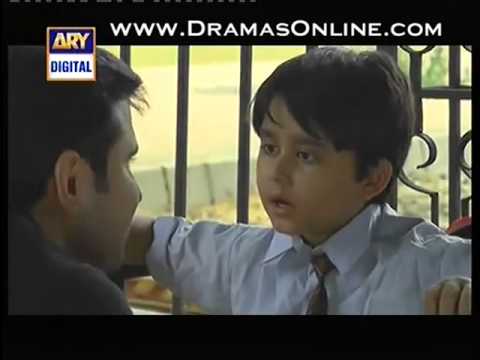 Aliya takes Hassan home at night and becomes a farishta for Nida and her family. She introduces herself as Alina and tells Nida that she's alone and has come to Karachi to search for a job. Nida thinks that Aliya would be the perfect caretaker of her kids. The next day Aliya goes to her house for the job and Nida is surprised to see her. She tells Raheel to guess who she is and Raheel says he knows who she is. Aliya gets worried thinking that Raheel has recognized her even after 15 years.
Overall, the episode was interesting and entertaining. Everyone acted really well including the child artists. The promo for the next episode seems interesting because Haniya tells her parents that her(Aliya's) name is not Alina and she saw her giving chocolate to Hassan in school. Let's see how Haniya finds out that Alina is not Aliya's real name and if her parents believe her. Can't wait for the next episode!
Share your views!
Regards,
Alia Khan