The promos of the play suggested that this was going to be a play different from what we are all used to watching in primetime since Farwa Ki ABC is a light comedy but something tells me that it will give us something to remember. I must say that at this point any drama that does not involve run of the mill family politics of any kind would have caught my attention but other than that this first episode of Farwa Ki ABC gave me a reason to watch and review it mainly because of Sonia Hussain and Adnan Jaffar because it looks like their characters and their relationship would be something to look forward to. The drama has been written by Amna Mufti, it has been directed by Sohail Javed and produced by Sadia Jabbar.
This first episode of the drama introduced us to the main characters. Farwa (Sonia Hussain) is a girl in her teens who failed in English and now she has to give the exam again so that she can at least be BA pass because as Farwa's mother (Irsa Ghazal) told her that it is the only way she will get a decent rishta!! Farwa could not care less about her studies in fact for the past few years she has tried every trick in the book to convince her parents that she cannot study further but her parents obviously insist that she should get a decent degree. Farwa wants to get married and every time she sits down to study, she doses off (something which I am sure many students could relate to;). Farwa's cousin Asma is completely opposite to her, she passed the exam with flying colors and is an exemplary student which is exactly why Farwa is not very fond of her because opposites don't always attract!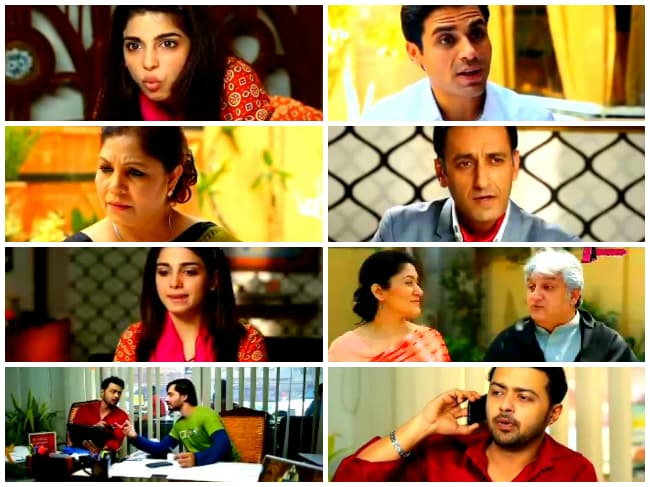 On Asma's recommendation Farwa's father (Khalid Anum) asks a reputable English teacher (Adnan Jaffar) to help his daughter with her English. Farwa's father's positive state of mind went to show that he had a very solid relationship with his daughter. It is only after hearing that Farwa is Asma's cousin that the teacher is willing to tutor her and the first day of tuition sails by smoothly but with Farwa even more determined to get herself out of the situation. That is where Changez comes in – he is someone Farwa talked to on a crank call but now she is turning to him for bailing her out of this situation.
My apologies if the summary of this first episode was too long but I think many people out there must still be thinking whether they should watch this play or not or what it is about therefore this summary will help them understand the plot and the characters better.
This first episode belonged to Sonia Hussain every step of the way which is actually good because if the lead character and especially one like Farwa is played well then it will definitely effect the entire feel of the drama. The OST of the drama suggests that Farwa will undergo a lot of personality changes and her teacher will have a big role to play in her life. And it looks like Yasir Mazhar's character will be playing the main lead with Sonia Hussain although his character did not get a lot of screen time in tonight's episode. This first episode was definitely one that gives you a very good reason to look forward to more. The preview of the next episode showed that Farwa will do whatever she can to get rid of her new teacher and I am waiting to see what she has in store for us. Farwa's character is fun and interesting. I loved the picture quality of the play, the production values were spot on and I guess we shouldn't expect anything less than the best in that department from Sadia Jabbar now after watching MNYH! I must say that there were few bits in the drama which were over done like the driver/cook dancing on the song and the scenes between Changez and his friend.
Anyone out there who is looking for a fun comedy and especially all those out there who like Sonia Hussain should definitely watch this first episode. You will not be sold but you won't be disappointed either.
Did you watch this first episode? Do share your thoughts if you did.
Fatima Awan