Another episode down and so am I, the drama is getting better with each episode. It not only highlights some important issues like social status hierarchy, old age pregnancy and toxic masculinity at the one time but also never loses the sight of the main plot that revolves around two young people and their love for each other. Some of the dialogues in this episode were really hardcore and hit you right where it hurts. Also I love how this drama has been edited, each scene so well calculated and timed nothing seems dragged at all.
So Arham is naturally shook after hearing this news and suggests an abortion like everyone else so far but Momina tells him that her father will never let that happen because it's not just a baby it's a baby boy a much awaited and much wished for son. A son who her father thinks is God's miracle for him. Momina's disappointment in herself and her father is becoming very clear with every episode. She is angry and lays awake at night wondering why she isn't enough and that's the last thing any parent wants their kid to think but it is what it is.
Moving on Shagufta finds Momina and Arham having this discussion and assures him that she wants her daughter to be happy more than anything but it's not that simple she is also responsible for this unborn baby now. Arham eventually suggests that he should at least get a nikkah as soon as possible and asks his parents for it upon which Amtul throws her typical "aren't you dying to marry that sorcerer" tantrum at him. Afaan is smarter than that and as soon as he finds Arham alone he asks him what's the hurry and finds out that his friend is expecting a baby.
Afaan tries to knock some sense into his friend Abrar but to no avail, Abrar is just ecstatic to finally have a son everything else is of little consequence to him.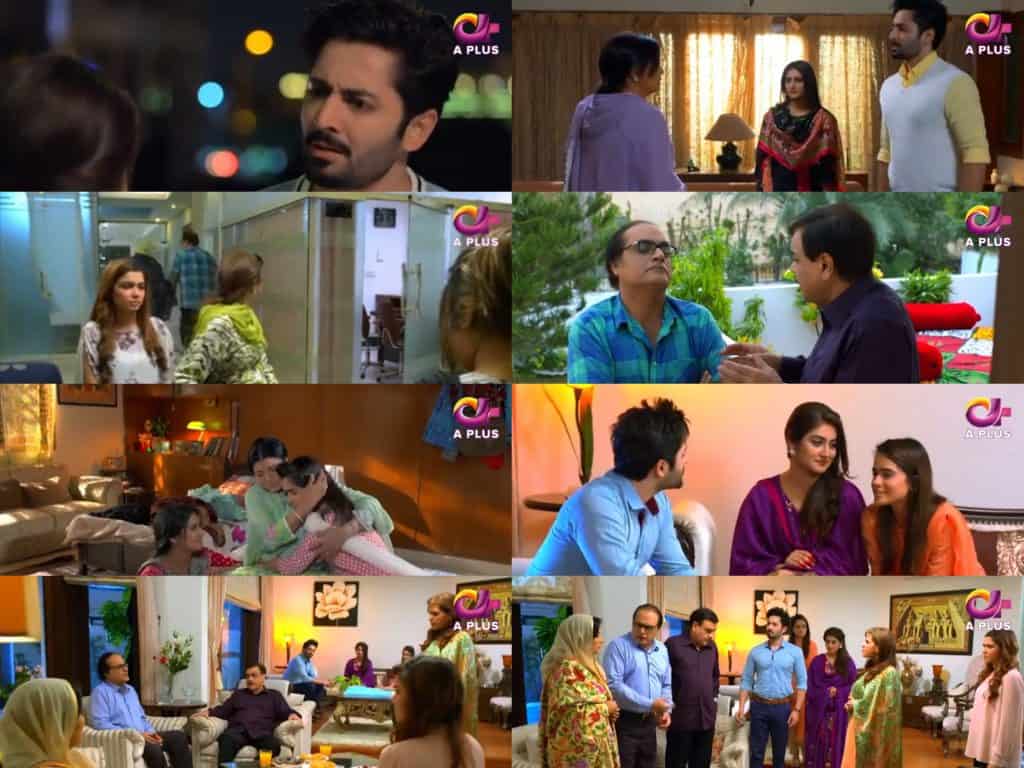 This brings us to the second half of the episode where Amtul takes her daughter Areej to the same gynecologist as Shagufta's and finds out about the pregnancy and like the toxic person that she has been portrayed to be she especially invites the entire Abrar family over for a dinner so she could reveal it in front of everyone since she doesn't know that everyone else already knows.
Here we see some really clash of the titans level exchange of words, toxic and mean things are said on both sides. Abrar calls out Amtul for having the sick mentality of prying in other people's lives while Amtul calls him out over his toxic masculinity and the need to have a son even at the price of social humiliation and his wife's life. In no time the kids start talking too, where Arham asks Abeer to tone it down and stop disrespecting his mother which really makes Abeer lose her cool.
All this drama takes toll on Shagufta and she is taken to a hospital where she gives premature birth to a baby boy but dies doing that. Both Abeer and Momina are convinced it is their fahter's and Amtul's fault and naturally we expect some serious family issues in coming episodes. It won't be easy for either of them to forgive their father or Amtul for killing their mother.
Will Momina and Arham be able to love each other even after all this, will they be ready to fight for this love even after all that went down, how will they stay true to this love in the face of all these adversaries is something we will find out together in the coming episodes of Haara Dil.
Do share how you thought today's episode was.