Intezaar – Episode 14 – Shohar,shohar, shohar!!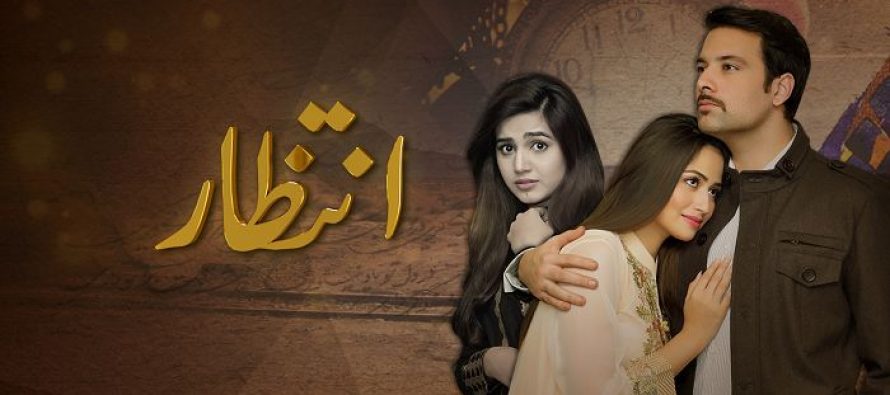 So this episode moved things along – or did it? For Zoya is still sat at Shariq's house with her mazloom face, Maami is still throwing Saba at Shariq and Shariq is still gravitating towards Zoya. Sigh. Maami is seriously clueless about Saba's state of mind. She comes up with one outrageous idea after the other. Knowing fully well that Saba does not react well to any new person around her, let alone a huge crowd of unknown faces, she suggests that Shariq should throw a party and introduce his wife to his 'social circle'. This woman! Shariq thankfully shoots down the idea although the way he does it has Maami worked up in a frenzy again.
Aap mera shohar lay lain, who meray kissi kaam ka nahin'! Priceless, LOL. Poor Saba feels trapped with her mother dolling her up and trying to make her spend more time with Shariq when truly she wants nothing to do with him. She is still a child in many ways which makes her scenes even more disturbing to watch. When Shariq tells her she looks pretty, I winced for Saba has said numerous times how she hates how he 'looks' at her and that was probably the last thing she needed to hear. 'Shohar, shohar, shohar – jiss ko dekho shohar shohar shohar ki baat karta hai. I am with Saba on this one – my ears were ringing from the number of times I heard that word from either Maami's lips, or Shariq's mother's or even Zoya's today!
Saba's joyful suggestion to her mother and Phupho to head back home and leave her there confused me. For a moment. She is clearlyyyyy far from alright but her mother thinks otherwise. I do not feel any pity for Saba's mother, seriously. Wanting your child to get well, being ruthless in order to help your child – all accepted and understood – if, and I repeat if, that is what I felt her mother was doing. Surely, she can see none of her ploys and tantrums are helping?
Lights out! Except, that scenario shed some light on what Zoya was thinking. Seeing how her mother will not listen to reason, she has decided to take matters into her own hands and kill two birds with one stone. Free herself of a shohar, and gift Zoya with a shohar since she seems to need one. I wonder how she will go about doing that. Shariq obviously needs no further encouragement and next week's promo seems to suggest Zoya is finally succumbing to her feelings too!
Naimat Ali ka pota! Zoya's family is beginning to forgive each other. I am not sure what benefit Azmeer's bhabhi derives from Zoya's return for yes, Naimat Ali wants a grandchild but if I remember correctly it is his son who is unable to provide him with an heir and not his daughter in law? Naimat Ali's reaction is cringeworthy. This whole 'waaris' obsession reminds me more of a greedy pirate trying to retrieve the whereabouts of a treasure chest rather than a grief stricken father wanting to hold his dead son's child in his arms! Seems like they will finally find Zoya but it remains to be seen whether she will want to return at all.
Saba's character continues to oscillate between being childlike and a grown woman. Even when she is not having a fit she sometimes says and seems to understand the world around her like a girl her age would but at times she is extremely naïve. Sana Javed did not have a lot of screen time, well not many scenes when she had to say much which was a welcome break for me for those forlorn eyes and monotone whisper had done my head in. Hopefully Maami has disappeared for a while and I can breathe a sigh of relief.
I am still on the fence about what I feel about this drama. There are no crazy twists and turns, acting by everyone is mediocre, productions values are good and the soundtrack addictive. Will Shariq marry Zoya? It does seem inevitable. Where does Saba fit in all this then? And how will Naimat Ali back off from taking away his precious pota then? I guess we will have to wait and see. How many of you are still following this drama? Any thoughts? Would love to hear them!
Kunwal Javid
---