This episode was like an overdose of Mikael's character – that is the best way to sum it up! There are some negative characters which you love to hate because they are not just negative but they keep you guessing and give you something to look forward. The way a character is written and the manner in which it is portrayed on screen are the two factors which play an important role in making that character memorable. But if a negative character is predictable, does not have an 'interesting' personality and the actor playing the role doesn't manage to bring out the best in his character than these roles are just plain annoying! Mikael unfortunately is one such character in this drama. He is incapable of doing anything right, he is paranoid and the way this character has been translated on screen isn't impressive either. Almost all the conversations and scenes that were shown in the first 10 minutes of this episode were dedicated to Mikael convincing Mannu to get the jewelry! In between we saw a minute or so of Salahuddin when he came back to Ifty's house only to find out that uncle had died. It would have been far better if this episode focused on Ifty's father's death instead of Mikael's track.
Mikael's first meeting with Mannu and her family seemed cute because the viewers had no idea that he wasn't being funny but this was who he was – a dimwit who doesn't think much before he says something. In this episode Mikael was finally kicked out of the house by his father. His overconfidence got the best of him and now he is 'jealous' of his wife because she gets all the love and attention from his parents. Mikael being the only child is obviously not used to 'sharing' mommy and daddy with anyone else therefore he thinks that everyone is trying to bring him down. Like a spoiled child he blames everything on his parents and Mannu and is not willing to take responsibility for his actions. He expected his friend to welcome him with open arms and his attitude went to show that there was a lot that he needed to learn! Mikael is intelligent enough to fool his wife into doing things for him, otherwise he is not that bright! I just hope when we see a change in his personality it is not sudden and unexplained.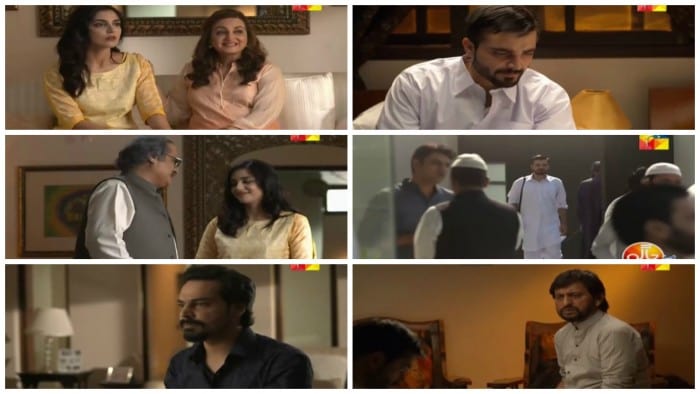 The latest twist in Salahuddin's track was predictable. It would have been more apt if the viewers were shown a few flashback scenes in which Salahuddin remembered uncle and didn't find out about the property he left for him just yet. Salahuddin's reaction when he saw the papers was a mix of shock and jubilation. Although the change in Jameel's personality is unexplained but it was good to see this side of him. The way he talked about uncle's 'akhri  wakt' made it sound like Salahuddin had been away for weeks or months. The timeline in this play is always confusing!
Talat Hussein is going to be sorely missed. He was brilliant in every single scene and made his character memorable. Hamza Ali Abbasi's shocking expressions were spot on but the conversation later on about how much the plot would be worth gave the impression that he was very excited too about this new development. Salahuddin has the chance to start over and I am waiting to see how that part of the story is covered. Saleem Miaraj proved once again that he is a brilliant performer. He made us hate Jameel in the past few episodes and now he is very convincing as someone who has truly changed. His dialogue delivery and acting both are impressive.
Overall, this episode was strictly okay. The preview of the next episode showed that the focus will once again shift to Mannu's family. The story is gradually moving forward but unlike many other plays written by Samira Fazal, this one does not have a lot of surprises in store. The dhamakedar twists that keep you at the edge of your seat are totally missing from Mann Mayal. There is tons of talking in this play but very little action!
How many of you watched this latest episode? Do share your thoughts about it. If you missed it, watch it on http://www.dramasonline.com
Fatima Awan