This episode of Mein Sitara was phenomenal. It is refreshing to see something different and entertaining on television for a change. Jharna's character and the way Aisha Gul has translated it on screen makes the viewers look forward to her scenes. Jharna has faith in her husband but at the same time like any other wife she cannot see her husband getting influenced by another woman therefore she needs to make sure that Naseem Dil Ruba is sidelined in the next film. Jharna rightly pointed out that she could spot a talented individual when she saw one because she was the primary inspiration behind Farhad's career in films . The best aspect of this drama so far is that it is totally free of clichés. Farhad Sethi might be over impressed by Naseem Dil Ruba but he is not being unfaithful to his wife. He admires Naseem's talent but she is using this admiration to have her own way. Most of us thought that Naseem will succeed in blackmailing Farhad Sethi but apparently there is no such secret and Farhad is genuinely impressed by Naseem's talent. Naseem on the other hand has completely different intentions. She wants everything her way and makes subtle and not so subtle passes on Farhad too which he completely ignores.
This episode laid the foundations for the transformation in Surraya's life from Surraya to Sitara. Jharna knows that she can trust Surraya with anything therefore having her on the sets of the film will be beneficial for her. Farhad's attitude towards Surraya is very different from that of Jharna's. He cannot stand her and it will actually be interesting to see their interactions once Surraya enters the world of films. Surraya will do anything to be a part of the film industry and with Jharna's help she will have a very good chance to make a career in films.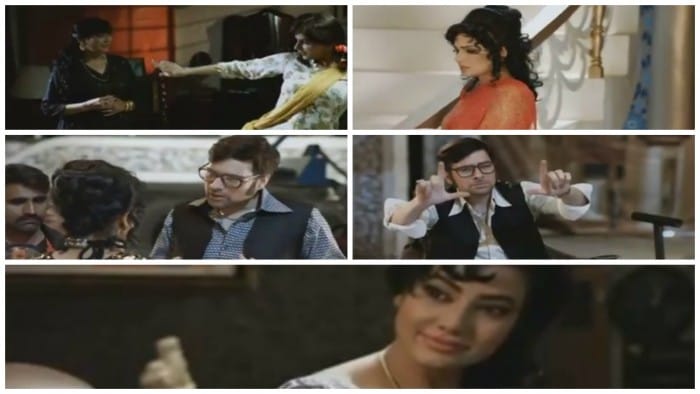 The best aspect of tonight's episode just like all the previous ones was the clarity with which the story is being taken forward. There are no unnecessary secrets or mysteries; the motives of the characters and their personality traits are as clear as daylight. This aspect of the drama in particular coupled with the brilliant acting by all the actors and especially by Aisha Gul who always manages to steal the show single-handedly has given this drama the edge it needed. Saba Qamar looked good in her new hairstyle otherwise the bangs on her face were somewhat distracting. She is a brilliant actress but her role so far is limited therefore I am waiting to see her once Surraya turns into Sitara. Mikael Zulfiqar owns his role, the credit for that goes to the director as well who managed to extract such good performances from all the actors. Meera's acting is spot on, she did not give me anything to complain about in tonight's episode but I must confess that she looks as old as Jharna. Naseem is a young budding artist therefore this role should have been given to someone younger.
Nowadays when most writers and producers want to play it safe by showing stories which revolve around love triangles or the trials and tribulations of newly-wed girls, it is refreshing to watch a drama which has something new to offer. The credit for this goes to the entire team of the drama. We have watched many dramas in which production houses invested lots of money on sets, star cast and outfits but the stories and characterizations were so weak that these dramas failed to have an impact. Mein Sitara however has all the right ingredients in the right proportion. The director and the actors have done complete justice to a script which could have been a train wreck in the hands of an unskilled director. Although there is excessive dancing and singing in the drama but the development in the story is not effected in any way by these songs and dances. The dances are decent enough and the songs take you back to the 60s.
In the preview of the next episode Jharna is seen grooming Surraya to meet the requirements of the film industry and perhaps the outside world! The real story will start from the next episode, looking forward to it.
How many of you watched tonight's episode of Mein Sitara? Don't forget to share your thoughts about it. If you missed it, watch it on http://www.dramasonline.com
Fatima Awan