I feel like I am onto something here. Like this whole Fahd-Mushq-Dabbu love story is just a secondary storyline in this drama but the main message is clear: do not rely on your mobiles to store numbers/addresses – always keep a directory/written back up! Always! From the moment Mushq's father threw and broke her phone in anger and Fahd landed in Karachi and had his phone stolen (oh and both lovebirds did not know each other's numbers by heart by the way for they relied only on the numbers saved in their phones) till now Dabbu's phone being stolen and Striker's being snatched it is as if had there been no mobile snatchers around – this love story would have reached its end far earlier!
Jokes besides, I watched these two episodes one after the other and although I grimaced when Mushq did her runner across the street at the sight of Fahd and then losing him, thinking oh God how many of these scenes will we have to endure before she finds him, next week's episode's preview shows that Mushq will be quite close to meeting Fahd and that is a relief.
The lingering looks, the constant thank yous, the 'aap na hotay tau mera kia hota' and the 'bas aap khush raho Mushq ji' – have begun. Okay, don't hate me but somehow the Dabbu-Mushq scenes lacked I-don't-know-what-but-there-was-something-missing factor! We all know Dabbu is angel personified but given Mushq's luck with strangers, I would think she would be a bit wary of Dabbu. I liked how Mushq was gracious and not venting her frustrations out on Dabbu and when he took care of her when she was unwell was sweet. I know she is grateful there is someone who actually seems to care for her and she wants Dabbu to know it but her 'poori duniya nay mujhay akela kar diya sirf ek aap par he tau yakeen hai' and when she says 'aap nay itna khayal rakha tau theek tau hona he tha' and Dabbu's 'look' when she says those lines seem to suggest he may, unconsciously begin to start reading more into them as Mushq also keeps uttering them!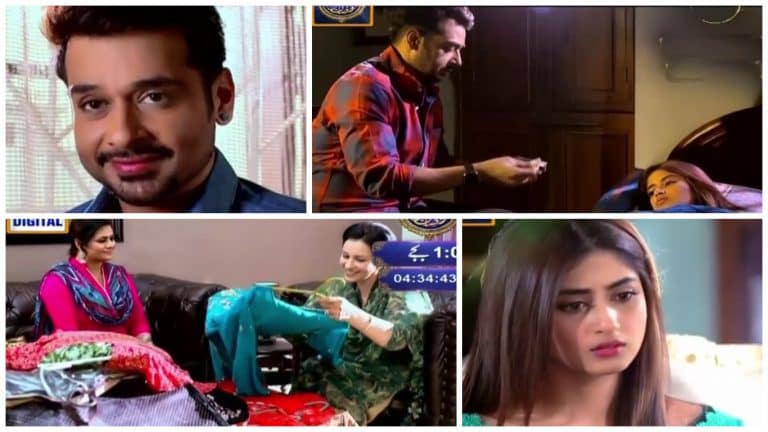 Dabbu's enthusiasm and positive attitude is truly mystifying. Without any idea of which part of Lahore Fahd lives in, he is strangely very confident they will be able to find him. Setting out on foot all day seems to be the plan of action and I really do not know for the life of me how that is supposed to help except maybe lose some weight which Mushq certainly does not need to do! I did say to myself 'Lo jee' at Mushq's tantrum over the birthday scene but her apology the next morning and generally the way she is behaving with Dabbu showed that she was probably just very frustrated and needed to vent. I have to hand it to Dabbu how he takes everything in his stride and his only mission now in life is to get a smile on Mushq's face.