This episode was intense and disturbing but it also had a very strong message. When Pareesa explained to her parents what actually happened and especially told her mother how her cold and indifferent attitude towards her ruined not just her childhood but also her life, I couldn't help but feel for her enormously and my heart went out to all such victims out there who are completely alone. The details were even more upsetting than everything else the viewers knew so far; everything Pareesa went through and said basically showed how important it was for parents to pay attention to their kids, to give them time and most importantly never to trust anyone with their kids. Children are usually either too scared or too shy to talk about these things therefore if a child wants to distance himself from someone they were once very close to, it means that there is something wrong.
Pareesa's mother's initial reaction was shown realistically but in the next scene she was once again shown trim and proper which did not make sense. Her conversation with Pareesa was too casual even though she asked Pareesa to punish her, I felt like she wasn't sorry enough. I have noticed that ARY banks on make-up and styling a little too much, even when there is no need for it. All through this drama even when Pareesa was going through hell, her make-up and braid was always right on point and in this episode it stood out more than ever for all the wrong reasons too. It looked like it did not take Pareesa's mother too long to move on which was very disappointing. She should have been shown feeling even more guilty and lost instead of passing verdicts once again! Pareesa's father's reaction even later on was much more realistic. Mahmood's suicide did not change anything, he was no longer alive but that did not mean that Shehnaz had no reason to guilty.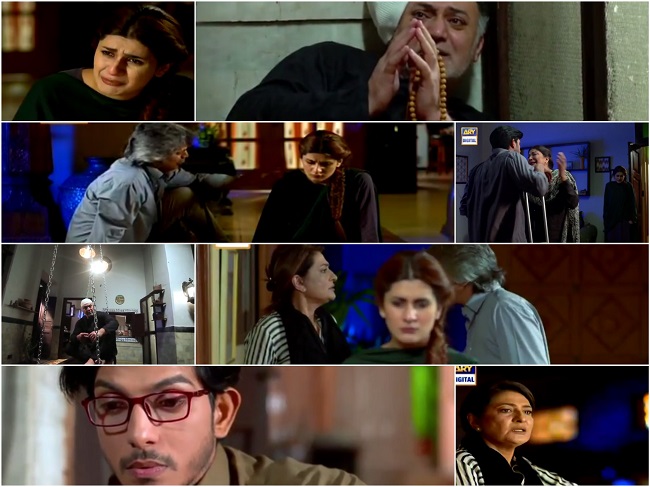 I am glad that Mahmood killed himself only after everyone knew the truth. His end was terrible not only because everyone found out the truth but also because even those relatives and friends who came to his funeral were questioning why he killed himself. He did not die an honorable death but I wish he wasn't so apologetic and praying before he died. This was however far more logical than Sangat in which Adnan killed Shahwez.
This was the 2nd last episode of Muqabil, Mahmood's story came to an end with this episode and what I concluded from it was that when you do something so dreadful, you cannot escape the consequences, no matter what! I am waiting to find out which way Arman and Pareesa's track goes because this episode was dedicated solely to ending Mahmood's track. This entire episode was filled with powerful performances, there was a major twist in the story and the direction was superb throughout. Apart from the loud make-up and perfect styling and Shehnaz's reaction, everything else worked for me. The scene which covered the impending doom and after effects of whatever happened in Mahmood's house after Pareesa left him was mind blowing. When Shehnaz came and was calling out for Mahmood, no one even moved a muscle because they were all in shock! This episode had a lot of scenes which were mind-blowing and the credit for that goes to the director.
Any predictions about how Pareesa and Arman's track will end? Do share your thoughts.