Ohkay so, this episode of Muqaddar was interesting. Although nothing much happened in the track of main leads but the supporting characters had something or the other going on for them, which made this episode engaging. The director and the writer are definitely taking it slow but the characters and their situations have been designed in such a manner that still makes Muqaddar an interesting watch.
The Developments
Raima continued to be stern but the changes that Saif ur Rehman and her relationship went through was that there was a bit of conversation happening between the two. Raima continued to pester her husband with the idea of her love for Haris & she running away with him which was hard for Saif ur Rehman to digest, however he knew that both Raima & Haris will not do anything of such sort because Raima will fear something happening to Haris & Haris himself has already understood the power & influence of Saif ur Rehman after a couple of interactions he had with him directly.
Abeera has pretty much fallen for Hassan. She is naive & immature, therefore she is enjoying the kind of attention she is getting from Hassan. Hassan's personality is completely different to that of Saad's; this is why it didn't take Abeera much to get infatuated with Hassan. I have had this feeling for a while but in this episode in particular, it felt like maybe Hassan was trapping Abeera because of her being Saif ur Rehman's daughter? I could be wrong but considering how Saif ur Rehman also has a dirty laundry, it is highly likely that he must've caused some harm to Hassan's family & now he is trying to get back at him? Hassan was quite uncomfortable at the thought of meeting Abeera's family & later when she asked him to propose to her officially by getting his family involved, Hassan drew a line & backed out.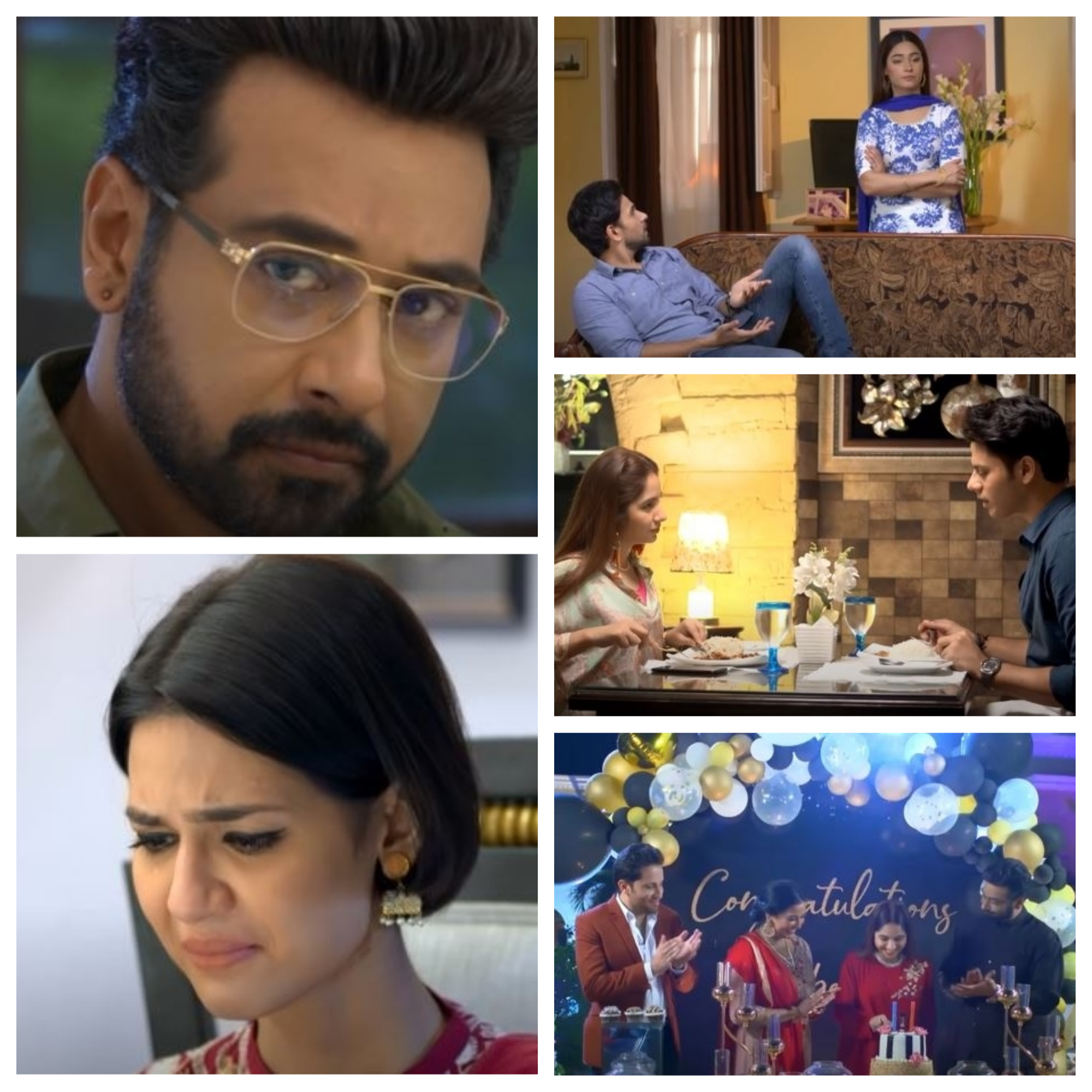 Saad continued his rescue mission, he even got in contact with Haris but even Haris didn't tell him anything about Saif ur Rehman. On his own, Haris is shattered without Raima, all those scenes which showed him looking at Raima's photos were nicely done. They had a perfect relationship & an ideal bonding, so for him to move on is almost impossible at this stage. Haris misses Raima but unfortunately he has no idea that even Raima herself is broken & longs to be with him. It was nice to know that at least Haris was thinking of Raima whereas the rest of the family members easily moved on, despite the love they had for her. Also, I see no reason for Haris to not tell the truth to Saad, maybe he thinks Saad won't be able to do anything this is why he is not taking any names but to give him a complete picture won't hurt Haris because he has already suffered from his fair share of misery.
Maham has now decided to propose to Haris herself & she is trying to get their families involved. Haris & Maham will eventually get married but they won't lead a normal & happy life. It can already be foreseen but right now, Maham is unable to see how much Haris is involved in Raima & she believes she will be able to make him forget her. For Maham, this happens to be the perfect opportunity to get married to the love of her life but she is being irrational by completely ignoring the fact that Haris has loved Raima all his life.
Saad saw Abeera with Hassan & decided to tell the entire story to Farkhanda. Once again, as much as I would love to see Farkhanda having some say in the family matters or having some sort of authority, it seems she herself doesn't want to take the charge of any situation because she has put Saif ur Rehman on such a high pedestal where she believes he should have the final say. It was wise of her to get Saif ur Rehman involved in the matters concerning their daughter, however she needs to step up.
Well Directed Drama
This episode of Muqaddar was interesting to watch, but the preview of the next episode was quite promising & dramatic – something that is required at this stage of the drama now. It was good to see Haris getting in touch with Farkhanda to let her know about Saif ur Rehman's second marriage to Raima. I am sure all the things that Raima will say to Haris will only be to push him away from her so that he stops wasting his life & gives up on the idea of ever getting to be with her. I think this will also serve as a closure for Raima because when she will also give up on the hope, that is when she will get to concentrate on her new life & then take charge of her situation. Madiha Imam, Faysal Qureshi, Ali Ansari, Haris Waheed and all the other cast members have done a brilliant job. Muqaddar has also turned out to be a well-directed drama without any flaws. There's a flow in every scene & every scenario makes sense so far. Please share your thoughts about this episode of Muqaddar.
Keep Supporting,
Cheers,
Zahra Mirza.