Tonight's episode of Pyar Ke Sadqay laid the foundation for future developments. Mahjabeen's innocence and her reactions continue to be the most likable part of this drama. Abdullah appears to be much wiser in comparison to Mahjabeen. Both of them have their strengths and weaknesses, together they make an adorable on-screen couple. I am disappointed with Mansoora after watching this episode but I am glad that the writer is showing gradual changes in her character. Everything was shown realistically tonight, the performances never disappoint. Shanzay's husband-to-be is turning out to be an annoying character, you wonder why she accepted this proposal since she was shown as a sensible young lady. The actor playing the role makes the character even more annoying if it really was someone with some 'class' everything would have made more sense. Apart from the excessive background score in the last scene and Shanzay's track, everything about this episode was perfect.
Mahjabeen and Abdullah are Adorable
I loved the opening scene since Mahjabeen took the lead and rightly so! It is really amusing how Mahjabeen takes everything someone says to her so seriously. This is one of those character traits which actually worked in her favor tonight. She remembered what Mansoora said to her and because of that she has a new-found confidence. Her biggest insecurity was that someone might ask her to leave the house, now that she knows that no one can do that, she can exercise more control in her own way. Mahjabeen is all emotions yet she forgives so easily. Yumna Zaidi looked really pretty in the pink dress and her attempts to make Abdullah pay for his mistake were simply adorable. The excessive background score, however, was slightly annoying since this scene was quite long.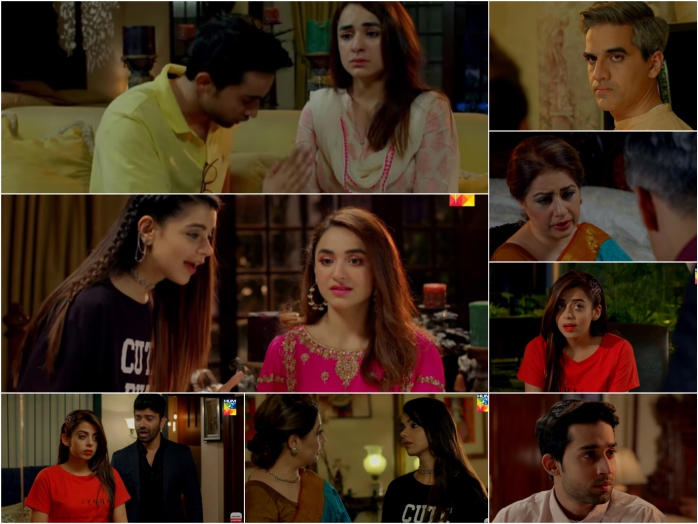 Abdullah was disturbed for some time but his attitude when he came back home suggested that he had a difficult time doubting Mahjabeen. Abdullah is naive and also gullible. He listens to Sarwar more than he should. He uses his own mind and often he draws the right conclusions but somehow he acts on Sarwar's advice more than whatever he concludes himself. Bilal Abbas Khan has given such a convincing performance throughout. Yumna Zaidi and Bilal Abbas Khan's on-screen chemistry is a big reason why their scenes are always a treat to watch.
Mansoora and Washma tried to 'educate' Mahjabeen and Abdullah in this episode. It is good that they have a lot of positive people around them who are always giving them sound advice. The romance it seems has started and it remains to be seen how soon these two truly fall for each other. It is great watching a love story which involves such characters, there is no ego at play, both of them are innocent and gullible at the same time. They have their strengths and weaknesses which makes both these characters appealing in their own unique way.
Mansoora and Sarwar
Mansoora yet again has gone back to being swayed away by her husband's charm. She showed her discontent and also for the first time set some boundaries. Unlike before she did not sit back and watch Sarwar tell Abdullah what he should be doing but at the same time yet again she let her husband manipulate her to some degree. She was clearly hurt when Abdullah confided in her but her reaction was not as strong as I was expecting it to be. One thing is for sure, Mansoora does not show her actual emotions or even what she is thinking. She is much wiser now, something she said to Sarwar too indirectly but at the same time, she is choosing not to confront Sarwar, which is actually quite realistic.
The fact that Mansoora is completely smitten by her charming husband has been laid down well therefore it won't be easy for her to change her attitude towards him completely overnight. I find Mansoora's character more interesting than all the other supporting characters right now. It is a well-etched-out grey character, we don't get to see such characters n our dramas often. Also, she picks her fights wisely knowing fully well that letting Sarwar go is not easy for her. Atiqa Odho has translated every single emotion impeccably on screen. The director deserves credit for making sure that the camera catches all of these emotions.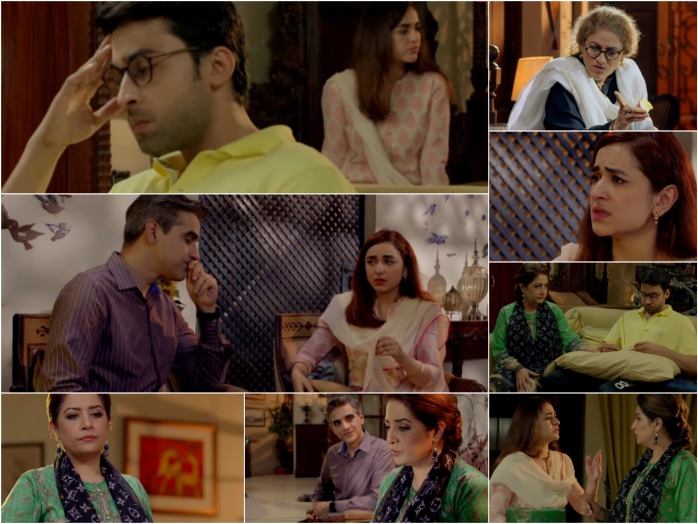 The change in Sarwar's attitude after Mansoora shared her point of view with her showed that Mansoora could have things her way if she put her foot down more often. Sarwar acted naively yet again and he also manipulated his wife with the 'step-father' dialogue. No one has mentioned Abdullah's position and the table he was given in the office. Mansoora did what she wanted to, she did not feel the need to 'discuss' this with Sarwar. Last week it seemed that she was only going to go forward but it will take something huge for her to take a big decision.
Mansoora's dialogue about the house being her kids' was my favorite tonight. It went to show that although she ended up falling for the wrong man, she is not foolish. She is wise enough to get a lot of messages across without directly confronting Sarwar. Her husband obviously knows how to win her approval. Sarwar definitely lives a sad life! Omair Rana never fails to impress. I am waiting to see if Sarwar will confront Abdullah at some point. Mansoora could have easily told him off without telling him that Abdullah shared this secret with her. Sarwar's conversations with his mothers are being used intelligently as a means to communicate his true feelings with the viewers.
Shanzay's Annoying fiancé
The actor playing Shanzay's is really irritating! It would have been good if someone like Omair Rana was playing this character. The writer through this track is obviously trying to show that in a way Shanzay is being punished for telling Abdullah off. Now she has someone in her life who does not value her and thinks she is not good enough. Honestly speaking, I feel that Shanzay was only being honest with Abdullah, and in a way she did him a favor. She was however insensitive at times therefore the writer is probably trying to show that what goes around comes around. I find this track slightly immature so far but I am waiting to see how it progresses in the future.
Final Remarks
Pyar Ke Sadqay is my favorite drama right now because of its beautiful characters and scenes which are almost always meaningful. Every episode has some substantial development. The preview of the next episode was enticing. Looking forward to the effect Washma's words have on Abdullah. I am also wondering what Sarwar's next move will be.
Did you watch tonight's episode of Pyar Ke Sadqay? Do share your thoughts about it.