This latest episode of Pyar Ke Sadqay for the most part was quite predictable and disappointing. I have always found it really easy to relate to the characters in this drama but ever since last week, there are some obvious flaws that have definitely affected the quality of this drama. The only refreshing aspect of tonight's episode was Mahjabeen's innocence. Everything else wasn't just in bad taste but was also executed in the most unconvincing manner. I am still hoping that even if this drama has to be stretched we will at least get to see scenarios that make sense in the upcoming episodes. Yumna Zaidi never ceases to impress with her phenomenal performance. Bilal Abbas Khan continues to be convincing in Abdullah's role. Omair Rana is another actor who never disappoints but it is not pleasant watching Sarwar have his way! Mansoora has apparently forgiven and completely forgotten.
The Change In Abdullah
Mahjabeen and Abdullah's love story is one-of-a-kind, I hope that it continues to be just that! While every love story has a 'villain' this one has two now! Tonight's episode opened with Sarwar playing mind games with Abdullah yet again and this time around Abdullah did not have that soft corner for Mahjabeen because of which he always defended her. The difference in Abdullah's attitude when he is around Mahjabeen and Shanzay is quite apparent. Being around Shanzay is like a dream come true for Abdullah, on the other hand he is clearly embarrassed when he is with Mahjabeen in public. In all the scenes covering Abdullah and Shanzay's interactions, one thing was obvious that he is still completely smitten by her. Even when he was not with her, he was either talking to her or thinking about her. For now, it seems like he is completely helpless and isn't really thinking about the entire situation. He is just too happy that Shanzay wants to spend time with him. He was never too eager to go out with Mahjabeen therefore his reaction when they were in the mall was a lot like before.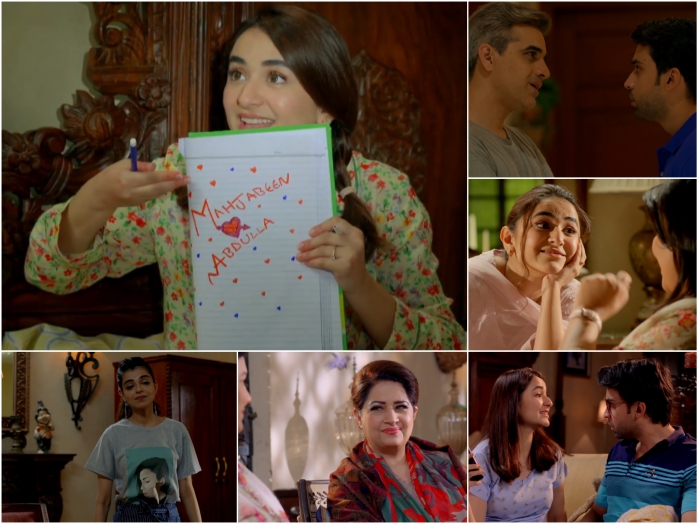 Mahjabeen definitely felt the disconnection and this time around, Abdullah did not apologize for his behavior. Usually Mahjabeen brings up his rude behavior at some point, later on but she did not do that either. There is definitely a big difference between the Abdullah we saw at the beginning of the previous episode and the one we saw tonight.
Mahjabeen's Grooming
Mahjabeen's grooming lesson and all the conversations revolving around it were the most amusing part of the drama. Her innocence was a nice break from Shanzay and Esa's boring track! Mansoora has taken up the responsibility of grooming Mahjabeen but her bahu is not complying! I absolutely love her confidence and it is really cute the way she tries to avoid anything related to learning something new. There could obviously be an easier way of convincing Mahjabeen by telling her that Abdullah would love her more if she took these lessons. Yumna Zaidi nailed the scene covering Mahjabeen's first and perhaps last grooming lesson. Her expressions were so spontaneous and hilarious.
Mahjabeen continued to find happiness in small things and even if something disturbed her, that feeling did not last long. The good thing about her character is that she is distracted easily. This aspect of her personality keeps her character from getting too serious. Washma's scenes are always a breath of fresh air. She knows exactly what is going on which makes me wonder why she doesn't get more involved in what is going around in the office. I am waiting for Mahjabeen to share something about Sarwar with Washma, perhaps then she can give Abdullah the sound advice he so badly needs!
Shanzay's Track
Shanzay's track continues to be the worse part of Pyar Ke Sadqay. She finally moved out of Esa's house and remembered who she was! I wonder what took her so long and was this wedding even necessary? The fact that someone like Shanzay was even willing to go ahead with this marriage is hard to digest. If that wasn't enough, she turned to Abdullah of all the people in the world for companionship! Does she have no friends? Surely she couldn't suddenly be attracted to someone she could not even stand! The preview of the next episode suggested that she will also propose Abdullah. Has she learned nothing from her experience with Esa? The thappar at the end of this episode was completely uncalled for. Couldn't this marriage end without marital abuse?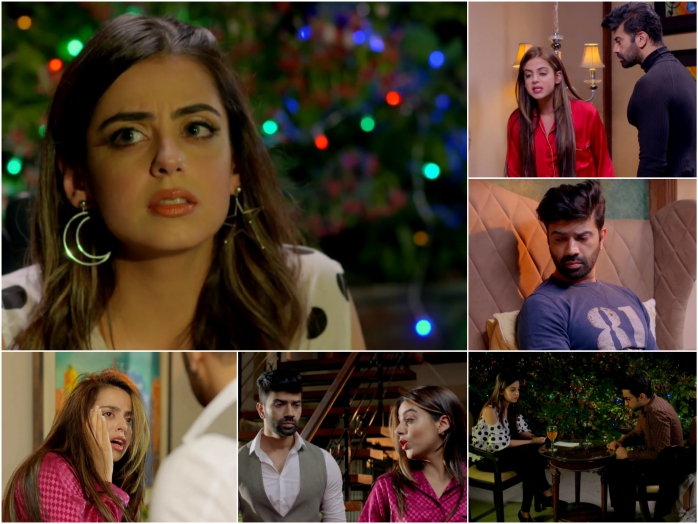 Shanzay was a sensible girl who gave really sound advice to Abdullah when he came to her with the proposal. It took one toxic relationship to change her stance altogether! Why is she even thinking about getting married just now? Where was Shanzay's father when she was shouting for him? There are so many questions in my mind regarding this track, I wonder if they are going to be answered.
This entire track seems extremely forced, I can't even imagine someone like Shanzay wanting to be with Abdullah. What is she after? Does she wish to be 'Esa' in his life? Abdullah and Shanzay went out for lunch but it was night time when they were in the restaurant, a common mistake in our dramas nowadays!
Final Remarks
I missed watching Mahjabeen and Abdullah's sweet interactions in this episode. Abdullah is a good person and I am really hoping that he will eventually decide not to leave Mahjabeen. Right now, the story has taken such a turn that it can really go downhill if not handled wisely. Mansoora's character is getting confusing, she had started questioning Sarwar but tonight she defended him like she never suspected him. The preview of the next episode showed Shanzay proposing Abdullah and Sarwar harassing Mahjabeen.
Did you watch tonight's episode of Pyar ke Sadqay? Do share your thoughts about it.