Like every other episode of Sadqay Tumhare this one too had enough witty dialogues to keep me entertained and I must confess that Shano's character and the way it has been acted out is one major reason why this drama always scores high on my chart. For me the highlight of this episode had to be all the scenes with Shano in them; in my opinion tonight our heroine totally outshone our hero. Shano's father's character is turning out to be quite amusing. The way he asked Rasheeda "lekin Sheeda hum Khalil ko inkaar kyun kur rahe hei?" was hilarious. This man will believe anything his wife tells him which makes him sweet and gullible at the same time.
The conversation between Fayaz's parents and Shano's father was very interesting. The funny thing is that Shano's father did not stop for a second even to think why they were not willing to marry Khalil to Shano! This man was taking a stand all along for something he did not even believe in – that is Shano's father for you! Fayyaz's mother's statement came as a surprise to him because obviously this thought had never crossed his mind before! Rasheeda's twisted explanation which actually proved that she was getting back at her sister too and her ex-husband (Khalil's father) by doing what she did was enough to convince him that Rashida never wanted to marry Abdur Rehman! Rasheeda's desperation to marry Shano off with Fayyaz was evident from the dialogue "muu tu salamat hai na us ka" – I thought that was hilarious. All these people are actually scared of Khalil, they have no idea how they are going to deal with this situation.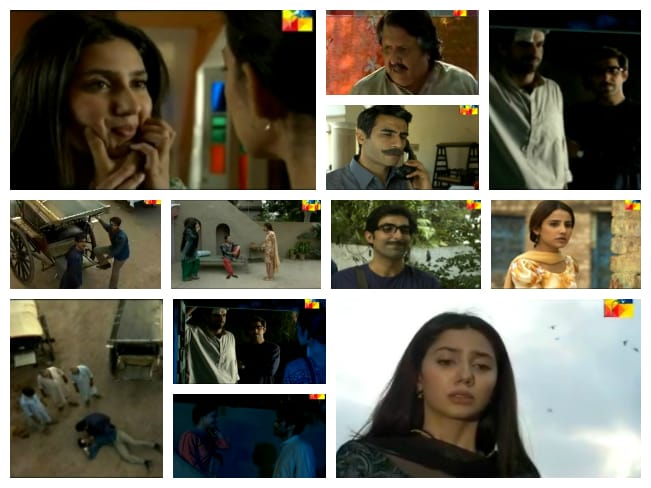 While Shano's parents are simply cluess, Shano and Khalil are anything but that! Shano's dialogue "mujhe is baat ka ghum nahi ke meri Khalil se shadi nahi ho sakti, bus yeh dua kur mere naam ke saath kisi aur ka naam na lei." showed that getting married to Khalil is not her ultimate goal but all she wants is to live her life loving him. Shano and Khalil's love story is one of a kind because these two belong to each other even if they never get to spend the rest of their lives together. They will always find a way to be with each other some way or the other and that is enough for them. But the fact that if Shano does not get married to Khalil she might have to one day get married to someone else is what can make the two do something they probably never thought of doing.
Khalil's surprise visit to Shano's house and the way Shano's parents reacted showed their helplessness! Shano's father kept on asking Mansoor questions but could not muster up the courage to go upstairs and find out what was going on for the longest time. The "100 bata 100 pe hansi aa jati hai" dialogue was spot on! Fayyaz and Shano's marriage has been postponed for now because of Fayyaz's injuries but something tells me that once he is fine he'd want to marry Shano.
In my opinion this episode belonged to Shano and Mahira Khan. I enjoyed every scene because it added something new to the story or gave the viewers an insight into the characters. There were quite a few scenes that were extremely touching.The simple yet witty dialogues make this drama a treat to watch.
Do share your thoughts about tonight's episode.
Fatima Awan