Awwwwwwwwwwwwwww! I just can't emphasize enough on how much I love Shano & Khalil, how much I love their love for each other & how much I love Sadqay Tumhare. This episode, like always, was magical & it was a treat to watch. I don't know how many times I got overwhelmed by looking at their suffering which has no end to it & yes, needless to say but this episode belonged to Shano & Khalil. :)
'Pata hai, jab mai appse mili bhi nahi thi, ye bhi nahi janti thi ke app mujhse pyaar karte ho ya nahi, phir bhi is baat ka ilhaam tha mujhe, yakeen tha, ke meri haya ke rakhwalay ho app'. Shano has blind faith in Khalil & she has all the reasons for it because Khalil has extended the exact same respect to her that she had imagined. How can she not fall in love with such a guy who treats her with so much respect & takes care of her dignity? Whose intentions are so pure & modest? How can Shano not take a stand for Khalil, who treats her as a centre of his universe? 'Mohabbat pe bass nahi chalta, par Nikkah to ikhtiyaar mai hota hai aur ikhityaar iska ma baap ke pass hota hai', with such ease Shano untangled the perplexity that Khalil was facing when it came to take a decision about their relation. I absolutely love Shano for this; she knows what Khalil means to her but she also knows that she has certain responsibilities towards her parents, one of which includes taking care of their respect that they have entrusted her with.
'Kaha to sach hai, lekin dil se nahi'. Even though Khalil knew what he was saying, but even before he could explain what he meant, Shano didn't want any justification because she heard the unspoken truth that imbibed Khalil's heart. He can never imagine doing anything that would stain the love he has for Shano & anything which would stain Shano's reputation. He wouldn't allow any sort of circumstances to get the best of him. 'Is mohabbat ke do hi anjaam ho sakte hain, court marriage kar lo yan phir bichar ke mar jao'. In just a few words Khail predicted what is yet to come. The best thing about Shano is that she knows what her priorities are & no matter how many times she has to restate, she will never back out. I love Shano's obedience & her truthfulness, which give her an edge to deal with the most complicated situations in her life with so much of ease & I love Khalil's morality, even though he will hardly give you any reason to like him but being a man of few words, he will stand by his stand & will never back out from the promise he has made & his honesty makes me like him even more.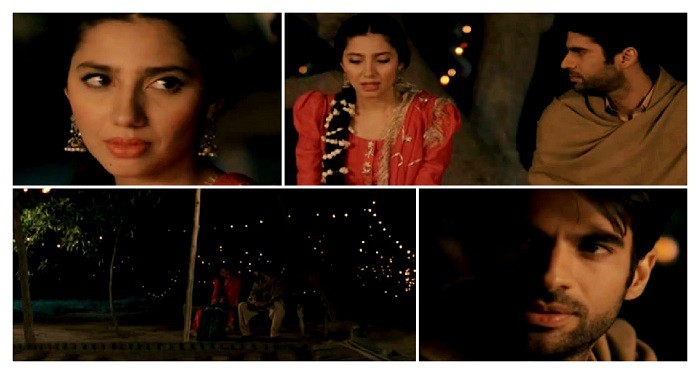 'Appni kasam na dena mujhe, tumhe meri kasam. Tumhe koi dekhe to mujhe is baat ka gham nahi hai, lekin tumhe koi buri nazar se dekhe to dekhe hi kyun?'. Sadqay Tumhare defines how simple dialogues can beautifully strike a chord every single time. Like anyone else, Khalil is possessive for Shano but unlike others, he also gave her an apt reason as to why he flipped because of what Humaira's cousin Mushtaq did. I liked the fact that Khalil gave Shano a logical explanation for his behaviour. He wants to make sure that Shano also understands that Khalil will protect her no matter what it takes. Everyone knew Mushtaq was a son of inspector but I loved the confrontation between inspector & Khalil. Who would've thought that our very own angry young man would just settle with Mushtaq over a dialogue? I was dreading some more feisty fights but this is what makes Khalil a hero in literal sense, he is always unpredictable. :)
I must say I love the way all these actors have even worked on their body language. Shano was not herself when she was with Khalil & it was evident throughout. Those sparkling eyes, reluctant smiles, those fluttering eyelashes of Shano, the tranquillity on Khalil's face while looking at his love, the way he squared his shoulders while being confrontational, everything makes it a treat to watch Mahira & Adnan performing the characters of Shano & Khalil because they have absorbed these characters. I actually felt a lot for both Shano & Khalil when Khalil chose to freeze himself just so that he could intervene if Shano ever needed him & also when Shano couldn't bring herself to go to her cozy warm bed when she learnt that Khalil had spent the night siting at her doorstep worrying for her. I must say their love is something else; it was such a heavy hearted scene & made my heart ache for them. There was so much sincerity in the way Shano looked at the sky, as if she was actually hoping for a miracle. *speechless*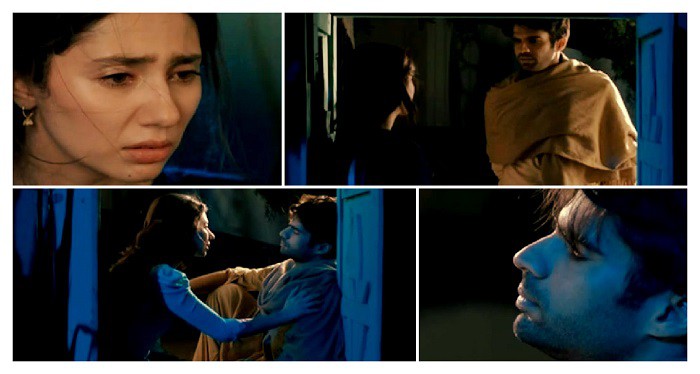 I was actually happy to see Ameen after so many episodes but too bad he's just another pawn who's under Rasheeda's control. Seems like she really has spent a whole life planning this revenge which is why she knows what card to reveal at what time. With so much ease, Rasheeda taught Ameen how to emotionally blackmail Shano into marrying someone else. It was pretty evident that Ameen was regretful for what he did to Khalil but he is in such an awe of his wife, that he can't be decisive on what he wants for Shano. Until now, Ameen has no idea of why he is against this marriage & he even doesn't know why Rasheeda is as well but he is just following his wife's instructions without questioning her & that makes him look very naive.
I must say I am totally in love with the entire effort that has been put together to make Sadqay Tumhare such a treat for us all. Each one of them has done an amazing job in contributing towards this project's quality. I've been totally floored by the impressive acting of Mahira Khan & Adnan Malik. I think it's safe to say that no other faces could've done justice to the characters of Shano & Khalil. I was surprised to see the preview of next episode. Rasheeda has been blinded by the rage of betrayal that she has lost the plot. I can't wait to see how Abdur Rehman will tackle her. I can foresee a dent in Humaira/Shano's friendship too but I so don't want that to happen because Humaira has stood by Shano through thick & thin. I can't wait to see what Sadqay Tumhare has in store for us but for now, we can discuss how much we enjoyed watching this episode so please, share your thoughts. :)
Keep Supporting,
Cheers,
Zahra Mirza.
ps: I'm covering for my dear friend Fatima Awan, so please keep an eye on the comment section for her say. :)