Aiman Khan is one of the top celebrities of Pakistan and this is the reason why people love to see Aiman Khan's dresses and sense of styling. Aiman Khan always gets appreciated for the way she carries herself, the way she does her hair, makeup and the kind of dresses she wears. Aiman Khan is one of those very few celebrities who stylize themselves modestly and this also happens to be the reason why people always shower them with love and appreciation. Aiman Khan has shown her fan following that while being modest, you still can look stylish and elegant.
Aiman Khan's personal style is simple and casual where she likes to keep herself comfortable. When it comes to her personal life pictures where she is seen hanging out with her family, she is seen is a pair of jeans with some comfortable knitwear or t-shirts, going by the seasons. Aiman wears trousers and pants and wear over sized sweaters or comfortable t-shirts when she is out and about on her own. She also likes to add scarves and mufflers around her neck which is an added layer of style and comfort.
[lwptoc]
Aiman Khan's Personal Casual Style
However, when it comes to special occasions like Eids or work-related appearances on award or morning shows and interviews, Aiman Khan loves to look glamorous from head to toe. This is the reason why Aiman Khan wears heavy formal dresses and does hair and makeup glamorously to complete her looks perfectly.
Here is a list dedicated to the Top 10 Dresses of Aiman Khan:
The Regal Bridal Dress
Aiman Khan's wedding to Muneeb Butt was not only a grand affair but was a talk of the town as well. Just like any other girl, Aiman Khan made sure to choose the best bridal dresses for herself, which made her feel pretty like a princess. Aiman Khan's wedding was the most anticipated wedding of any Pakistani celebrity and people couldn't wait to see the kind of bride she will make ever since Aiman and Muneeb got engaged. Aiman Khan's bridal dress was regal and she looked nothing less than a royal princess in a traditional look. Aiman Khan went all out and wore a heavily embellished gorgeous bridal dress which was designed by Erum Khan Couture, who was the official dress designer of the grand wedding. Aiman Khan's bridal dress was designed as a long shirt with flared bottom. The dress had maroon and golden color scheme. The shirt and then palazzo style bottom broke the monotony of the embellishment pattern and added dimension to the dress. The dupatta and bustier part of the gown was maroon and the rest of the dress was covered in dull gold embellishment. Aiman Khan went for a lighter dupatta to drape over her head because she wanted the focus to stay on her bridal dress and this entire combination was a masterpiece.
The Modern Peachy Walima Dress
Aiman Khan went for a modern look on her Walima and this is the reason why she chose such a beautiful shade of peach and got it covered with silver embellishment. This gorgeous dress again made Aiman Khan look like a vision. Aiman Khan not only made a pretty bride but she made a young and happy bride too who got to enjoy her wedding to the fullest. Aiman Khan showed that she put a lot of thought into all of her looks and dresses and she was sorted as to what she wanted for her grand wedding. This gorgeous Walima dress was a gown with huge tail that covered almost half of the stage. This was the designer's vision for giving Aiman Khan a modern gown while still making her look like a beautiful Pakistani bride. The dupatta of this dress was again kept on the lighter side to let the actual gown do the talking. It sure was a beautifully designed and crafted dress which finished the grand wedding with a statement and made Aiman Khan look absolutely pretty like a princess. This dress was also designed by Erum Khan Couture.

Lady In Black
Aiman Khan wore this formal western outfit during her appearance on Miss Veet's finale and she looked like a boss lady herself. Aiman Khann is an inspiration to a lot of younger girls who aspire to become famous actors. Miss Veet provides platform to younger girls who have it in them to do something for themselves, Aiman Khan's overall look represents a young confident girl who has earned a name for herself with her hard work. This gorgeous outfit is a modern take on women's suit. It has enough embellishment to make it formal. Aiman Khan wore simple black trousers and plain black shirt but she completed her entire look by wearing this gorgeous black velvet jacket and enclosed it with a belt. Aiman Khan surely looks glamorous and gorgeous in black!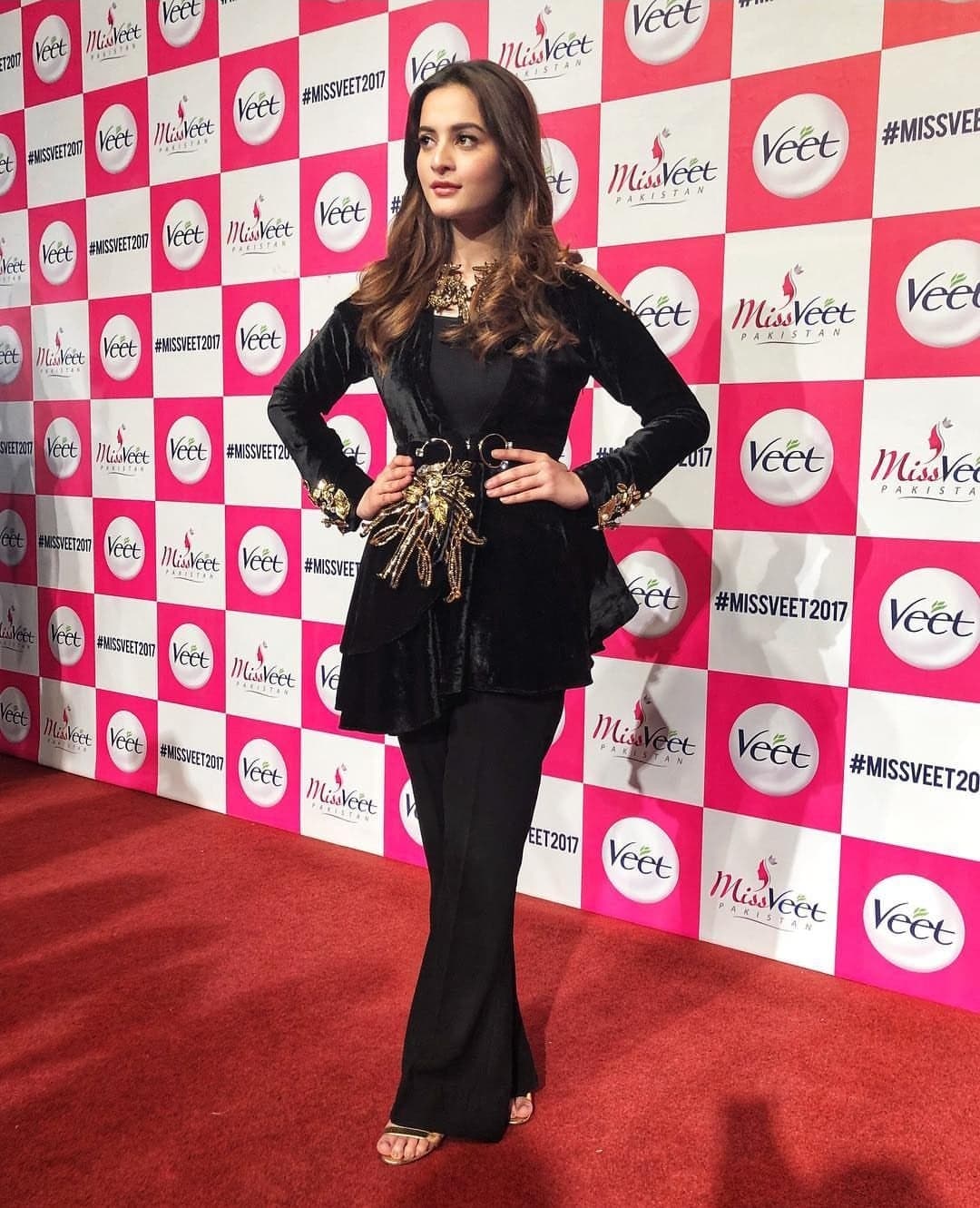 The Orange Charm
This beautiful dress is simple but it has wow factor to it and that is because of the gorgeous orange dupatta which Aiman Khan had draped in such a way that it took the entire limelight and made the entire dress shine. Aiman Khan has worn a simple white heavily embroidered churidar and straight shirt with it but the orange dupatta is doing the talking. This shows that any simple white dress or shalwar kameez can be amped up when paired with any bright colored dupatta. This is one such dress that must have inspired a lot of young girls to bright out their colorful dupattas and wear in the upcoming family weddings. Aiman Khan has kept her styling and makeup decent but has also worn heavy jewelry. This entire effort of Aiman Khan shows that white can never be boring and gives a lot of margin to the girls to experiment and look flawlessly glamorous.

The Beige Red Nikkah Dress
This dress of Aiman Khan had a color combination of beige and red which can never go wrong. The beautiful dress was also heavily embellished and it was made out of pure chiffon. The designed kept the beige a dominant color of the dress and added red to depict Aiman Khan's official marriage because she got to wear this dress when she and Muneeb had her Nikkah, where she officially went from Miss to being Mrs. The lower part of this dress had a beautiful paisley motif which added the traditional, ethnic and timeless charm to this dress. The dupatta had a thick border which extended to having a criss cross pattern which added that modern touch to this dress too because this pattern happens to be in these days. This dress had a front slit too and a heavy designing on the bustier part of the dress, these little cuts made this dress quite modern and fit for a young bride.
The Boho Jumpsuit
This jumpsuit shows that it is designed for younger girls who are ready to take on the world. Aiman Khan's confidence and her body language that is coming across in the pictures shows that by wearing this jumpsuit, Aiman Khan not only felt her age but she felt comfortable enough as well. This jumpsuit has a beautiful floral print and looks absolutely stunning. The fit of the jumpsuit is perfect too and it is hugging Aiman Khan's figure comfortably. The crop denim jacket is another perfect addition to this jumpsuit because it not only completes the look but also adds a layer needed to cover up. Jumpsuits are usually sleeveless so pairing a denim jacket on top is a brilliant idea for those who are not comfortable wearing jumpsuits on their own. Aiman Khan is rarely seen wearing such kind of jumpsuits, that is why this one stood out and got a place as one of the top 10 dresses worn by Aiman Khan. And yes, silver sneakers are complimenting the denim jacket and jumpsuit perfectly.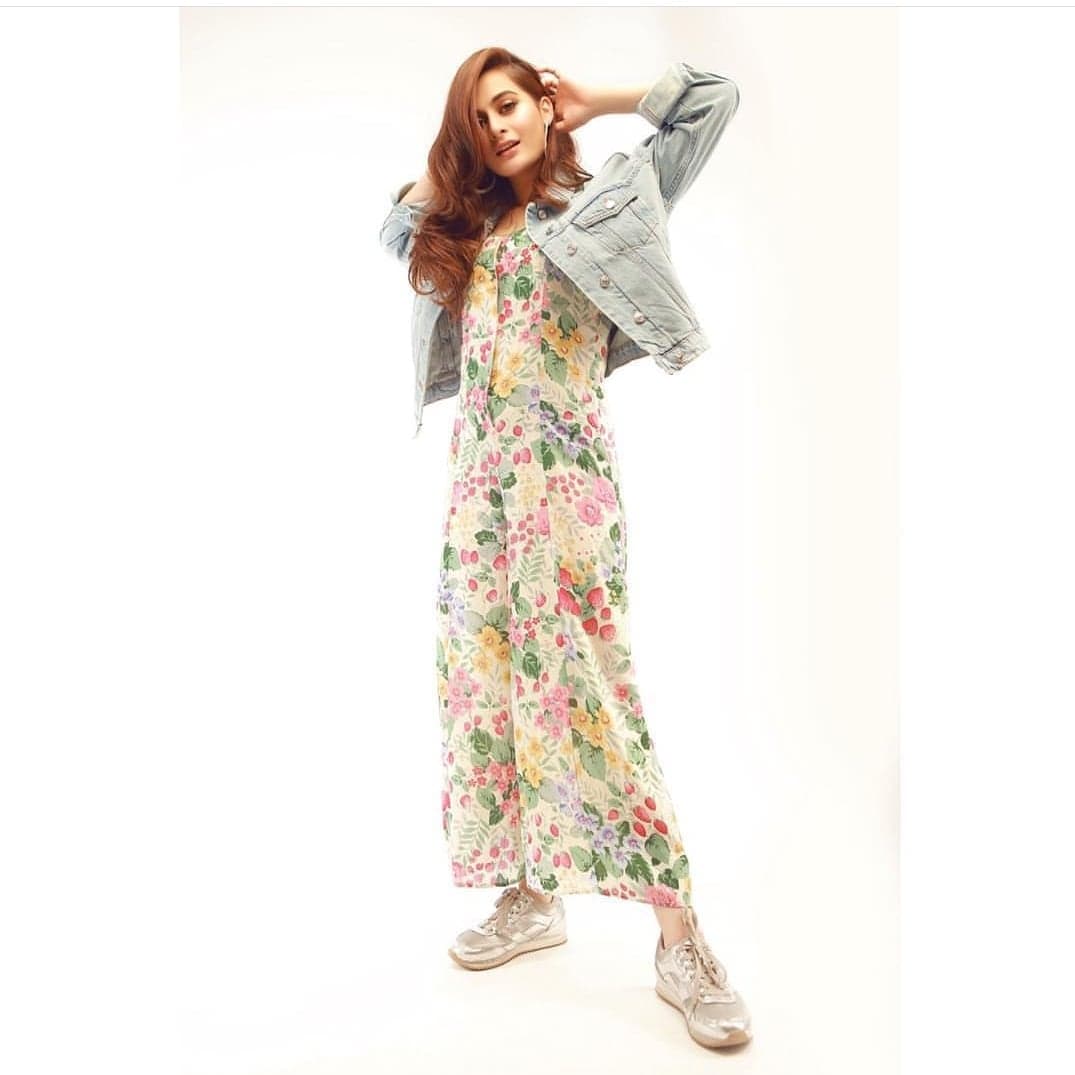 The Unique Combination Formal Dress
This dress was a perfect way for Aiman to showcase herself as a young and newly wedded girl. She wore this gorgeous piece of Maria B to attend a family wedding and looked ethereal in it. This beautiful dress had three beautiful colors put together to form an amazing color combination. Teal was the base color which had beautiful embroidery and embellishment and made the long shirt of the dress. The borders were completed with maroon velvet and criss cross patterned motifs. The golden dupatta was made of self-printed and self-embossed fabric which added the regal and formal touch to this entire dress. Although the dupatta happens to have a brighter golden tone, it still did not take away from the gorgeous teal maroon gown. Dupatta was made a part of the dress by adding the maroon velvet on the borders. This entire dress was a beautiful creation of top designer Maria B and it definitely deserves to be in the list dedicated to the top 10 dresses of Aiman Khan.
The Snow White Dress
This stunning white and silver dress of Aiman Khan is everything a girl needs to feel on top of the world. This simple combination of white and silver can never go wrong. It is that kind of combination which will look good in any cut or silhouette. It is a beautiful palazzo with short frock like shirt. The silver embellishment on the front of the shirt is gorgeous and the tassle is another cute touch to this pretty girly dress. This dress of Aiman Khan is perfect for occasions like Eid which now fall during hot and humid months. Aiman Khan herself wore this gorgeous dress on Eid and the entire vibe of this dress is quite Eid appropriate, it is sparkly, glittery and everything girly!
The Pastel Angrakha Pishwas
The silhouette of a Pishwas makes it the most comfortable wear for a girl when she wants to look gorgeous while she is expecting a baby. Pishwas is one such dress which can never go out of fashion and this is the reason why Aiman Khan wore it during her pregnancy on one of the Eids this year. Aiman Khan looked gorgeous in this mint green and baby pink pastel toned Angrakha Pishwas which she paired with white churidar. The golden lace added a formal look to this simple looking Pishwas and white embroidery on the front added elegance to it as well. The tassels were a cute touch to this shirt. Aiman Khan wore a golden kolhapuri chappal, which is another comfortable footwear a girl can rely on during her pregnancy.
The Cool Toned Traditional Dress
This gorgeous dress worn by Aiman Khan was designed by Faiza Saqlain. This beautiful dress is based on cool tones which add elegance and charm to this dress. The light embellishment on the front and trousers are giving this simple suit a very formal look. The cut of the shirt and the overall look is quite unique too because it also has a flare to it. The cool toned bronze dupatta is another beautiful addition to this outfit and it matches the embellishment on done on the front of the shirt. Since Aiman Khan was pregnant in most of the pictures that she posted lately, it can be clearly seen that she relied on kolhapuri chappals and flared shirts to keep herself comfortable. However, she enjoyed her pregnancy and didn't turn it into an excuse to sport messy looks. Aiman Khan always looked well put together and properly glammed up throughout her pregnancy, which sends a good message to her young followers that pregnancy is such a phase which is meant to be enjoyed despite the discomforts and aches.
This completed the list of top 10 dresses of Aiman Khan. Which one of these are your favorite? Please share your thoughts.