Ohkay so, production of Momina Duraid, writing of Qaisra Hayat & direction of Ilyas Kashmiri; Aabro is airing at 8PM on HUM TV on Sundays from the last 5 weeks. The screenplay of Aabro is written by Umera Ahmed, which is something that has attracted a lot of viewership to this drama. Overall, Aabro isn't a must watch but has been executed properly without much loopholes, therefore it can be followed without expecting too much from it in terms of entertainment or story.
The story of Aabro revolves around 3 families that are interlinked. First comes the family of Zubaida (Farah Shah) & Anwar who have 4 childern. Ali (Noor Hassan) & Abid (Ahmed Zeb) are their sons along with two daughters, out of which Samra is engaged to be married. Then comes the family of Zubaida's sister Shahida (Humera Bano) & Jamshed who have two daughters, out of which Fauzia (Zainab Ahmed) is the center of attention. Then last but not the least, comes the family of Sakina (Asma Abbas); a widow & a mother of Hamid (Imran Ashraf) & Aabro (Mehreen Fayyaz).


The story begins by showing that Ali & Aabro are interested in each other & are going out. They both are very much in love & plan to get married. Ali's mother Zubaida is a very family oriented woman who believes that she has a control over her children. She wants what's best for them & that is why she believes her sister's daughter Fauzia is a perfect choice for her son Ali. Ali belongs to a middle class family & Zubaida believes in morals & values, that is why she believes that Fauzia fits the bill of her ideal daughter-in-law as she knows that her sister Shahida has raised Fauzia with the same mind-set that Zubaida endorses herself.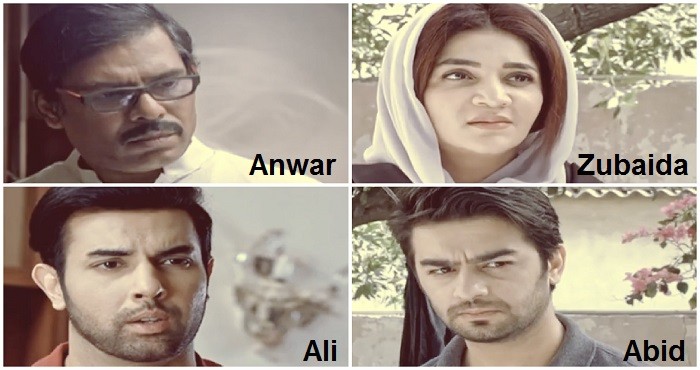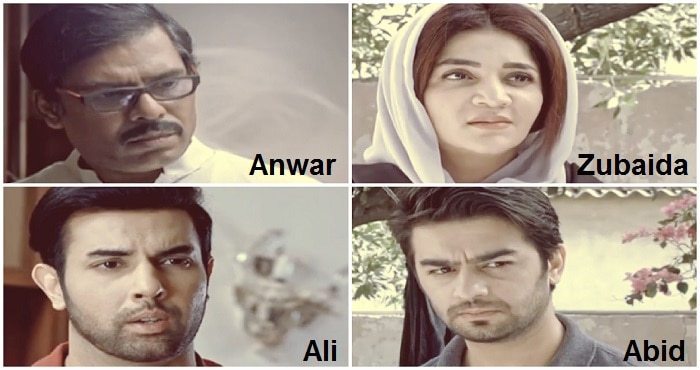 Sakina works as an janitor in the college & works as a maid at the house of the principal of the same college. Sakina has given up on her son Hamid because she knows that he was never interested in educating himself. She puts faith in Aabro because she thinks Aabro would be the one who can turn the tables for the entire family. On personal request of Sakina, her Madam (Ismat Zaidi) gives admission to Aabro in the college because she feels for Sakina & knows that despite being a single mother, she works really hard to provide for her children.


Aabro asks Ali to introduce her to his family but Ali can't really find the right time to do that & just when he is thinking of talking to his mother about Aabro, Zubaida finalizes Ali's engagement with Fauzia. Even though Ali tells his mother time & again that he doesn't want to get married to Fauzia, she doesn't pay heed to what her son says as she is too keen on saving her word & reputation in front of her sister. Surprisingly, it is Ali's father who feels that Ali isn't happy with the situation but Zubaida assures him that he is mistaken because whatever she did happened after knowing Ali's opinion on that matter.
Aabro finds out about Ali's engagement with Fauzia & that's when she decides to step in. She speaks to Fauzia directly & tells her that Aabro & Ali got married, therefore she should call her engagement off. Things get heated & that's when Fauzia's parents take a stand that they would never allow Fauzia to get married to Ali. On Ali's request, Zubaida goes to meet Aabro just to find out that she is completely opposite to Fauzia, making her even firm on the decision that she'd never allow Ali to get married to such a girl who has been raised like that. Now the things are going to get pretty ugly because Aabro has decided to elope with Ali & looks like Ali has agreed too because he knows that nothing that he'd say will convince his mother. So let's see what more do they have in store for us.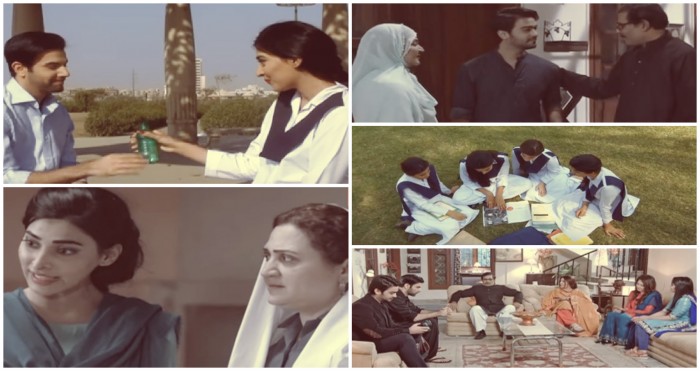 First 5 episodes introduced all the characters properly & I think the writer has done a good job in bringing out the personalities of all the characters in detail. I think it is appreciable that just when the drama is in the initial stages, all the characters have gotten enough coverage so that the audience can understand them better. Even though the drama has 'been there, seen that' written all over it but it still provides satisfactory content to tune in on the weekends.
Even though there's nothing appreciable about Aabro but I think she is better in a sense that she is not after Ali's money or didn't fall for him after finding out that his family is doing well financially. She just fell in love with him for who he is & yes, she is someone who wants everything in life but still she has never once considered that she can mooch off her future husband Ali. There's a fine line between being in love for genuine reasons or to pose you're in love just because you're a gold digger but Aabro isn't that & she actually really loves Ali & yes, all the things she expects from him are the things any girl expects from her future husband. Aabro has never once thought of changing herself because she thinks Ali has accepted her the way she is & this is something that's a huge mistake on her part because no matter how much Ali loves her now, after marriage, her nature is the main thing that will prove to be the reason behind them drifting apart. Aabro is immature, impatient & inconsiderate & it is actually quite surprising that Ali can't see that. Ali happens to belong to a good family but even he has allowed himself to get swayed by a girl like Aabro, that is why he doesn't see any faults in her & is creating a havoc in his home for her sake. Aabro surely has Ali wrapped around her little finger but then she is not solely responsible for it because Ali has given her that much of an edge to be able to do that.
Honestly speaking, in the initial episodes, I liked Ali's mother & thought she was justified for thinking that as a mother she can take important decisions on behalf of her children but the way she ignored Ali's pleas even after hearing from him clearly that he doesn't want to get married to Fauzia & the way she tried to impose her decisions on him made her look very unreasonable & irrational. I am glad that at least the husband in their couple is wise enough to think that Ali is entitled to choose his life partner & that he won't be able to make Fauzia happy if he himself won't be happy with his marriage but Zubaida resorted to lying just in order to save herself & add more weight to her decision. I thought Zubaida was a wise woman as well like her husband but I don't think that's the case anymore because if she would've been wise, she would've been able to foresee the mess that now her & her sister's family is facing, which is just a result of her lies & a result of her turning away from the reality.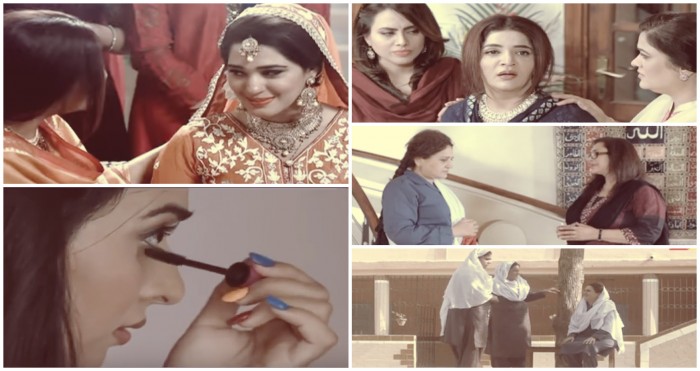 Also, I am not at all a fan of Fauzia's character. Why do the writers always show that behind every sulking lifeless girl, there's a guy she is dying to get married to. Why do they think it is justified to show that no matter how the girl gets rejected point black by a guy, she still would want to get married to him. Ali happens to be Fauzia's one & only love, her first love of the life (if she has one) & she is ready to do everything to be with him. Even after personally getting a call by both Ali & Aabro & also after getting a final verdict from her parents especially her father, Fauzia is taking a so-called stand that she still wants to get married to Ali & will never call off her engagement. Like seriously, Fauzia actually made me feel disgusted by her display of lack of dignity & self-respect. Just when I was expecting that Fauzia would be the one calling Ali & giving him a piece of her mind, she was mad at her parents for breaking her engagement with Ali, which actually left me in a state of shock. Why do the writers feel that they need to show that a girl who supposedly is strong-headed will take a wrong decision that too for the sake of a guy who is least interested in her. I so wish Fauzia stops being so ridiculous that too for the sake of her one-sided love because she is turning out to be a mentally weak person! Also I believe Shahida's meltdown was absurd too. Just when Shahida saw that her daughter Fauzia wasn't taking the news of her broken engagement well, she decided to side with her & accept her decision of getting married to Ali while completely being ohkay with the fact that he was already married. Even though Ali's not married but right now no one in her family is familiar with the reality so to see Shahida being perfectly fine with the fact that Fauzia will become Ali's second wife made me cringe (a lot)!!!
Overall, the direction & the acting of all the actors has been good but I feel Mehreen Fayyaz should tone it down a couple of notches, whether it's her dialogue delivery, her expressions, her gaze or even her makeup. She does fit well in the frame of Aabro's character but she is over-doing it a bit. She has a long way to go in terms of acting & I hope she improves because for now, her eyes look completely bland & expressionless. I now think Noor Hassan should change his look, if not anything, at least his hairstyle because he happens to appear in one drama after another but isn't experimenting with his looks at all. He has a same hairstyle if we look back starting from Firaaq to Muqaddas to Tumhare Siwa & now Aabro, I hope he's not trying to become another Ahsan Khan in terms of monotonous styling. I must say the only actor who has actually forced us to feel for the character she is playing is Asma Abbas. She is phenomenal as Sakina & you actually understand what she is going through & how hurt she is but is still putting up tough facade to face the world. She doesn't believe in crying over how diffcult her life is, she believes in moving her muscle to fight it out, which I feel is commendable & is refreshing to see. Farah Shah has acted brilliantly too & I loved her acting in the 5th episode in particular where she is mad at her son & can't explain how helpless she's feeling. The rest of the characters are very typical & have nothing new to offer but are being portrayed well by the actors. Sadly, these sort of stories have been aired so many times that we can't help reading between the typicality they offer but I really hope it turns out to be a bit different in the episodes to come & ends at a good note with some very strong underlying message. Umera Ahmed's name is something that is forcing me to have some hopes with this drama. Please share your thoughts about the first 5 episodes of Aabro, would love to hear you guys out & also let me know if you guys would like to see the weekly reviews of Aabro. :)
Keep Supporting,
Cheers,
Zahra Mirza.