Opening Thoughts – Intelligently Told Story:
Another week, another brilliant episode of Alif. This episode of Alif might have been on the slower side & it focused on couple of scenarios but the note at which this episode ended made it complete & perfect. I like how the drama makers are not giving out everything & they are pretty much playing with the emotions of the viewers, where they want the viewers to grasp everything as it comes, they want them to think, introspect & ponder. I think this has to be one of those projects which have been tackled just so intelligently where the drama makers have a complete grip on the story & they know what is meant to be given away at which moment & this makes Alif a wholesome experience, a journey of its kind. Simply amazing!
Momina's Opportunities:
Momina got in touch with Faisal only to find out that he demanded more from her than she had to offer. Momina clearly understood that she must've thought of Faisal as a reward but he actually came back to test her further than she was already being tested. Faisal made it pretty clear to Momina that he had more expectations & he wanted her to fulfill them, which means this was basically him establishing the foundation of their relationship where he wanted to dictate her all his life. Momina's bubble was burst, not that she was living in denial, but after everything that life threw at her, Momina found it easy to come to a conclusion that she could not deal with Faisal & his demands. Their conversation actually let Momina know that Faisal claimed to have accepted her but he was never ever going to understand her or her struggles, which means he will never love her unconditionally like she deserves to be loved. Momina has done everything for her family, her younger brother & she never once compromised on her values but Faisal only perceived things how he wanted to, without ever giving Momina a chance to explain herself. Faisal has been very demanding, he is quite controlling, which means he will not even find it easy to trust Momina, therefore she made the final decision & walked away!
Life presented Momina another chance, the coordinator has seen the potential in Momina & those expressions showed how Momina actually was forced to think about the notion of 'living life for herself'. Momina has never done that & even now she is doing this project to pay off the debt, so for Momina to hear someone say those words was hard to grasp. The only thing she wanted in her life was probably Jahangir's recovery & then Faisal's presence but life took Jahangir away from her & she herself had to give up on the dream of being with Faisal, so what else is left for her to live her life for? Momina did mourn the loss of her love now, first she had to mourn the loss of her brother & now her love, but she surely has no idea what life has in store for her. It is actually interesting how life is presenting her with more opportunities, that too in such a field which she didn't choose for herself & did not even want to pursue. Momina knows this is not the success she wants for herself but she would still explore the opportunities because she has to take care of her parents, once again a selfless decision of Momina that will pay off is actually going to count as her success. I am interested to see Momina's journey now!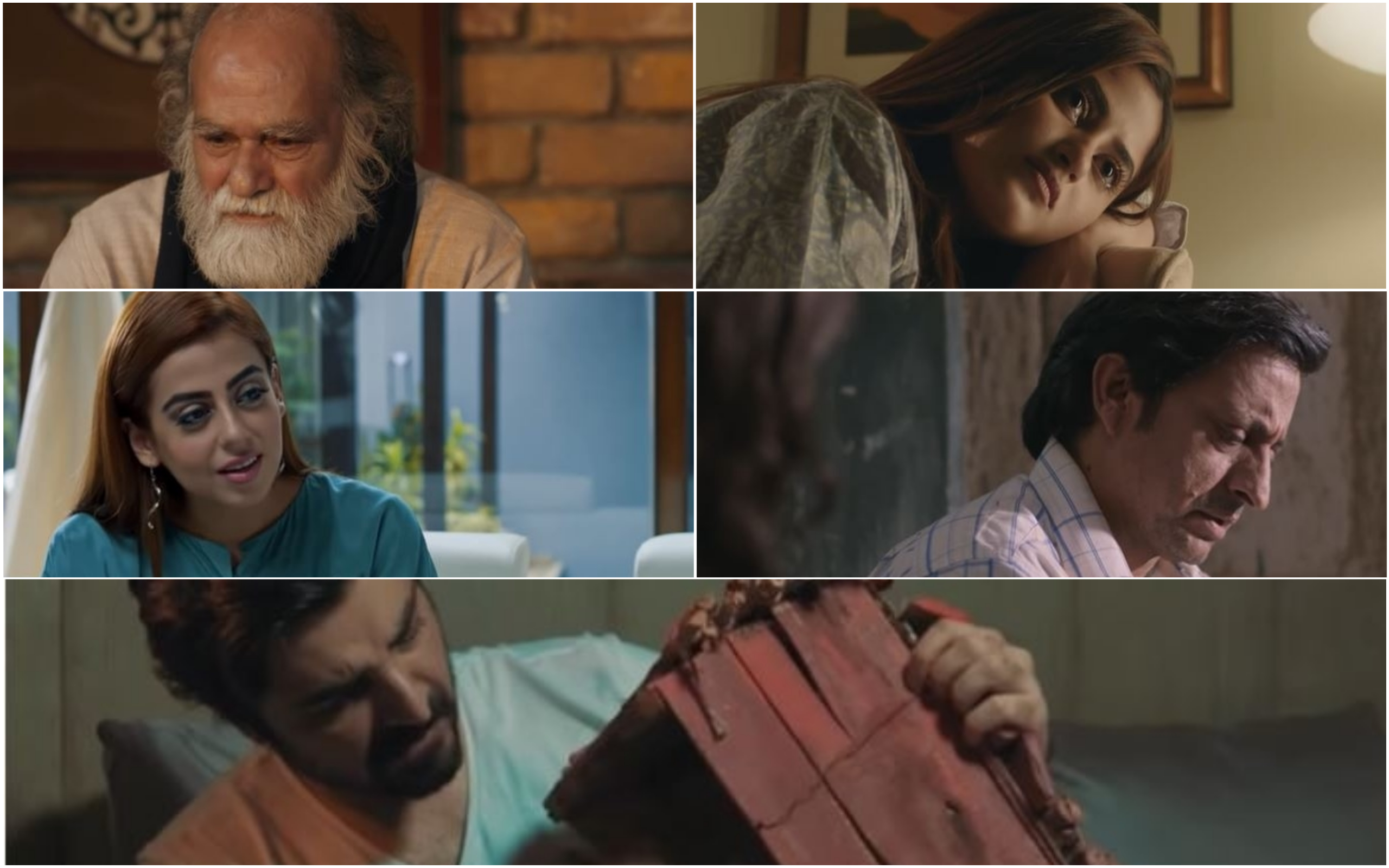 Qalb e Momin's Questions:
Qalb e Momin made a big announcement & to his surprise, no one was thrilled or happy for him. Momin is just doing all of this to prove a point to his grandfather but right from the very beginning, right in the initial stages Momin found out that this was a challenging path that he has started to walk on. Qalb e Momin has not actually realized the superficiality of the industry that he is associated with or the people who surround him but now, he is also in the initial stages of self-discovery. Qalb e Momin's professional failure will lead him to personal success & the foundation of this journey was laid in this episode. No one around Qalb e Momin is excited or even buying his concept & in fact Qalb e Momin himself doesn't know what he wants to show in his movie – which goes to show that he actually is a blank canvas right now!
Once again, the highlight of the episode for me was Abdul Alla & Qalb e Momin's brief interaction which was shown as a flashback. Abdul Alla sent Qalb e Momin the letters that he used to write, only with a motive that may be he will start asking questions again & this was the point that I absolutely loved & couldn't stop thinking about the whole time when they were showing Qalb e Momin's ordeal & his blank state of mind. Umera Ahmed has done it again, in a very subtle manner, she has actually shown how important it is to ask 'questions'. This is actually another beautiful way of preaching the right message, don't just preach like a lecture but rather, push people to do soul searching by asking questions & this is exactly what Qalb e Momin's entire journey is all about – questions. Abdul Alla wants Qalb e Momin to ask questions & this is exactly what he keeps on telling him time & again. Simply beautiful!
Abdul Alla mentioned that he got the answers to his questions through Qalb e Momin's letters. In all of his letters, Qalb e Momin only wrote about Husn e Jahan's state of mind, he mentioned how miserable she was, how lonely & depressed she was. Abdul Alla has read all those letters so he knew all about Husn e Jahan & through Qalb e Momin's letters he got to understand how pure she was & how selflessly she loved Taha. Qalb e Momin actually could not really understand the 'answers' that Abdul Alla spoke about but yes, he has to find that out. It is simply beautiful how Abdul Alla admitted that Qalb e Momin's letters helped him but he did not tell him everything, it is like he doesn't just give away everything easily to Qalb e Momin!
Closing Thoughts – Simply Perfect:
Overall, this episode of Alif was once again brilliant. It was simple & made such an important point of asking questions. Qalb e Momin's entire journey is going to be all about questions & finding answers – what a perfect way of showing a journey of exploring spirituality. Hamza Ali Abbasi & Sajal Aly – their acting, their performances & the characters of Momin & Momina are the backbone of this drama. Their performances are exceptionally good. Every minute expression shows the grip they have had on the script. They have not just performed these characters, they have lived them & it is evident because they have succeeded in showcasing Momin & Monina's mental state every step of the way. It sure is a treat to watch them. I must say Hina Ashfaq is very impressive as Tina. Yashma Gill's acting is really good too & her look with the lighter hair & bronzed tanned makeup suits her & gives her more character & personality. Every single actor has worked a lot on their styling & looks which shows the level of attention they paid & the hard work they did. Acting, direction, camera work, every single aspect of Alif is simply perfect. Please share your thoughts about this episode of Alif.
Keep Supporting,
Cheers,
Zahra Mirza.