Pakistani singers are popular not just in Pakistan but also the world over. Wherever people listen to Urdu music, they enjoy the music of leading Pakistani singers. Even though these singers lead a busy life but they always find time to spend with their families. All of them are happily married. Many of them often appreciate their wives for standing by their side through thick and thin. A celebrities' life can be sometimes hard to handle for a spouse who is not part of showbiz. Some Pakistani singers also give their wives credit for helping them further their career. There a few famous Pakistani singers whose wives accompany them when they are socializing with their celebrity friends. There are others who do not like to make their personal life too public. This is why we do not always see them even sharing their wives' pictures.
Here are few pictures of Pakistani Singers with their beautiful wives.
Ali Azmat Wife
Ali Azmat got married a little late because he never wanted to get married. He only got married to Fariha Khan because his father pressurized him. He chose to marry Fariha Khan himself after his father told him that he will leave the house and never meet him again if he did not get married. Ali Azmat thought that Fariha Khan was a working woman therefore she will be busy and will not interfere in his life much. After a year of being married to her, Ali Azmat realized that the life he was living until then was a lie. When his first daughter was born, he learned the meaning of true love. Ali Azmat now regrets not getting married early because he would have loved to have more kids which he thinks he can't now. The friendship Ali Azmat shares with his life has been the main reason for the success of their marriage.

Atif Aslam Wife
Atif Aslam also got married to his wife Sara Bharwana after being friends with her for many years. Atif and Sara were good friends in the university. Atif could never have imagined that he will get married to Sara one day. Atif Aslam says that Sara made him fall in love with her. Atif Aslam Wife Sara inspires him in so many ways. Atif Aslam is another singer who honestly believes that he got so far because of the love and support of his wife. The couple is often seen spending quality time together. They love to travel together as well.
Abrar-ul-Haq Wife
Abrar-ul-Haq has an interesting career background, he is a jack of all. He has never narrated how he met his wife or whether they had a love or arranged marriage. In few interviews however he has shared that he is really good friends with his wife. When he got married, he had so many fans calling him all the time and sending him gifts. His wife was understanding and this was never a cause of concern for her. Abrar-ul-Haq also takes advice from his wife when he wants to sport a different look. Abrar-ul-Haq's wife Hareem Abrar is mostly not seen in the public especially after Abrar joined politics.
Amanat Ali Wife
Amanat Ali is another famous singer who tied the know few years back. Amanat Ali's wife Sarah Manzoor is the perfect life partner for her. She has always supported her husband in every way. The couple has a cute daughter. They were recently seen in an award ceremony together.
Ali Zafar Wife
Ali Zafar and Ayesha Fazli are a power couple who jointly run their production house as well. Ali Zafar's wife Ayesha Fazli has been by her husband's side when he was recently going through the most difficult period of his life. Ali Zafar was accused of sexual harassment by Meesha Shafi and at that time his wife supported him completely. She even went with him to the trials and confidently faced the media. Ali Zafar and his wife often travel together. Ali Zafar's wife is often seen with him in functions and award shows. They have also shared their love story in interviews. Ali Zafar and Ayesha Fazli met when Ali Zafar was not even a celebrity. Ayesha Fazli is also really close to Ali's family.
Goher Mumtaz Wife
Goher Mumtaz is one of those few singers in this list who is married to a fellow celebrity. Goher Mumtaz's wife Anam Ahmed is a famous model and actress. Goher and Anam have a great relationship. They love sharing their pictures with their fans and followers.
Shehzad Roy Wife
Shehzad Roy is a well-known singer. He is also known for his welfare organization Zindagi Trust. Shehzad Roy is married to Salma Alam. Salma shares her husband's vision which makes them an ideal couple. Here are some cute pictures of Shehzad Roy with his beautiful wife.
Farhan Saeed Wife
Farhan Saeed's contribution to Pakistani music has been remarkable. Farhan Saeed's wife Urwa Hocane is also a popular actress. Farhan and Urwa have also opened their own production house. They are one of the most loved celebrity couples of Pakistan. Farhan Saeed and Urwa Hocane were romantically involved before they got married. Farhan Saeed proposed Urwa Hocane in the most romantic way in Paris.
Rahat Fateh Ali Khan Wife
Rahat Fateh Ali Khan's soulful voice is loved by everyone. Every song he sings becomes an instant success. Rahat Fateh Ali Khan's Nida Rahat is the perfect soulmate who has always supported her celebrity husband.
Jawad Ahmed Wife
Jawad Ahmed has quite a few hit songs to his credit. There was a time when he ruled the music industry. Jawad Ahmed is happily married. He does not share pictures with his wife and his wife is not seen with him in public often.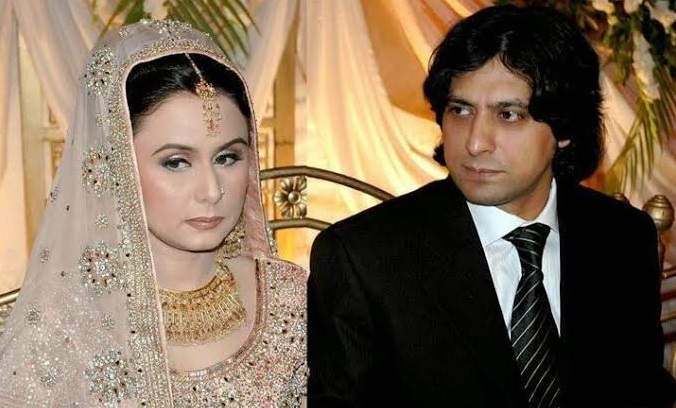 It is always good to see our favorite celebrities happy with their spouses. All these lovely couples have been together for many years and enjoying the best bond.