Pakistani actresses nowadays work extra hard to stay on top of things. They don't just work on their acting skills but also make sure that they keep the viewers engaged through social media. With the advent of social media, private channels, and most important YouTube channels, these actresses are giving more interviews than ever. There are so many interesting things many of these actresses shared about themselves which their fans should know about.
Here are some of the most interesting facts about top Pakistani actresses which will make you like them even more!
Ayeza Khan
Ayeza Khan needs absolutely no introduction. She has been enjoying success for so many years. Her name alone is enough to make viewers tune into a drama. At the same time, she is a dedicated mother and wife. It is not easy to maintain a balance between family and work when you are as big a star as Ayeza Khan yet she does it all so well. It is most certainly not easy but over the years, she has managed to do it all and she enjoys it too. Here are the 5 most interesting facts about Ayeza Khan.
#1 Ayeza Khan was a complete tomboy while growing up. She used to spend most of her time playing with her male cousins. As a result of that for a long time she was actually confused about her own identity just like any other girl who has grown up with boys. However, once she embraced her feminine side, there was no looking back after that.
#2 She started taking her career more seriously than ever when she got married. While Ayeza takes her family really seriously, she has worked extra hard to make sure that her career too is on top of her priority list. In an interview, Ayeza shared that she has become more focused and has worked really hard to manage time properly between work and family after getting married.
#3 Ayeza always wanted to marry into a joint family set-up. Usually, girls prefer living independently after marriage but Ayeza always wanted to get married in a joint family set-up. In an interview, Ayeza revealed that she was so used to living in a joint family that she always wanted to live in such a set-up too after marriage. It was only after her son's birth that Ayeza and Danish moved into their own set-up owing to the fact that her mother had to come more often than ever to babysit the children and she needed more space for the purpose.
#4 Ayeza Khan has never hired a nanny for her kids. Even though Ayeza's work is really demanding yet she has been making sure all these years that she gets up very early in the morning, makes breakfast and lunch for her kids, drops her daughter to the school, and then start her day. She has made a strict and well-planned routine for her children. When she is away for work, her mother, sister, and brother help her out. She has never relied on nannies.
#5 When one of her dramas gets really popular, she tries not to give too many interviews. This is another interesting aspect of Ayeza's personality. She talked about this in an interview as well. Many people wanted to know why Ayeza did not give a lot of interviews after Mere Pass Tum Ho's success. The reason for this was that Ayeza is actually scared of that kind of limelight. Not giving an interview at such a time was her way of staying grounded. She does not want the fandom to make her feel like she is superior to others.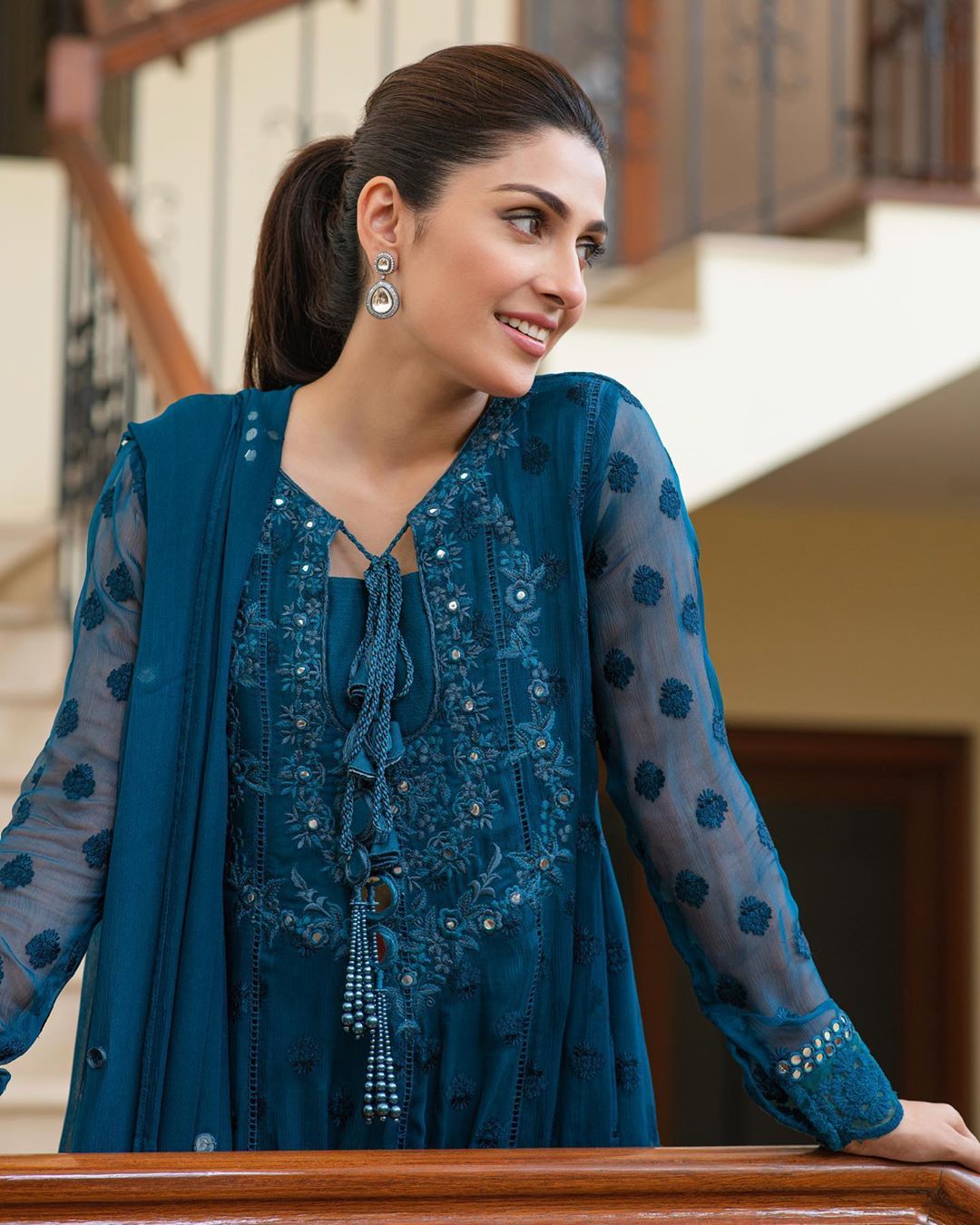 Alizeh Shah
Alizeh Shah joined the drama industry a few years ago but she is already considered one of the most popular Pakistani actresses. She has a beautiful face, she acts really well and most of all she is young so she has a lot of time to make it even bigger in the industry. Alizeh started her showbiz career at the age of 6 but she ventured into acting only recently. Since then she has been part of some of the biggest drama. Here are 5 interesting facts about Alizeh Shah that reveal more about her personality.
#1 Alizeh Shah can sing really well. Apart from acting, Alizeh also loves to sing and has been seen singing for fun in talk shows. Her brother was really interested in music from an early age. She simply followed his lead and that is how she started singing. Perhaps someday we will see her singing professionally too. She particularly likes listening to English music, Selena Gomez and Arianna Grande are her favorite singers.
#2 Alizeh Shah wants to work with Imran Ashraf and Hamza Ali Abbasi. Alizeh is still new in the acting business therefore there are some actors she looks up to and wants to work with. She is really impressed by Imran Ashraf's acting skills, she feels she can learn a lot from him. In an interview, she also shared that she would love to work with Hamza Ali Abbasi.
#3 French Fries are Alizeh Shah's favorite food. Like any other young girl, Alizeh Shah too loves fast food. She especially loves French fries. She can have them anytime and anywhere!
#4 She plans to walk on the ramp when she turns 20. If you are wondering why you haven't yet seen Alizeh walk on the ramp yet then here is your answer! Alizeh feels that she is still young to do so and she is waiting to be 20. She is 19 right now.
#5 Alizeh Shah thinks that her eyes are her most appealing feature. When asked in an interview which features on her face did she like the most, she said that in her opinion her eyes were her best feature. This is definitely true as well!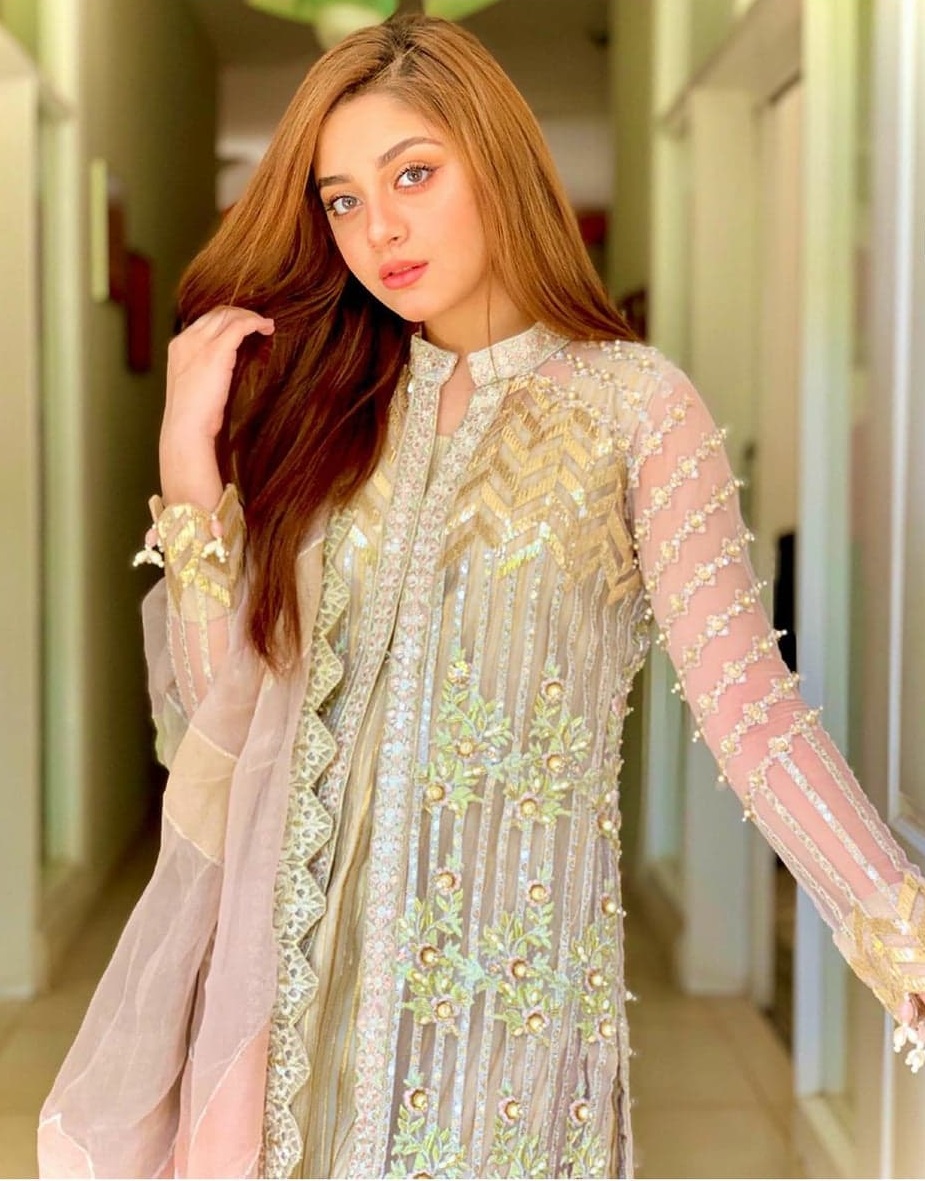 Sana Javed
Sana Javed is another popular actress who has recently worked in some of the most popular dramas. She has established herself as a serious performer in all these years. Sana is also really someone who gives intelligent answers to questions in interviews. Those of you who must have watched her interview probably like her just as much for her real-life personality as you do for her acting. Here are some fun facts about Sana Javed.
#1 Sana Javed considers Nadeem Baig her mentor. The famous and skilled director Nadeem Baig directed the play Pyare Afzal in which Sana Javed played an important role. Sana Javed gives credit to Nadeem Baig for teaching her a great deal about acting. Playing that role in Pyare Afzal to date is the most fulfilling experience of her life.
#2 Sana Javed wants to marry someone who is progressive and not insecure. Sana hasn't gotten married yet because she has not yet found her ideal man. For her trust in a relationship is really important. Her ideal man would be who is able to both give and receive respect. It would be someone who graciously accepts respect without letting it go to his head.
#3 Sana Javed is really choosy while selecting her acting projects. There is a good reason why most of her dramas have been such a huge success, she makes sure she only selects drama which offers something more than just entertainment. She believes strictly that as an actor she has a huge responsibility. She wants her dramas and roles to educate. For her, the writer and the production house matters a lot too.
#4 Saba Qamar and Fawad Khan are her favorite actors from the Pakistani drama industry. When you are a big star, it is not always easy to name certain co-actors who are your favorite. Yet when asked in an interview, who her favorite actors were in the industry, Sana Javed instantly gave these two names.
#5 Sana Javed will never be seen working with actors she does not like. In an interview, Sana made it clear that once she gets those bad vibes from people she works with, she will never work with them again. She shared that she is at a point in her career where she has the luxury of making such choice therefore she will exercise that right if offered to work with an actor she does not like.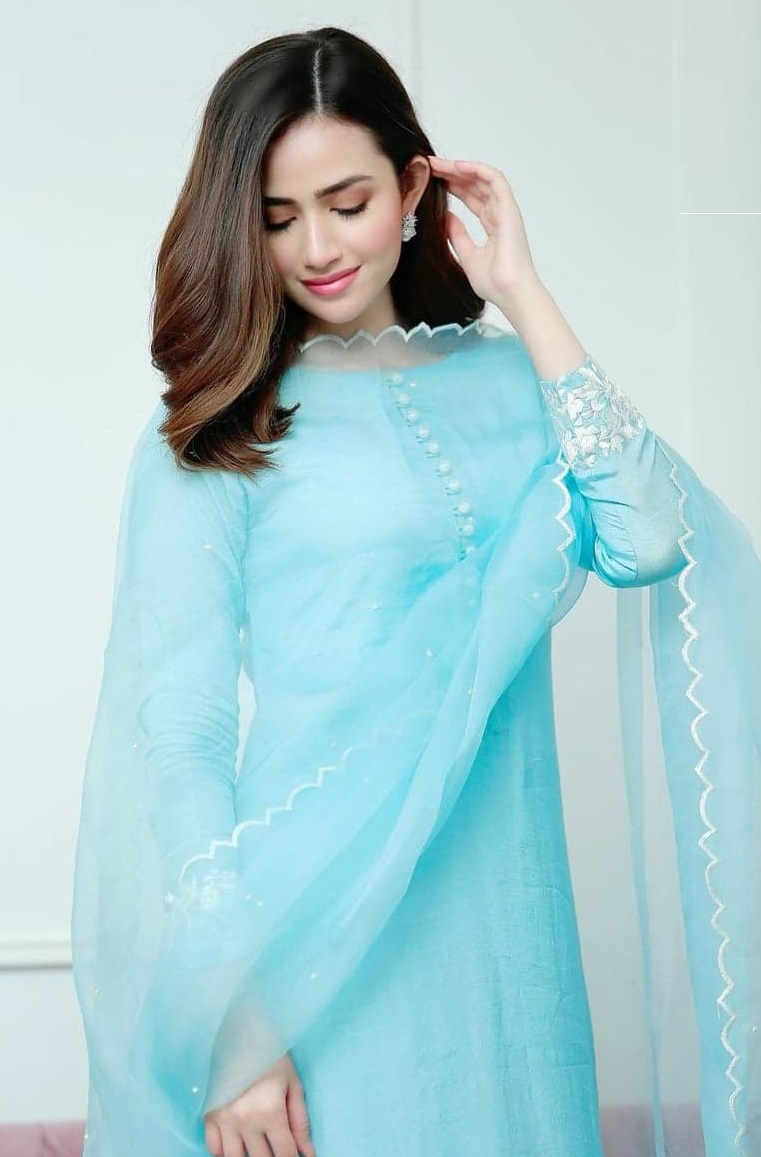 Iqra Aziz
Iqra Aziz is known for her confident off-screen personality just as much as she is for her raw performances. Iqra's role in Ranjha Ranjha Kardi won her unprecedented success. She has big plans for the future. She is also one of those actresses who received so much criticism in the recent past yet she stood her ground. Today, Iqra Aziz is not only a star performer but also someone who has won the love and respect of the public. Here are some interesting facts about Iqra Aziz.
#1 Iqra Aziz is proud of her skin tone and short height. Fair complexion and tall height are considered the standards of beauty in Pakistan. The actors have often talked about the pressures of coming up to those standards. Well, Iqra Aziz is definitely not one of those actresses who succumbed to these pressures. Iqra refused to wear light foundations in her projects and she refused to be the brand ambassador for a fairness cream because she loves her complexion. She also talked about how she was mocked due to her short height yet she used this undue mocking as a source of motivation.
#2 Iqra Aziz takes pride in the fact that she does not come from an affluent background. Iqra Aziz has been quite upfront about her upbringing and her background. She is actually proud of the fact that even with this background she managed to make it big in the industry. She has shared quite often how her single mother brought her and her sister up under really difficult circumstances.
#3 Iqra Aziz saw her father for the first time when she was 3 years old. Iqra's father used to work in Saudi Arabia and he couldn't come when she was born. Iqra Aziz always thought as a child that her mother, sister, taya, taye, and cousins were the only family she had. Iqra Aziz met her father late and got to spend only a few years of her life with him because he died of a heart attack when she was only 12 years old. Iqra Aziz's father started a business after coming back from Saudi Arabia. He was a really busy man therefore her mother was the one looking after them and the house most of the time.
#4 Iqra Aziz considers the social media center of criticism. Iqra shared in an interview that the way celebrities are commented upon on social media, it can be a big source of stress. She has often talked about this in her social media posts as well. She thinks this cyberbullying is a big issue that is not being addressed properly.
#5 Family comes first for Iqra Aziz. In a recent review, Iqra shared that for her spending time with family comes before everything else. She believes that no matter how big you make it in your career, what truly matters is the time you spend with your loved ones.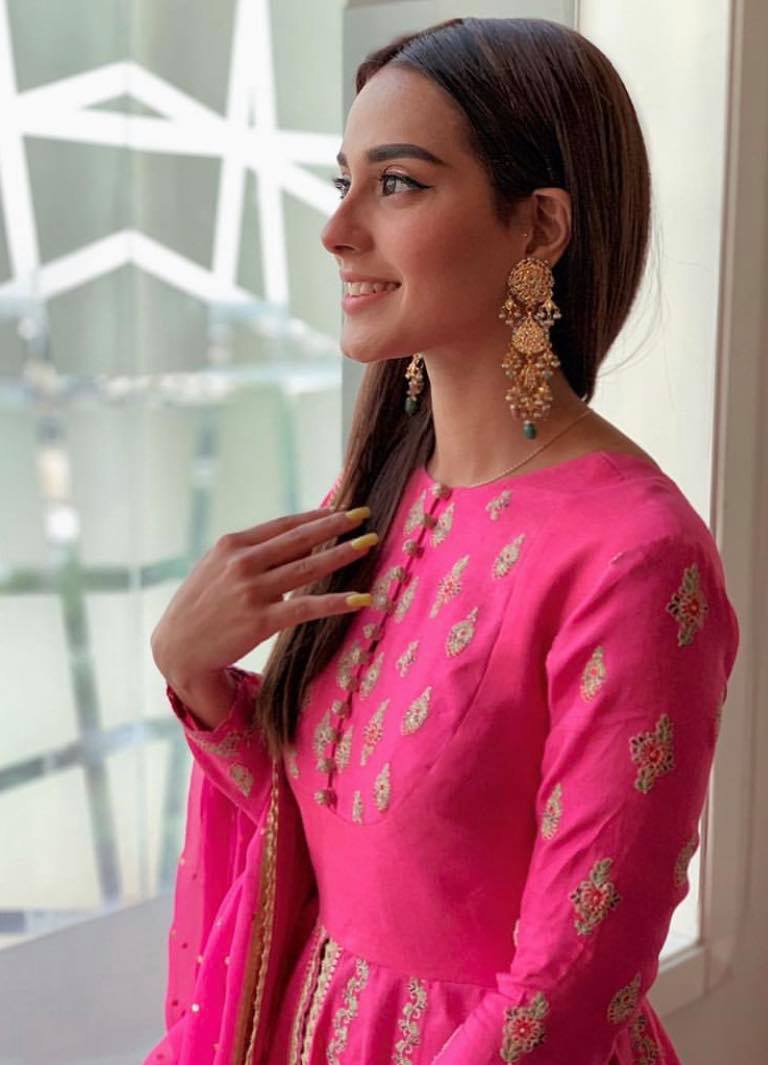 Saba Qamar
Saba Qamar is an outstanding actress who makes her fans fall in love with her more with every new project she works in. She is also known for her unique style and personality. Saba Qamar has shown her versatility through many of her performances. Her confidence is the most appealing aspect of her personality. She is unapologetic and knows how to stay relevant. Here are some of the most interesting facts about Saba Qamar.
#1 Saba Qamar started acting purely by chance. She went with her mother's friend to watch the shooting of a Pakistan Day special drama. As it turned out, the heroine failed to make it to the shooting. That is when the director asked her to perform the leading role. Saba read the lines given to her and was surprised that performing came effortlessly to her. Everyone in the room clapped when she delivered her first few dialogues and gradually she realized that this is what she was meant to do.
#2 Her heart has been broken more than once. Most of the actresses don't talk about their love life the way Saba Qamar has in several interviews. She openly confesses that her heart has been broken many times. So much so, that now she does not believe in taking love too seriously. Also, Saba is really romantic by nature. She has not found someone yet who she would like to spend the rest of her life with.
#3 Saba Qamar learned a lot from Bollywood actor Irfan Khan. Although Saba was already a well-established actress in Pakistan when she went to work in Bollywood, even then she shared in an interview that she learned so much from Irfan Khan. His method of acting was completely different from that of Saba's, as a result, it was a great learning experience for her. Apart from this, she believes that working with him gave her new-found confidence.
#4 She believes in being kind to herself first. Saba Qamar went into depression a few years back. That is when she learned a lot of new things from her guide and her yoga instructor. One thing that she learned and sticks to even now is that it is important to be kind to yourself. She said in an interview that most of the time, we are so busy thinking about what others will think that we do not put ourselves first, which is so wrong.
#5 Saba Qamar believes in spontaneity. Saba believes that the beauty in things vanishes if every single move is planned. She thinks that being spontaneous and doing things without expecting anything in return has its own beauty therefore she lives by this principle. She gives and loves without any expectations.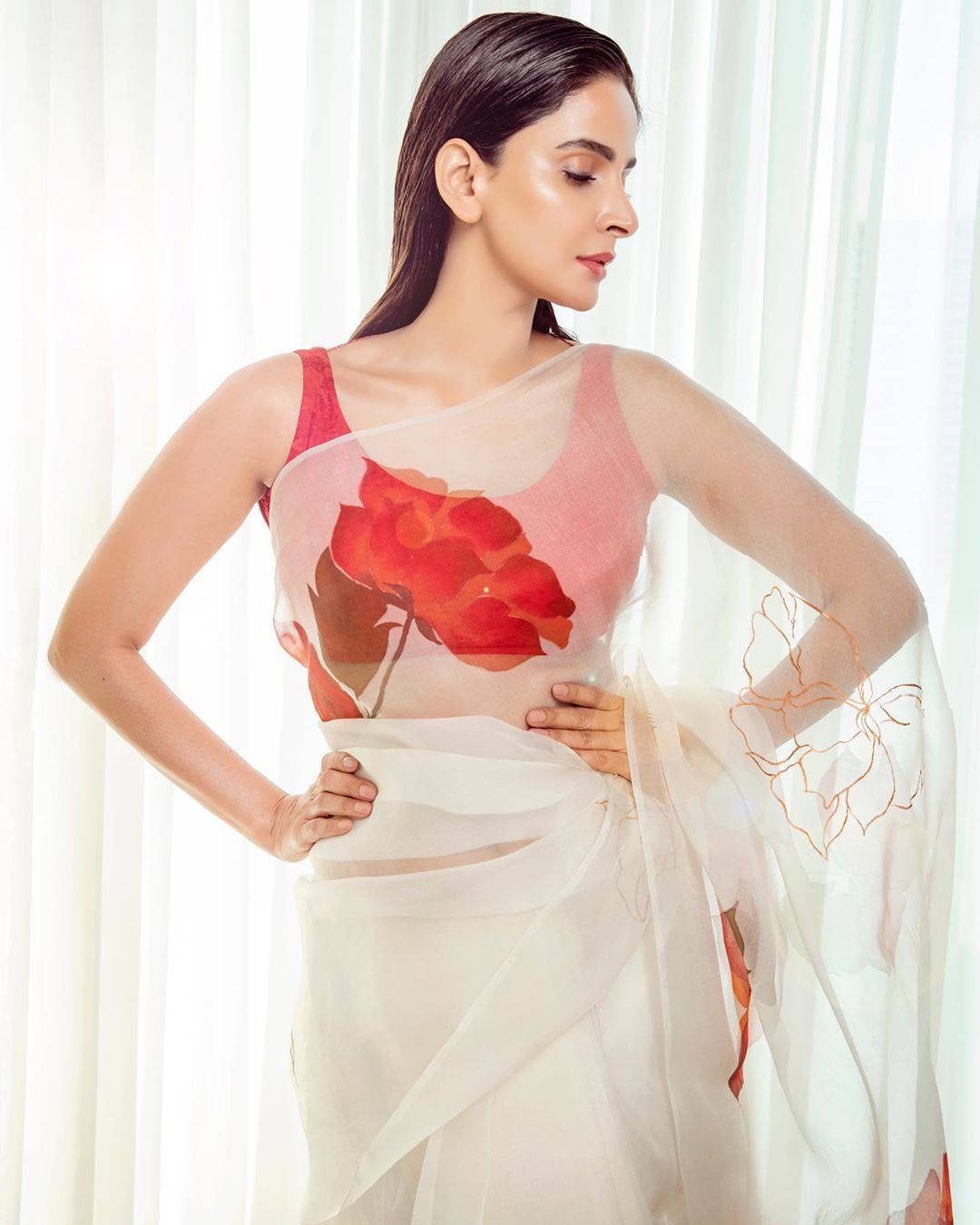 Did you enjoy reading these interesting facts about top Pakistani actresses? Do share your thoughts about it.