Mera Yaar Mila Dey is a new ARY Digital play airing on Mondays at 8PM. It is produced by Big Bang Entertainment and directed by Anjum Shehzad. The drama stars Faisal Qureshi, Sajal Ali and Ahmed Ali in lead roles.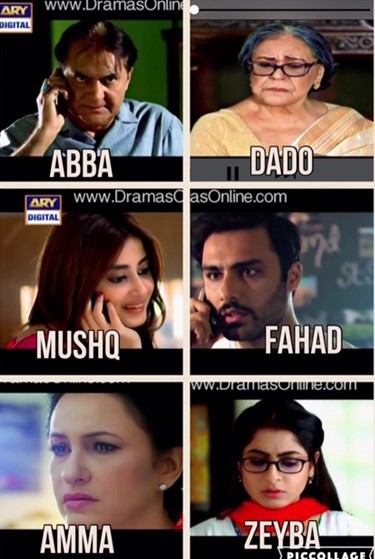 The story opened up on a rather dramatic note with Mushq (Sajal Ali) running away from home while simultaneously her Abba (Firdous Jamal) is seen lecturing his students at school to always uphold their parent's honor. Mushq's sister, Zeyba, finds a note that Mushq left detailing that she does not accept her father's friend's sons proposal and can only marry Fahad (Ahmed Ali). She says she has gone to get her share of happiness in this world by marrying who she chooses. Sadly for her, Zeyba immediately alerts Abba and he shows up at the Karachi train station to bring Mushq home. What follows are pretty typical dialogues of "mein tumhari tangein tour donga" etc and poor Mushq is locked up in her room and her phone is broken by her father in a fit of anger. Within the first 15 minutes of the drama, Mushq is already crying up a storm imprisoned in her room and is starving herself as a protest for her love. Mushq tells her Dado she will die without Fahad. Her Abba blames her Dado for not doing her "tarbiyyat" properly and then shockingly states that knowledge has made him weak since at least jahalat gives people the power to bury their daughters alive upon birth. Meanwhile, Abba's friend has found out about Mushq's "harkat" (how he did is never shown) and he cancels the rishta. Abba mourns over how "Mushq jeet gai".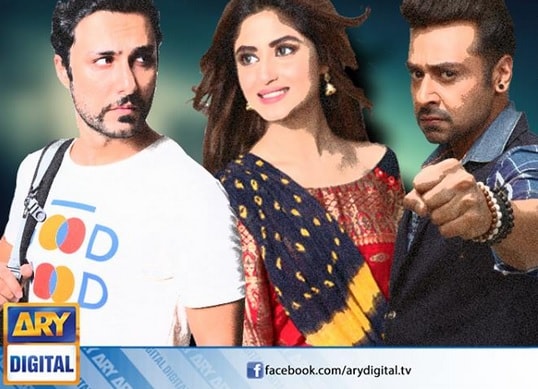 Meanwhile, in Lahore, Fahad finds out that Mushq has been caught when he calls her phone and Mushq's Abba picks up. You may be wondering how Mushq and Fahad met since Mushq lives in Karachi and Fahad in Lahore. A flashback sequence shown while Mushq is crying in her room reveals that she met Fahad while she was at a wedding in Lahore and they exchanged phone numbers and have been talking ever since. Fahad lives with his Amma in Lahore and has no siblings and no father. His mother only speaks Punjabi so it was difficult for me to understand some of her dialogues. Fahad has not told his mother about Mushq at all and when his friends ask him why not, he says "tumhein pata hay wo kesi hain" hinting that she is probably a possessive mother. Fahad decides he will go to Karachi himself to save Mushq from her father. He lies to his mother that he has found a job in Karachi and prepares to leave. His mother cries over him leaving and says she will be all alone without him. Fahad arrives in Karachi and while he is walking down the street, he notices a teenage boy being robbed at gunpoint. Strangely, he decides to intervene and in the process his phone is robbed as well. Mushq's address and number were saved on his phone so now he is lost in Karachi with no way to contact her. The teenager tells him that "dabu bhai" can help him. The last scene showed Dabu Bhai's (Faisal Qureishi) dramatic entry.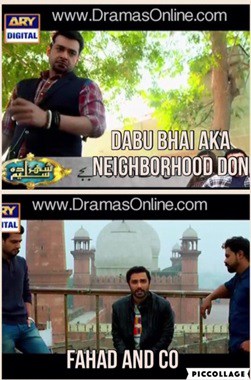 The episode was well paced and the story moved forward rapidly however it was filled with very clichéd and over dramatic dialogues (tang tourna, uss ke baghair mar jana) and the first episode itself established Sajal as a bichari and Firdous Jamal as a tyrant father. In terms of acting, Sajal Ali was excellent as always and Ahmed Ali was convincing enough. The two only had one scene together – the scene where they first met – so viewers were unable to see the connection that their characters shared. By starting the drama at the point where Mushq was already running away for Fahad, all the backstory was skipped and their love was not shown, rather it was told to the viewers and viewers were expected to believe in it and root for them. Furthermore, Fahad didn't seem to be as in love with Mushq as she is with him since he did not have the himmat to tell his mother about their love whereas Mushq was ready to burn all the bridges connecting her to her family for his sake. Instead of rooting for Mushq, I felt that she had made a bad decision by starting a telephone affair with a guy she met once.
Faisal Qureshi was only present in the last minute of this episode so it is too early to say anything about his character. The actress for Zeyba is a newcomer. While she impressed in Tum Mere Paas Raho, her expressions in this episode came off as mopey. It was tiring to see Firdous Jamal play such a cruel father. In terms of direction, the scenes did not drag and a variety of sets were used in the episode. The Badshahi masjid was visible in the background when Fahad was talking to his friends and it added a nice touch to the scene. The lighting at times was odd. There were quite a few scenes where sunlight was directly glaring into the screen and characters faces were not visible due to the glare. Overall, the episode moved at a good pace and the show has a star cast however due to its clichéd script it failed to impress or show anything novel to viewers.
Hafsa Z.