All the leading Pakistani celebrities take their dressing very seriously since looking their best is part of their job. Most of them want to wear something different and unique which makes them trendsetters. It also happens sometimes that two or even three different celebrities are seen wearing the same outfits at different times. Sometimes this happens because a certain brand or designer wants multiple celebrities to promote their outfits and at the other times it is just coincidence. Whatever it may be, it is interesting looking at different celebrities wearing the same outfits since it shows how something identical can look different if it is worn by two people.
Everyone has their own personal style too and obviously how someone carries these outfits makes a huge difference as well, therefore, we decided to compile a list of those Pakistani celebrities who have been seen wearing the same outfits on different occasions. This is fashion face-off at its best so enjoy the pictures and tell us which celebrities are rocking the same outfits more.
Black and Gold Pishwas
Pishwas never goes out of style that is why our leading ladies are seen wearing them time and again. Sana Javed and Mahira Khan look superbly chic in this similar outfit.

Kubra Khan and Iqra Aziz (Ladies in Red)
Kubra Khan and Iqra Aziz wore this gorgeous red outfit in a slightly different way. The color combination is stunning and both these actresses are rocking their respective looks.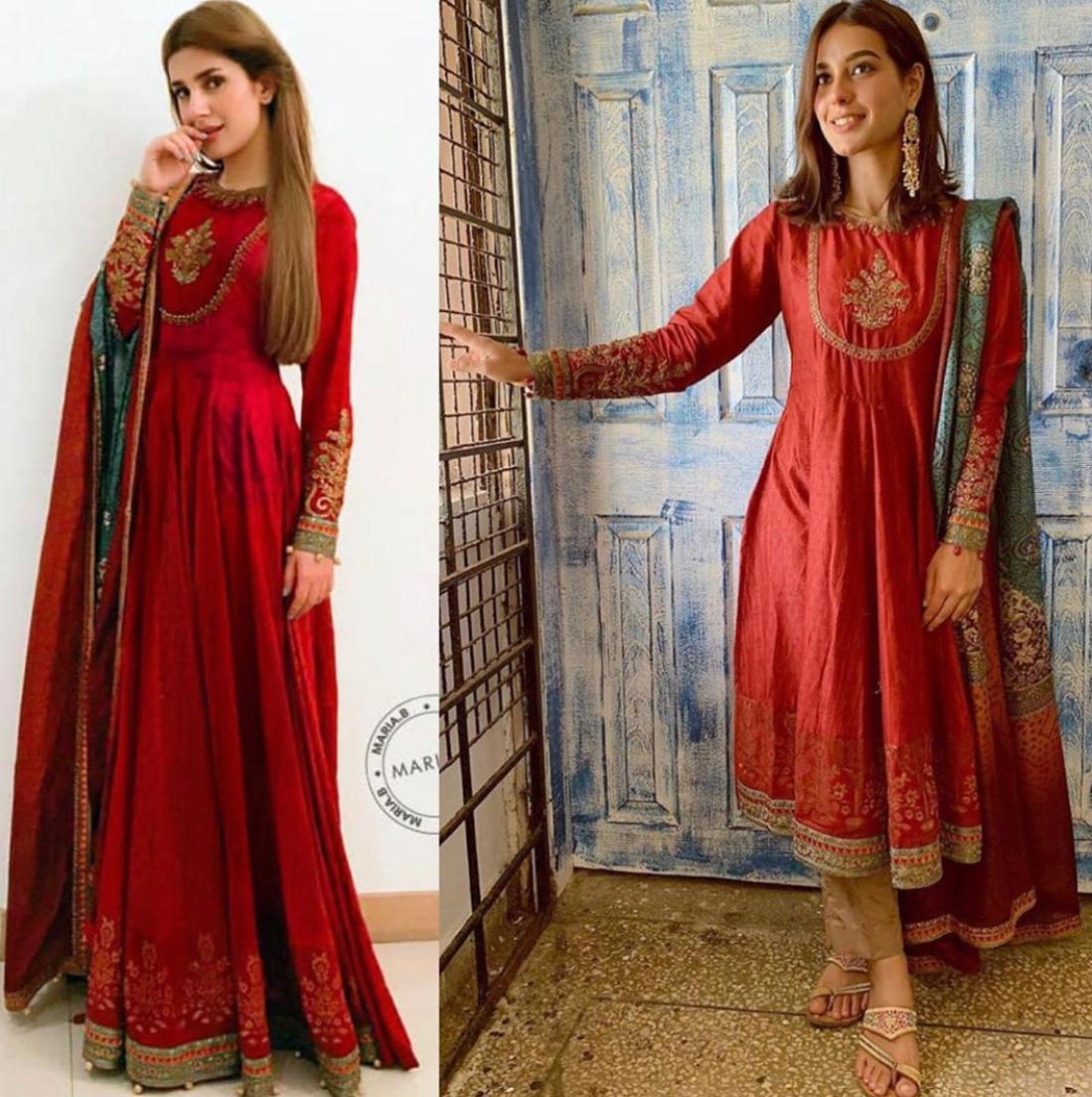 Mahira Khan vs Mawra Hocane
Mahira Khan and Mawra Hocane wore this latest style saree with a beautiful blouse which was inspired by the jungle print. The colorful blouse looks great with the plain saree. Mahira Khan wore it on one of her international tours and Mawra Hocane sported this look on the runway.
Who do you think looks more classy?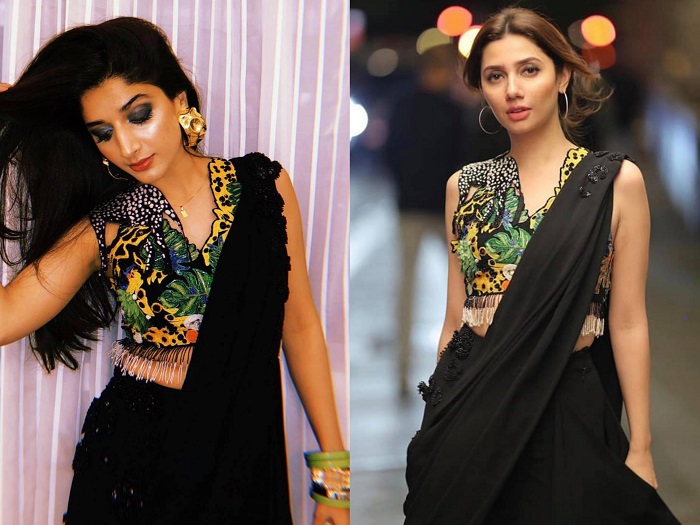 Popular Net Saree
The color white looks great with any color at all and these 3 divas, Mahira Khan, Mehwish Hayat and Urwa Hocane decided to pair this white net saree with a red blouse. While Mehwish and Mahira's look is more formal, it looks like Urwa Hocane was only trying out this saree. Urwa generally too does not wear a lot of makeup therefore it's no surprise that she wore such a formal outfit in the most casual manner.
So, who do you think wore it best?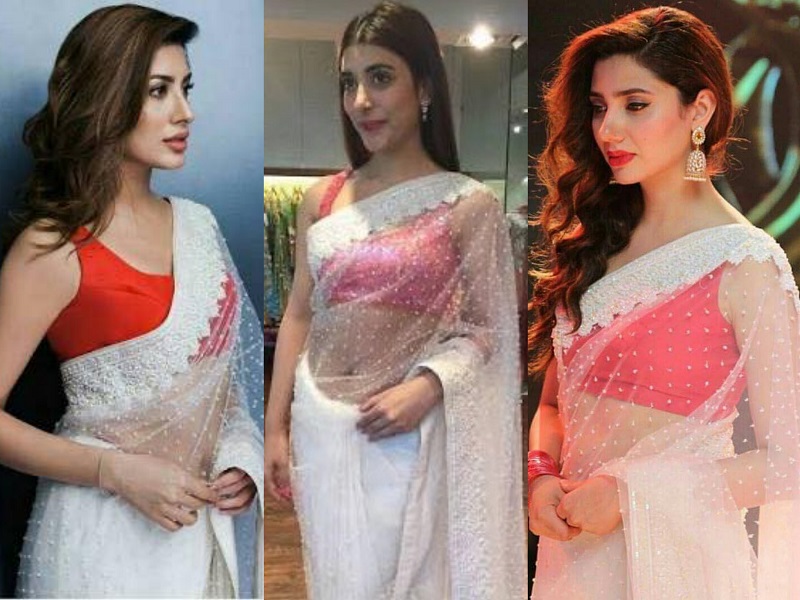 Neon Green Designer Dress
Neon green color is a personal favorite among all the celebrities nowadays. It is in fashion which is why the leading designer Faiza Saqlain used this color with a touch of tradition and silver too and put together the perfect outfit which was loved by three different celebrities. Nida Yasir, Ayeza Khan and Kiran Haq wore this beautiful outfit and all of them looked beautiful in it.
Which celebrity do you think looks the prettiest?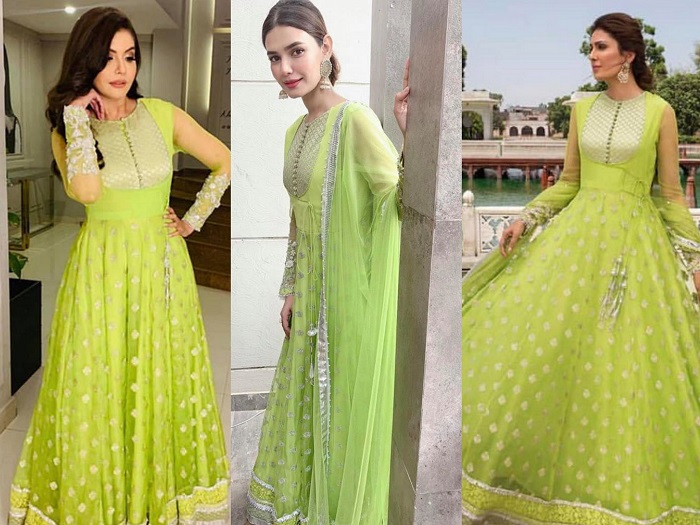 Chic and Stylish
Nida Yasir and Sumbal Iqbal both look really stylish in this outfit. Sumbal Iqbal used a fancy belt as an accessory to give this outfit a more formal look while Nida Yasir wore it without a belt. This outfit looks great with and without a belt.
Which celebrity looks more appealing in this stylish look?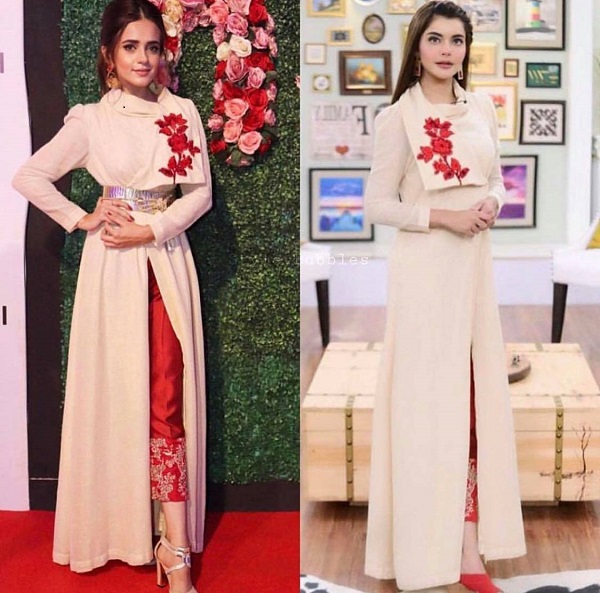 Resham and Mehwish's Casual Style
Resham and Mehwish Hayat wore this yellow fusion top and both of them paired it with black trousers. While Mehwish Hayat used some accessories to look even more cool. Resham kept it quite casual.
Who wore it best?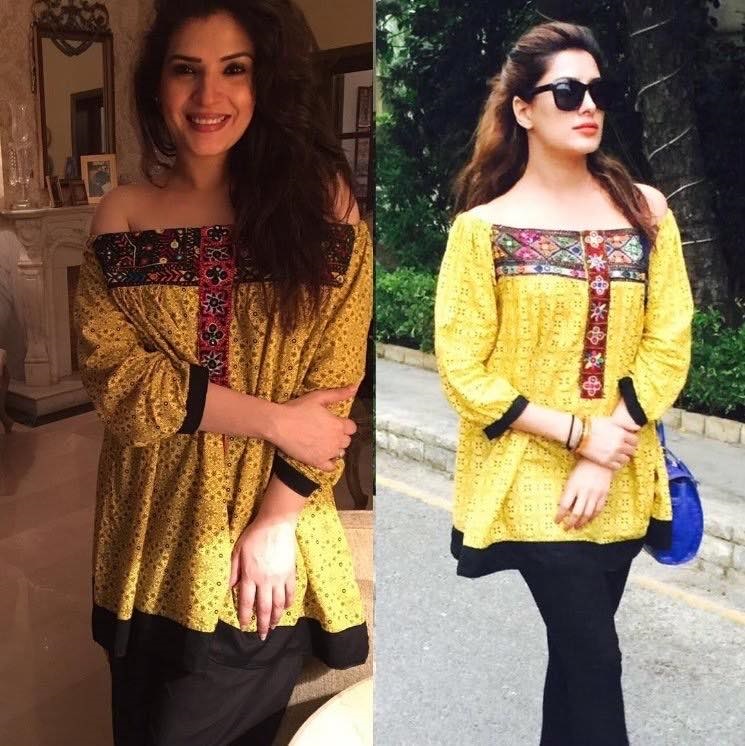 Madiha Imam and Nida Yasir in White Gharara
Madiha Imam and Nida Yasir were seen wearing this white gharara in two different ways. While Madiha Imam wore it with a straight white shirt, Nida Yasir, paired with a more flared frock type top. Both of them carried this style well.
Who do you think truly rocked this outfit?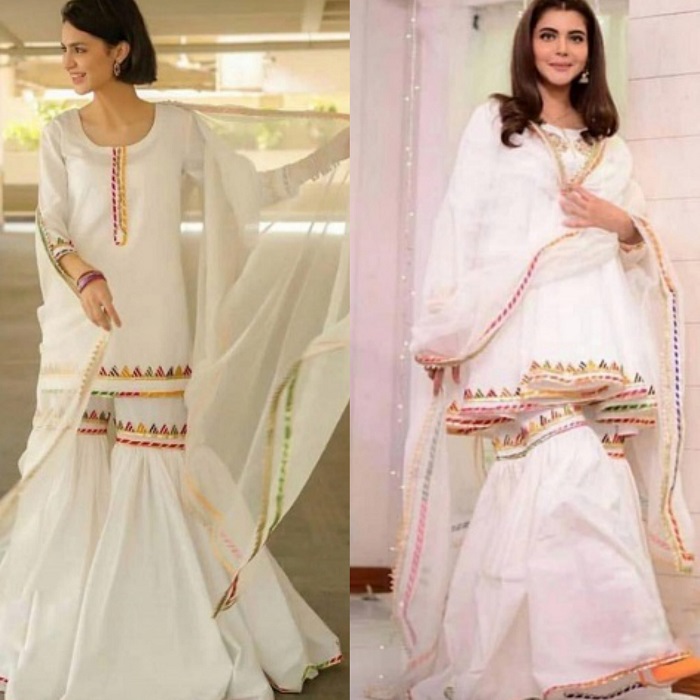 Maya Ali and Sanam Baloch
Maya Ali and Sanam Baloch were seen sporting this pastel-colored dress few years back. The dress itself is pretty and both these celebrities look good in it. This picture also shows just how much Maya Ali has changed in the past few years.
Who carried this dress with more grace?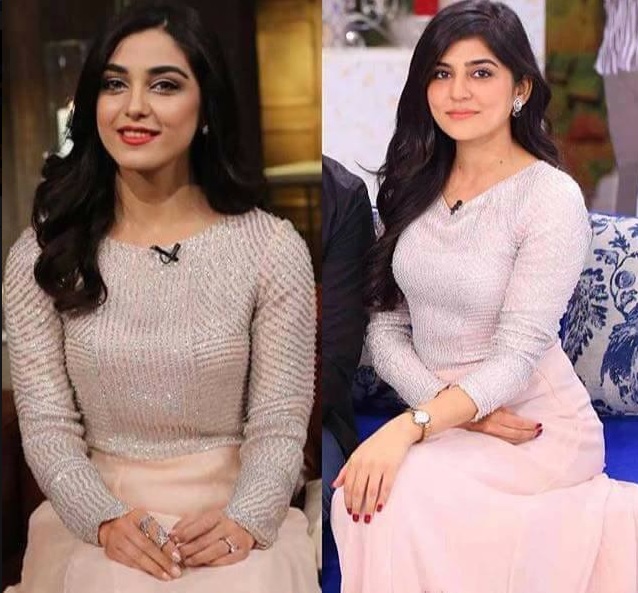 Hareem Farooq and Hira Mani
Hareem Farooq and Hira Mani it seems go to the same designer because they have been seen wearing the same outfit more than once. This dress is also beautiful which goes to show how good the choice of our celebrities is.
Which celebrity looks more chic in this dress?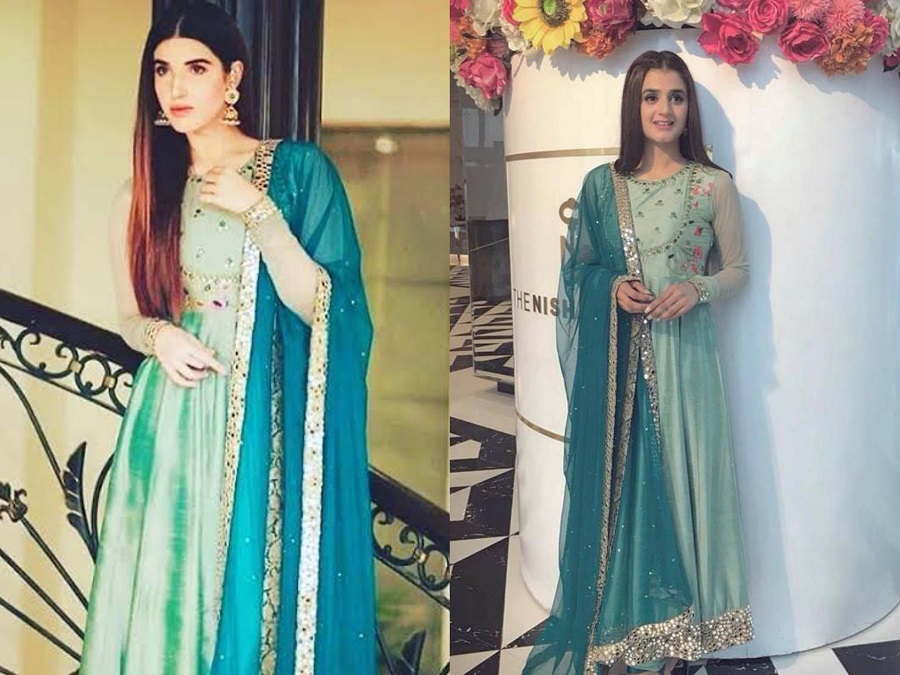 Formal Look
Both the Sanams wore this beautiful festive outfit with style. Sanam Jung wore it on her morning show while Sanam Baloch was seen wearing it at a function. It is the exact same dress but the way both these celebrities wore it gives it a different feel.
Whose style do you like more?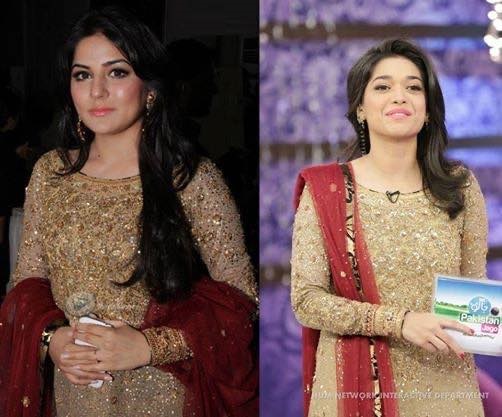 The Most Stylish Outfit
This outfit has to be one of the most stylish on the list. Nida Yasir and Sarah Khan both wore it the same way but the difference is the way they took the picture. Sarah Khan's picture in this dress is more candid than that of Nida. The colorful blouse looks great with the white skirt which Nida is seen carrying like a saree.
Nida Yasir or Sarah Khan? Who sported this style in a better way.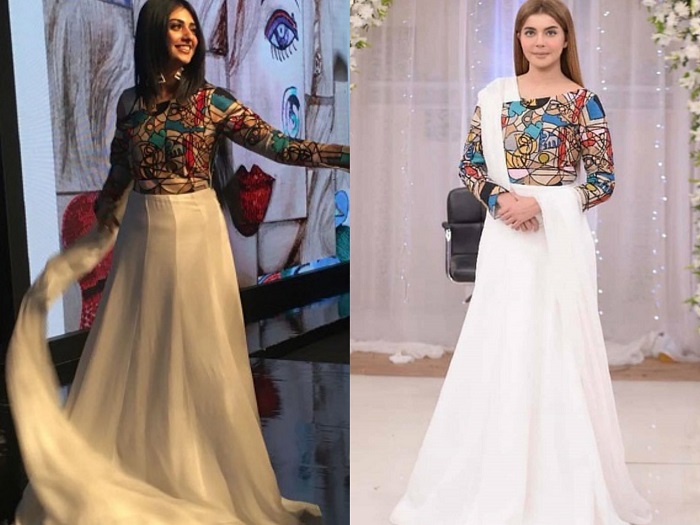 Ayeza Khan or Shaista Lodhi?
Ayeza Khan and Shaista Lodhi wore this beautiful orange and magenta dress on different occasions. The detailing on this dress and its color combination is beautiful.
Who do you like more in this dress?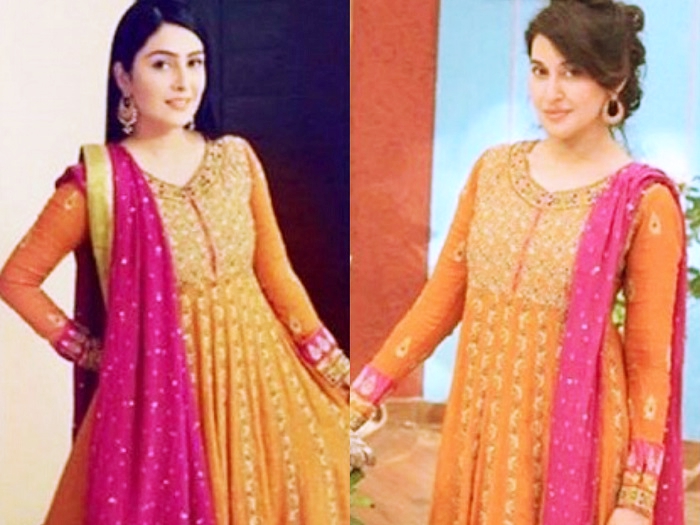 Same Pattern, Different Designs
This has to be one of the most interesting fashion face-offs in this list since Hira Mani and Hareem Farooq are seen wearing the same color combination and pattern but they have styled their outfits in different ways. This goes to show how dynamic the world of fashion is.
Whose take on this outfit do you think is more fashionable?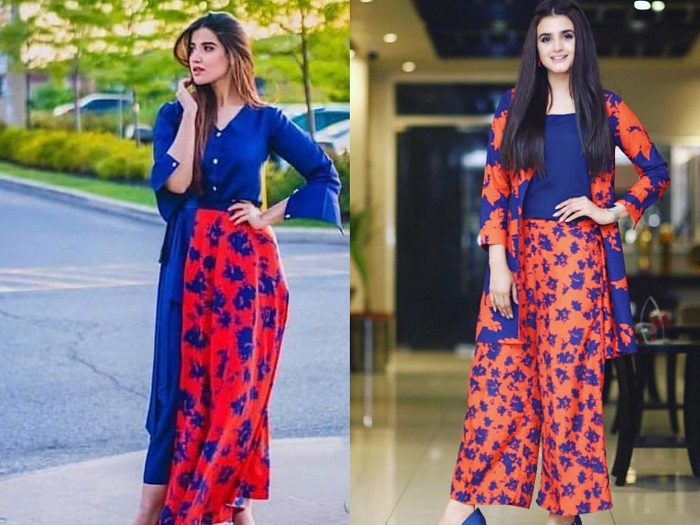 Black and Gold Dress
Sajal Ali and Hania Aamir both are super cute and equally talented. They were seen wearing this black outfit with gold motifs. While Sajal Ali paired her outfit with a more heavily embroidered dupatta, Hania Aamir's dupatta is simple since she most often is seen in simple dresses more.
Who looks the cutest in this outfit?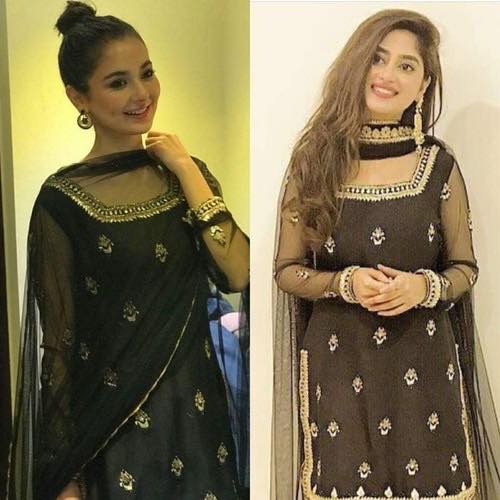 Two Beauties, One Dress
Areeba Habib and Hareem Farooq wore this beautiful traditional outfit and both of them paired it with accessories that went well with their overall look.
Whose traditional look is more appealing?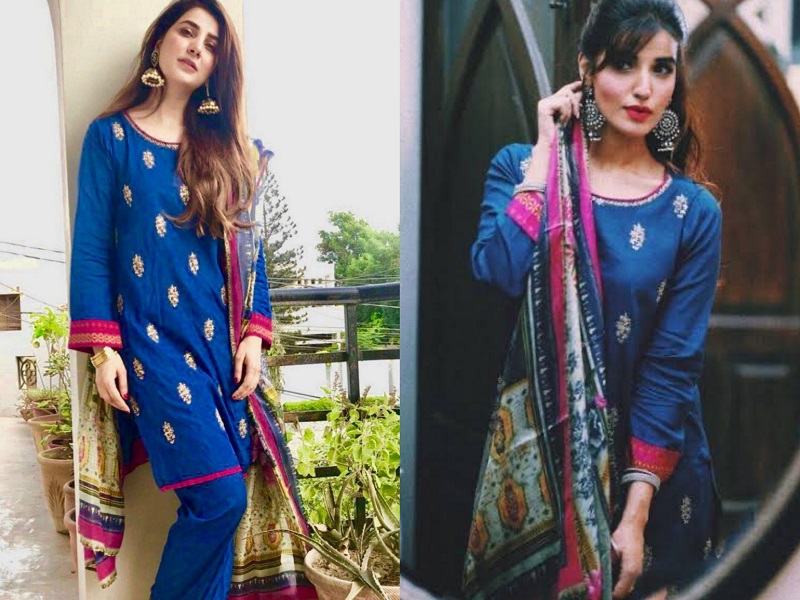 Mahira Khan and Urwa Hocane Wearing Ali Xeeshan
Ali Xeeshan is one of the leading Pakistani designers. Mahira Khan was the showstopper for his bridal collection in one of the top fashion shows and that's when she wore this gorgeous bridal dress. Urwa Hocane was later seen wearing the same dress on another occasion.
Lovely dress for sure but who do you think wore it best?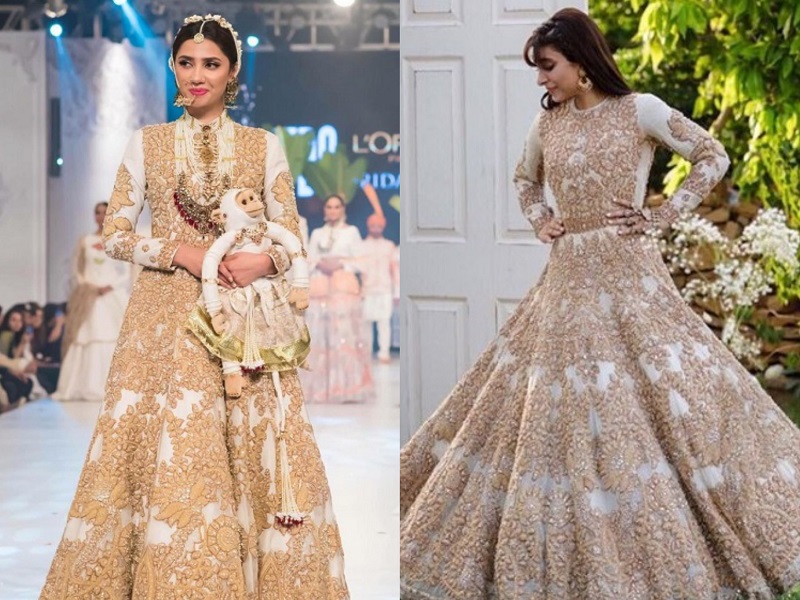 Independence Day Special
Sunita Marshal and Syra Shahroz wore the same outfit on independence day a few years back. This white and green outfit was perfect for the occasion.
Which one of these celebrities nailed the independence day look?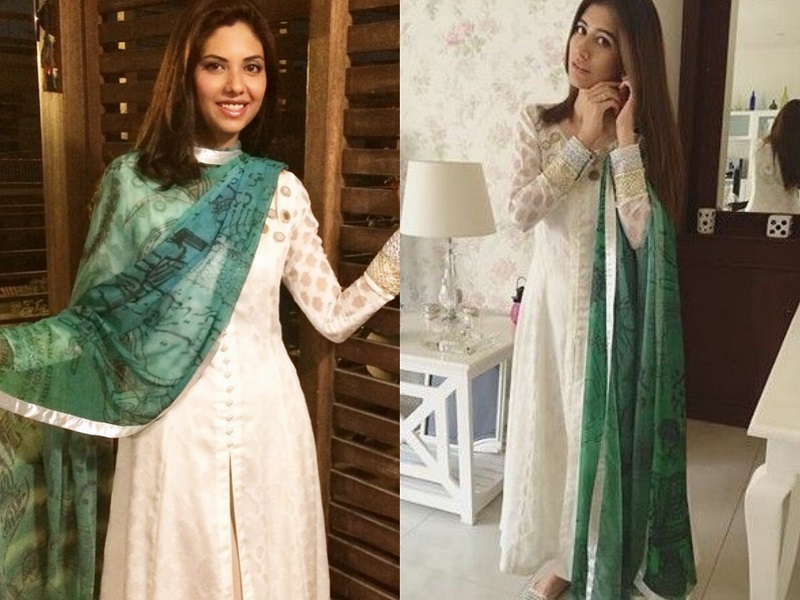 Mehwish Hayat and Shaista Lodhi
Mehwish Hayat and Shaista Lodhi too were seen wearing the same outfit on one of the independence days. This is the outfit Shaista Lodhi chose to wear on her show and Mehwish Hayat wore it to show her love for Pakistan. Shaista Lodhi wore an independence day special collection dupatta with it while Mehwish Hayat wore it without the dupatta.
Which celebrity wore it better?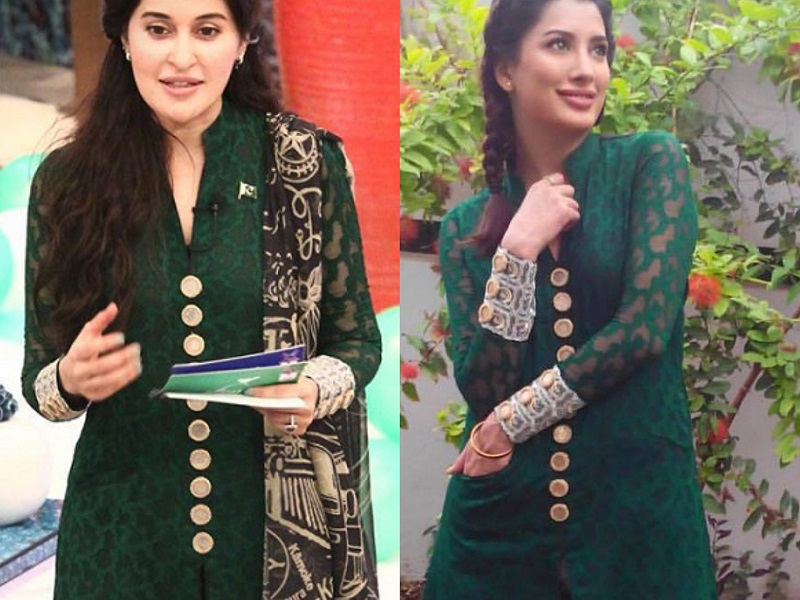 Sanam Baloch or Mahira Khan
Sanam and Mahira also wore the same outfit, the only difference is the lighting makes it look like they are two different colors. Sanam Baloch and Mahira Khan both carried this beautiful dress with grace and style.
Who do you think looks prettier?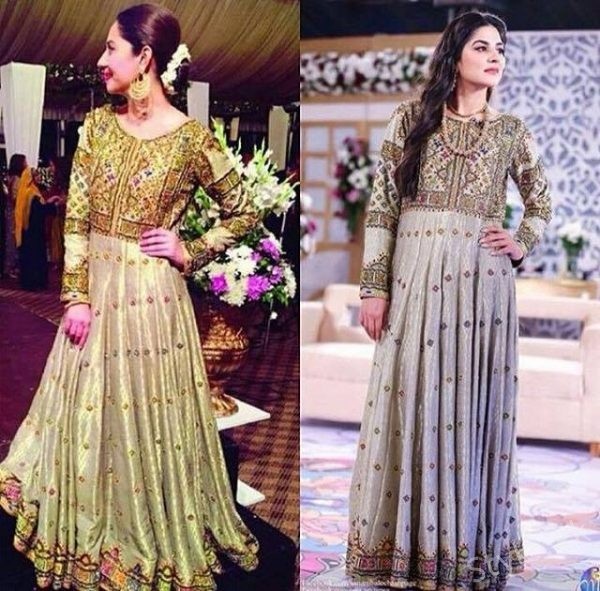 Fashionably Yellow
Minal Khan and Nida Yasir wore the same bright yellow outfit which was a favorite with other celebrities too. Minal Khan's look is more casual while Nida Yasir wore matching earrings and high heels, making her overall look relatively more formal.
Whose overall look is more on point?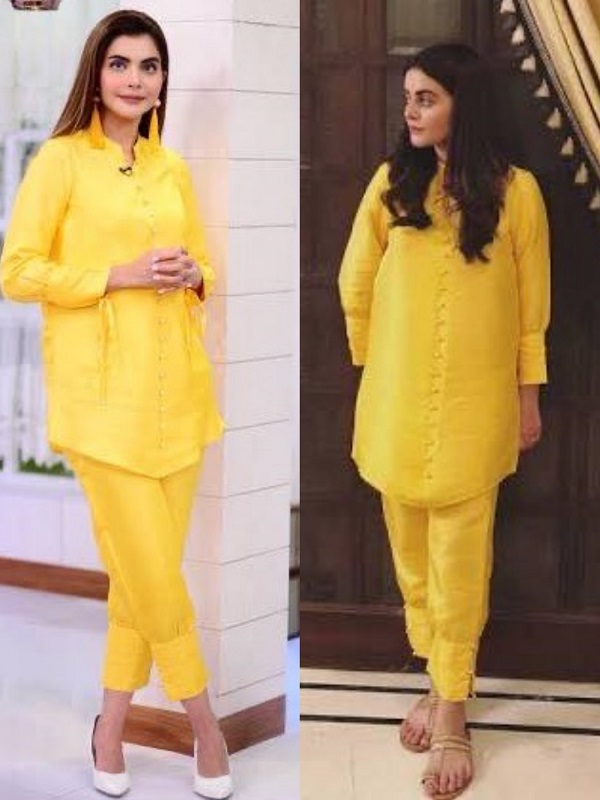 Ayeza Khan and Neelam Munir
Ayeza Khan and Neelam Munir wore the same outfit but their styling is completely different from each other. While Ayeza Khan preferred an overall Eastern look, Neelam Munir's styling is more on the funky side.
Which celebrity's styling do you like more?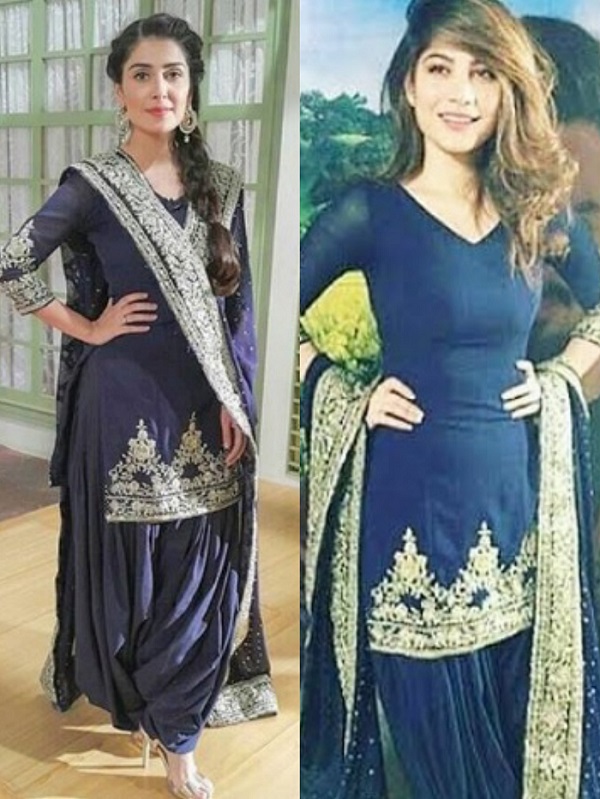 Gorgeous In Gold
There are few gold dresses which truly stand out and this one is definitely one of them. Saba Qamar wore this gorgeous outfit for a photoshoot and Iqra Aziz was also seen wearing it. While Iqra carried a jacket with it, Saba Qamar did not accessorize it.
These divas sure do know how to carry any style at all!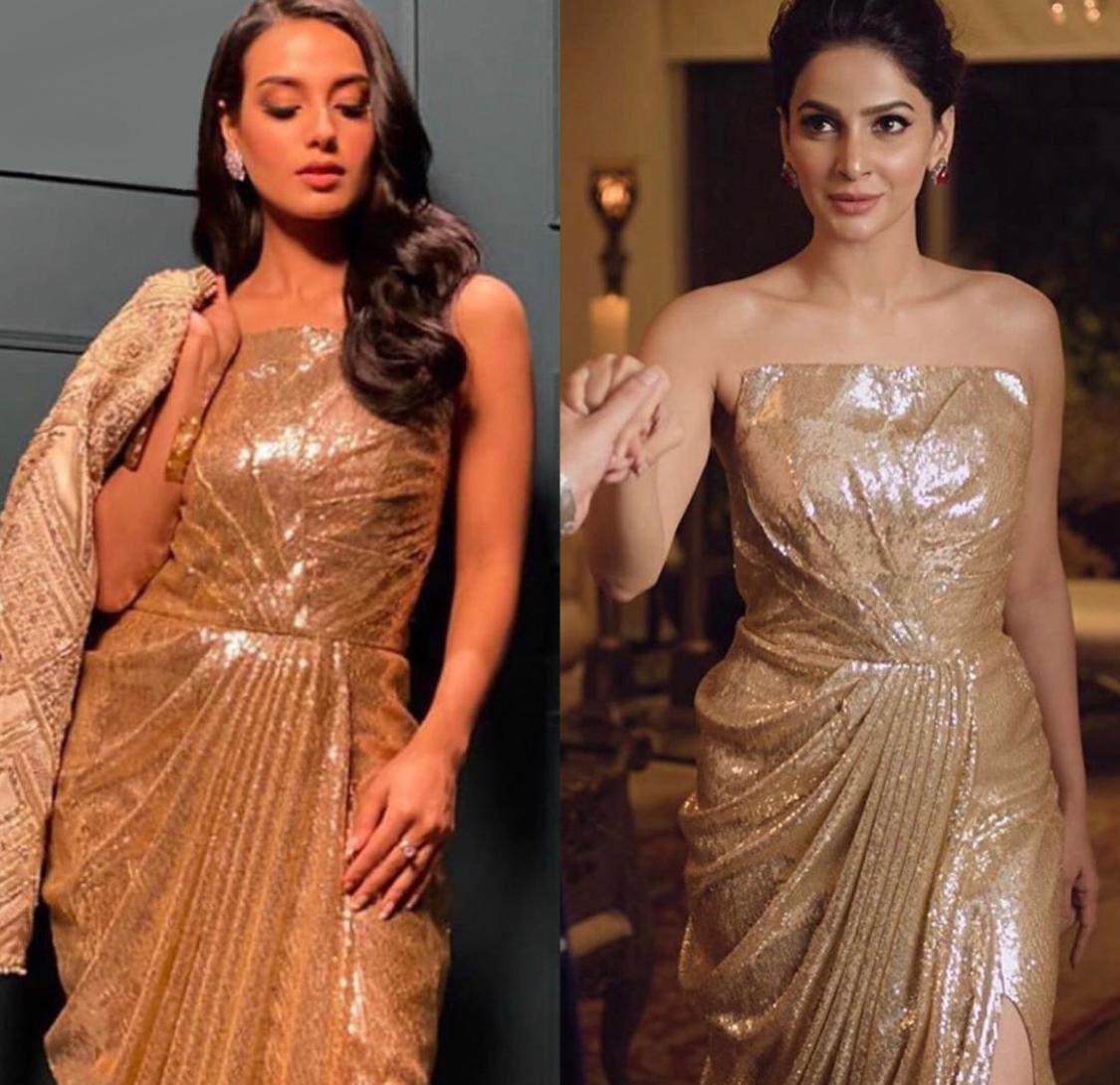 Traditional Style For The Win
It is always great seeing our Pakistani celebrities rocking traditional dresses. Urwa and Hania are seen wearing a beautiful ethnic dress with a long dupatta. Both of them look gorgeous in it. Urwa's look is semi-formal and Hania Aamir kept it really formal with a gajra on her bun and heavy jewelry.
These two definitely gave their followers two entirely different ways of wearing the same outfit. What do you think?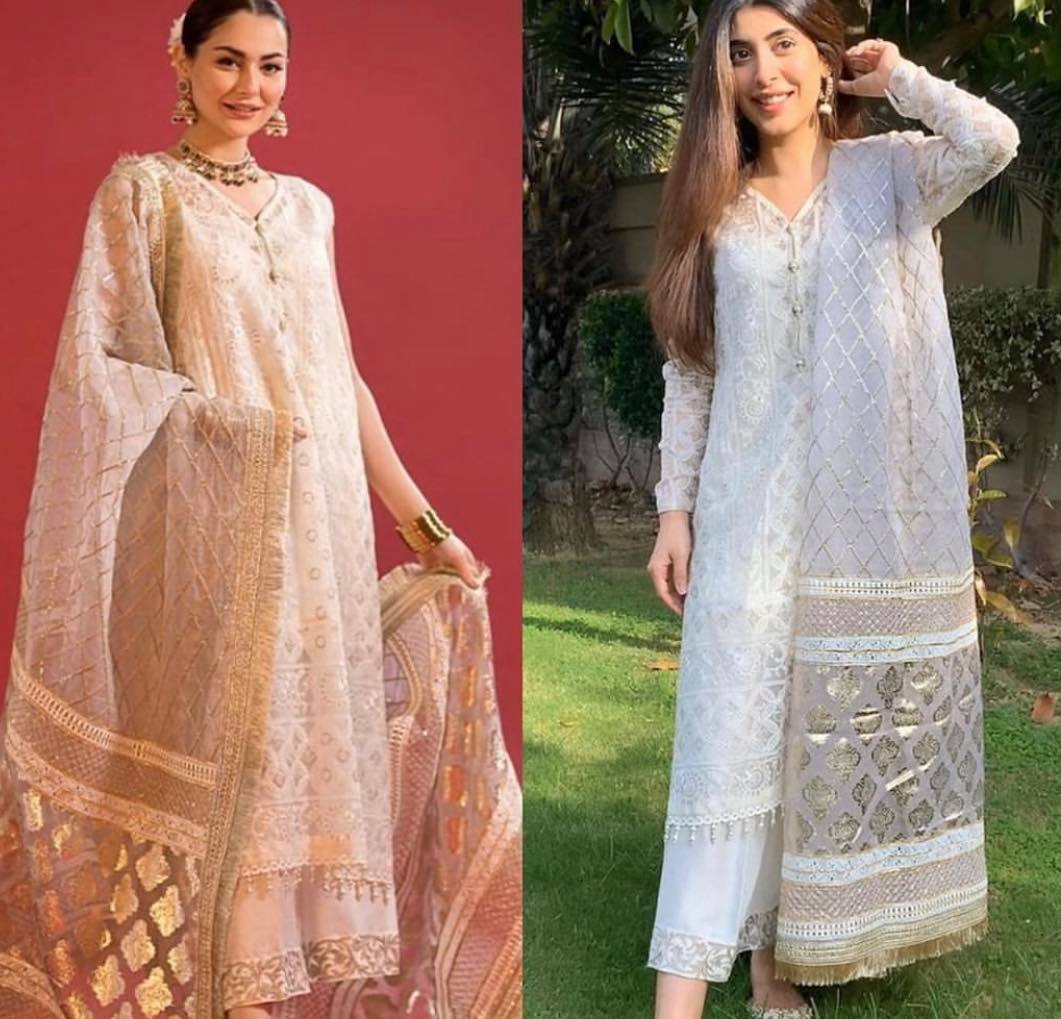 Silver and Black Saree
Mahira Khan and Sajal Ali both are big stars in the entertainment industry. Both of them have a style that is different. Mahira Khan paired this simple yet stylish saree with ethnic jewelry while Sajal kept her look somewhat simple although she wore this outfit at a wedding.
Don't they look lovely?!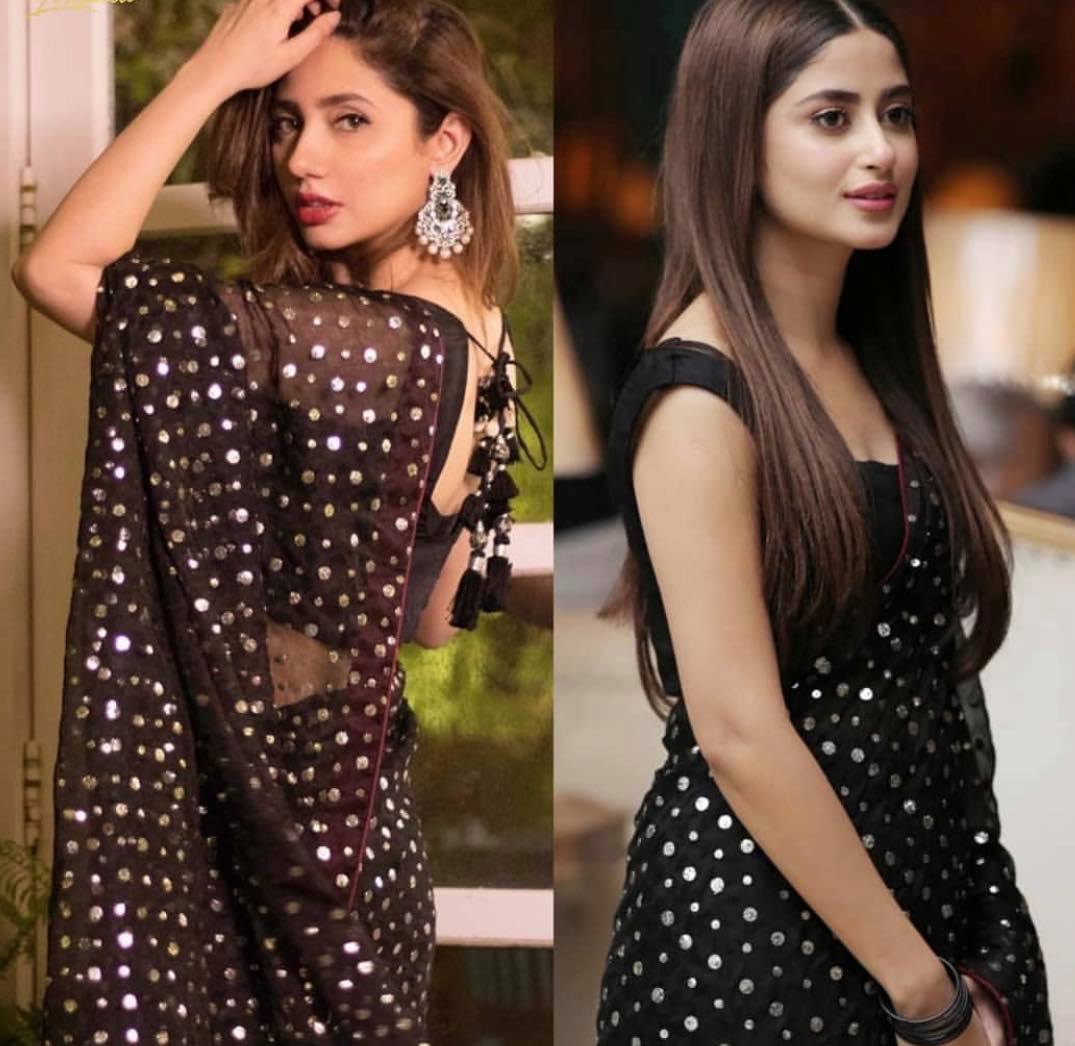 Mawra and Urwa In Mustard Top
Mawra and Urwa were seen wearing this fun mustard top from their own collection. Urwa is also wearing the earrings from their own collection. Mawra tucked the top in her trousers and Urwa didn't.
Isn't this a good way of showing their followers how this top looks when worn in two different ways?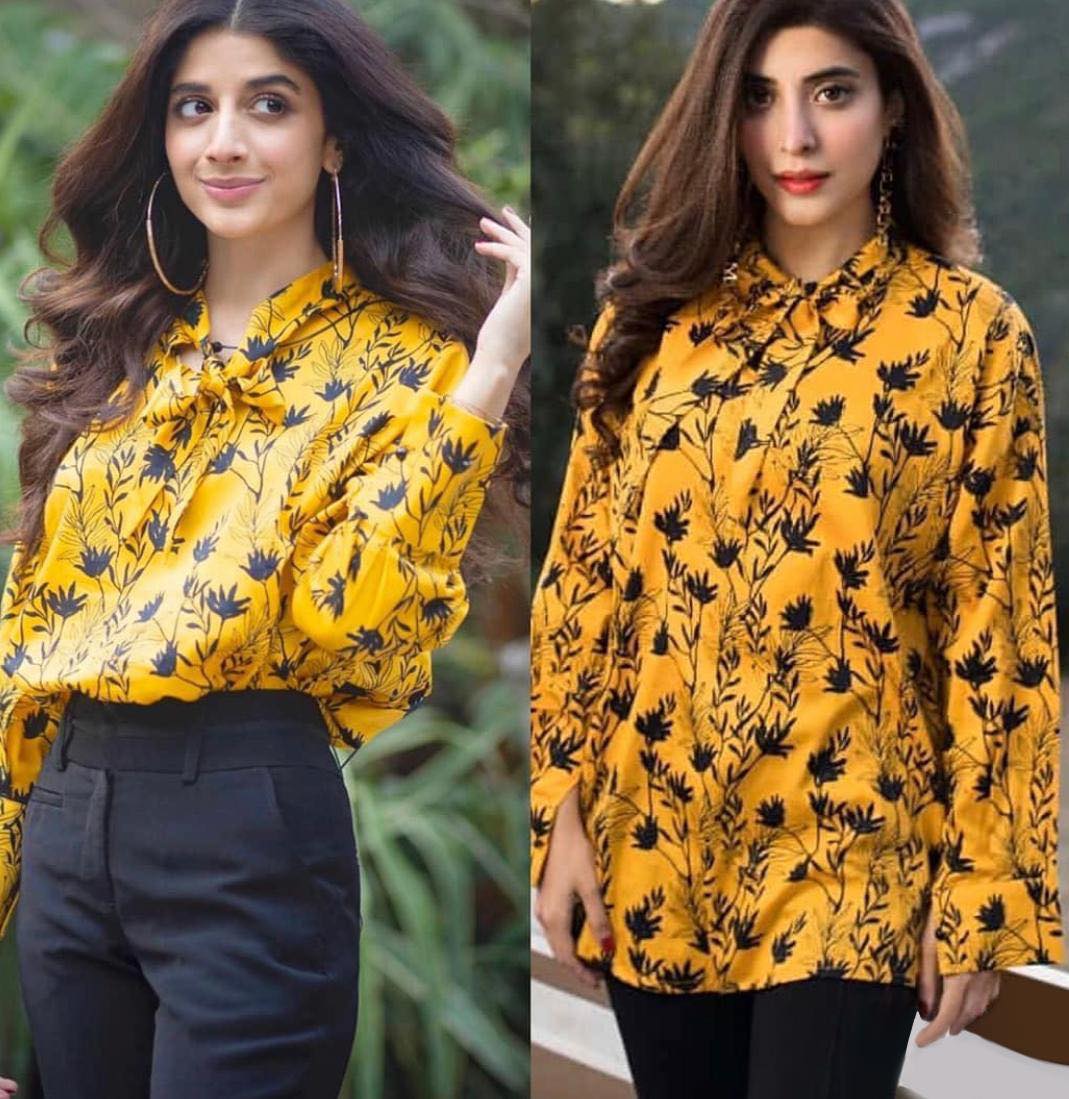 Beautiful Orange Dress
Ayeza Khan and Mehwish Hayat wore this beautiful orange dress. Both of them look absolutely stunning in it. Ayeza Khan added a colorful dupatta to the look which looks awesome.
Which look would you prefer while dressing up for an important event?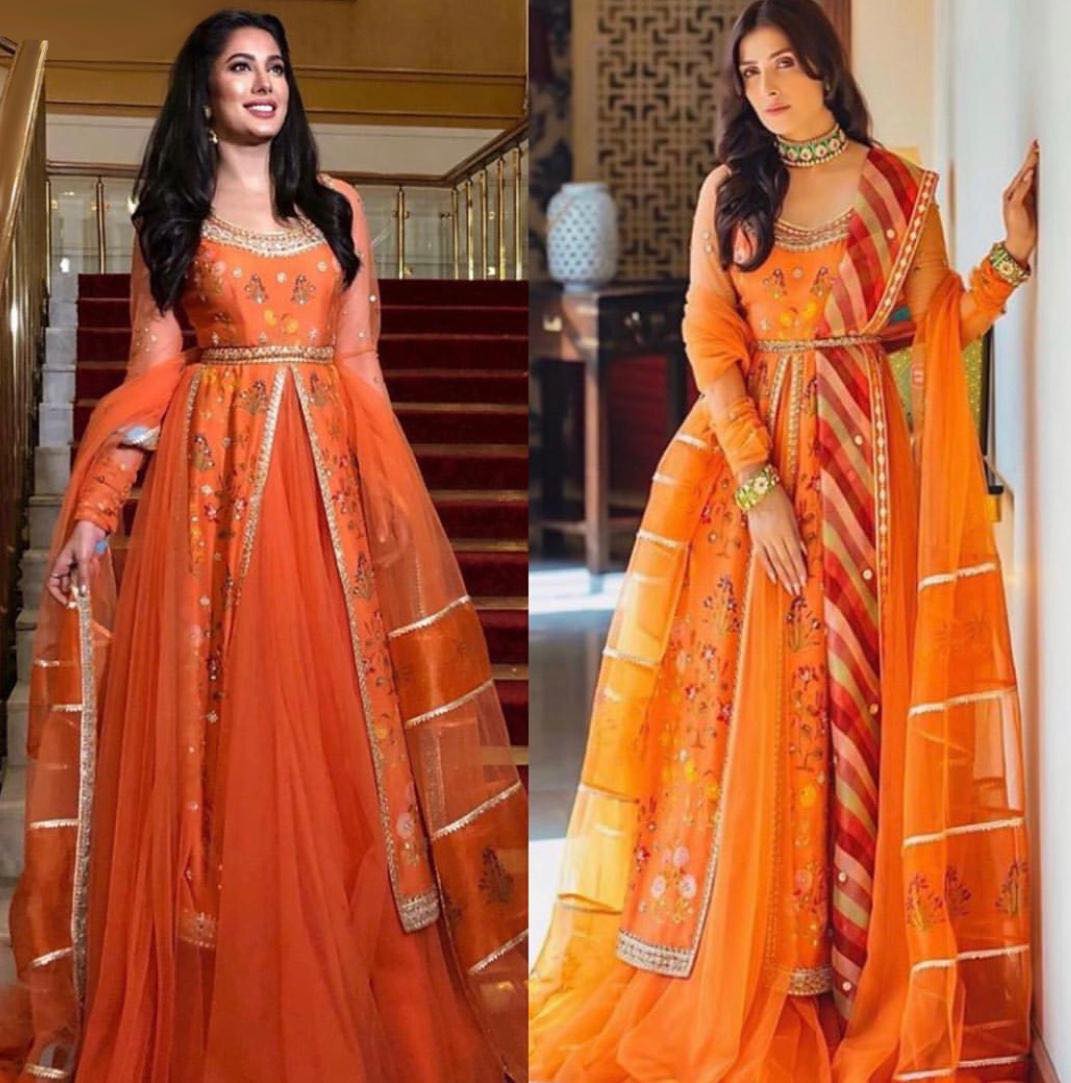 Iqra Aziz and Minal Khan
Iqra Aziz and Minal both look pretty in this pretty dress. Minal Khan looks more traditional with her hair tied and Iqra Aziz is seen sporting a less made-up hairstyle.
Both of them look attractive. Don't they?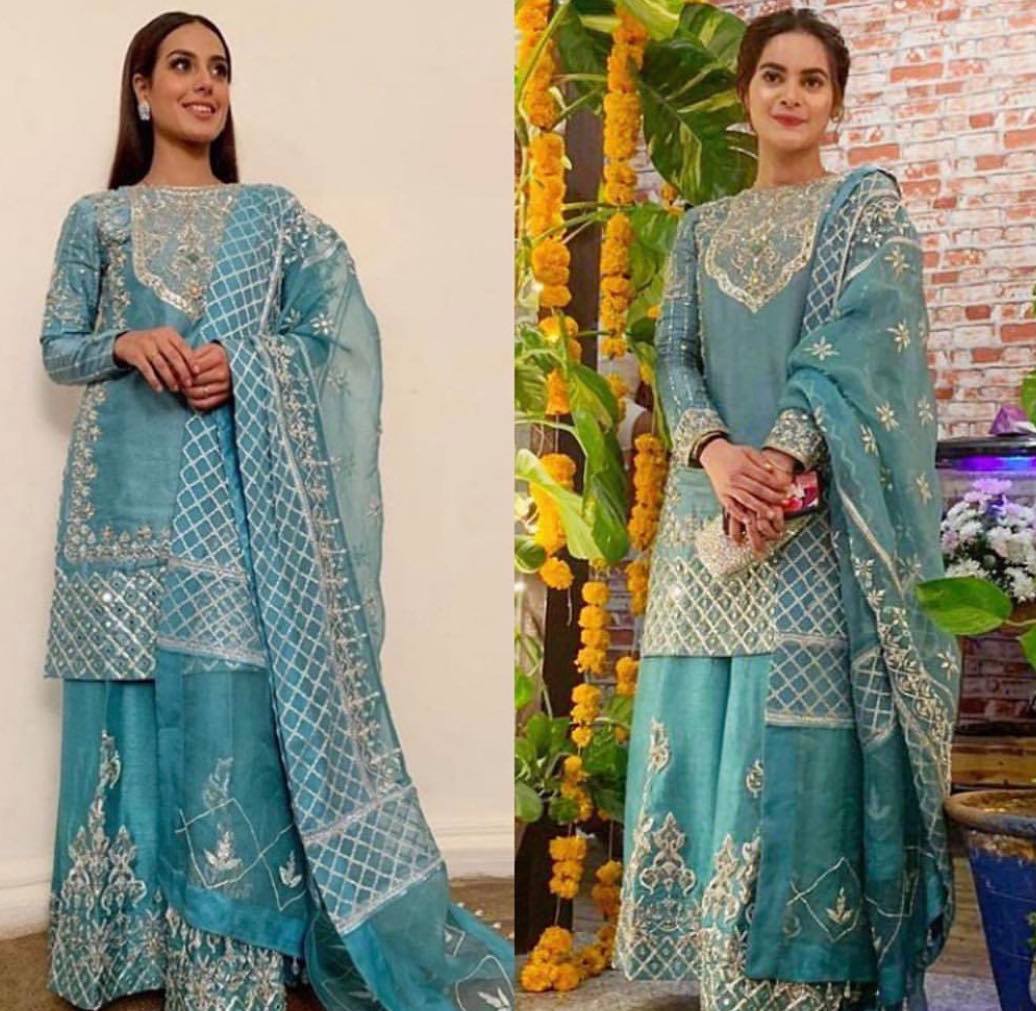 Pretty In Peach
Here are two more popular celebrities, Humaima Malick and Sana Javed in the most beautifully designed outfits.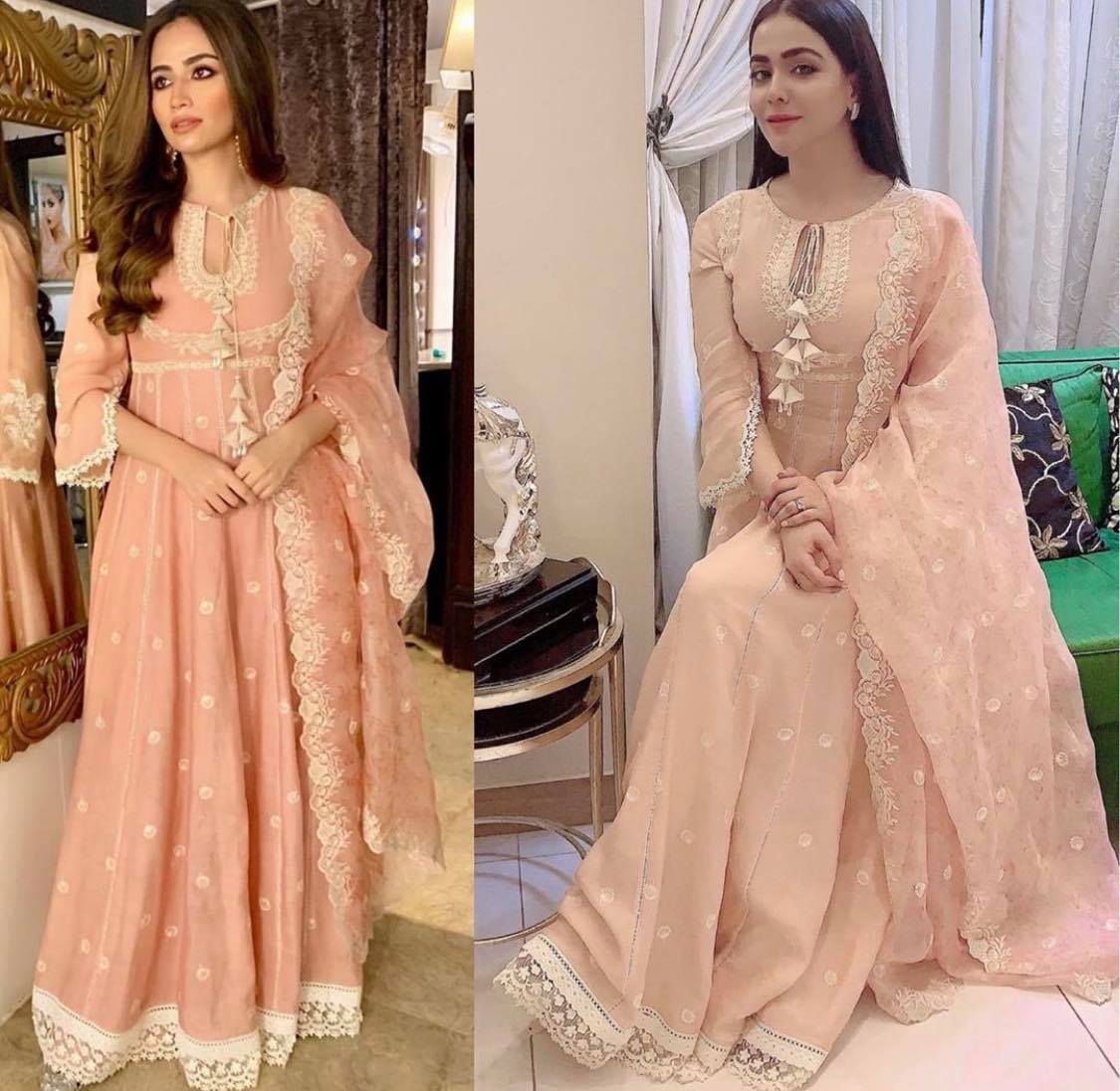 Stylish In Same Outfit
Alyzeh Gabol and Saba Qamar both are really stylish ladies. While Saba Qamar was the designer's muse, Alyzeh Gabol decided to add more style to this outfit by choosing to wear it on a special occasion.
Whose overall look do you prefer?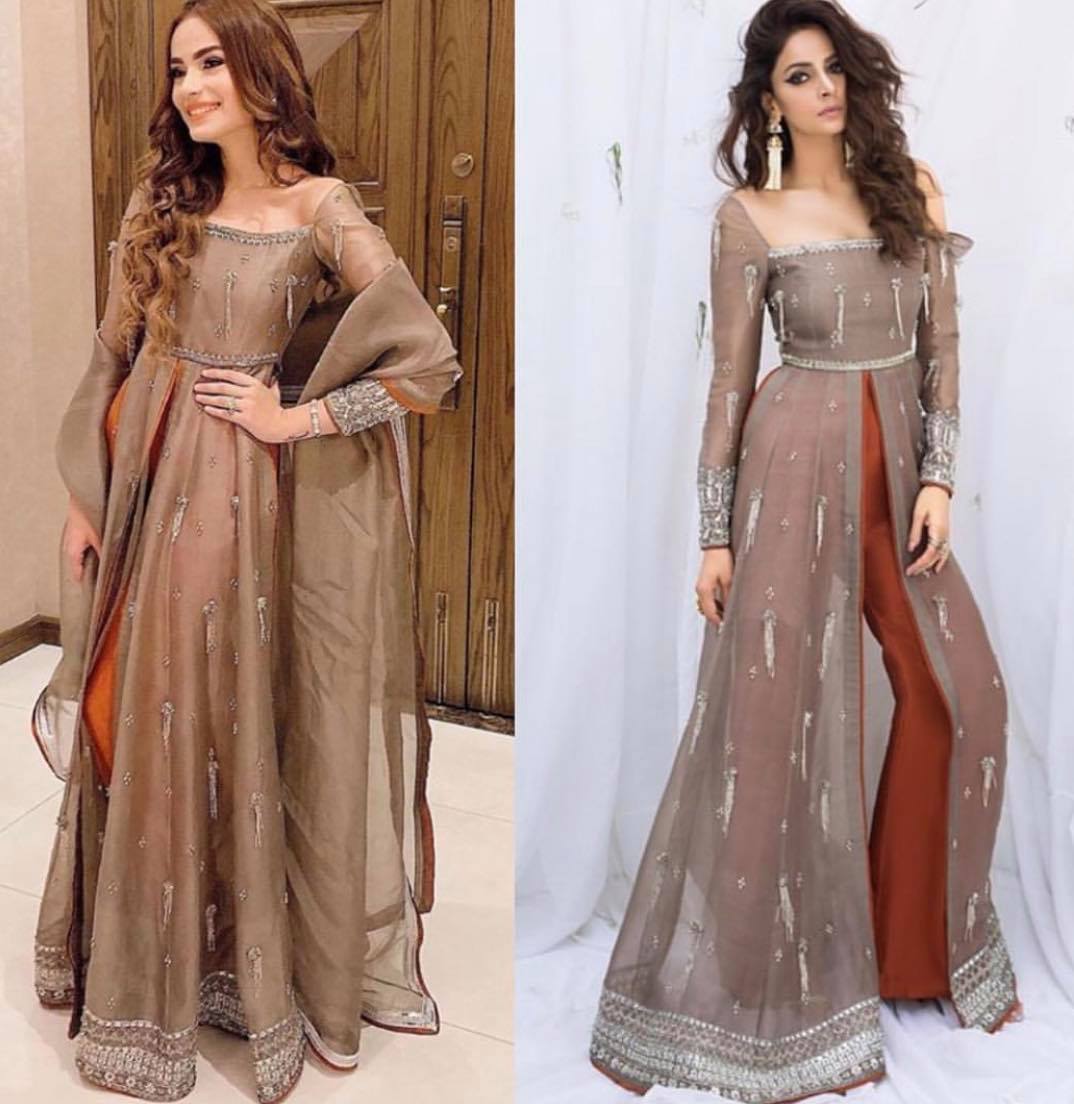 Keeping It Cool
Looks like Urwa and Mawra love sharing clothes just like any other sisters. Both of them look cool and they accessorized their look slightly different.
How do you like their style?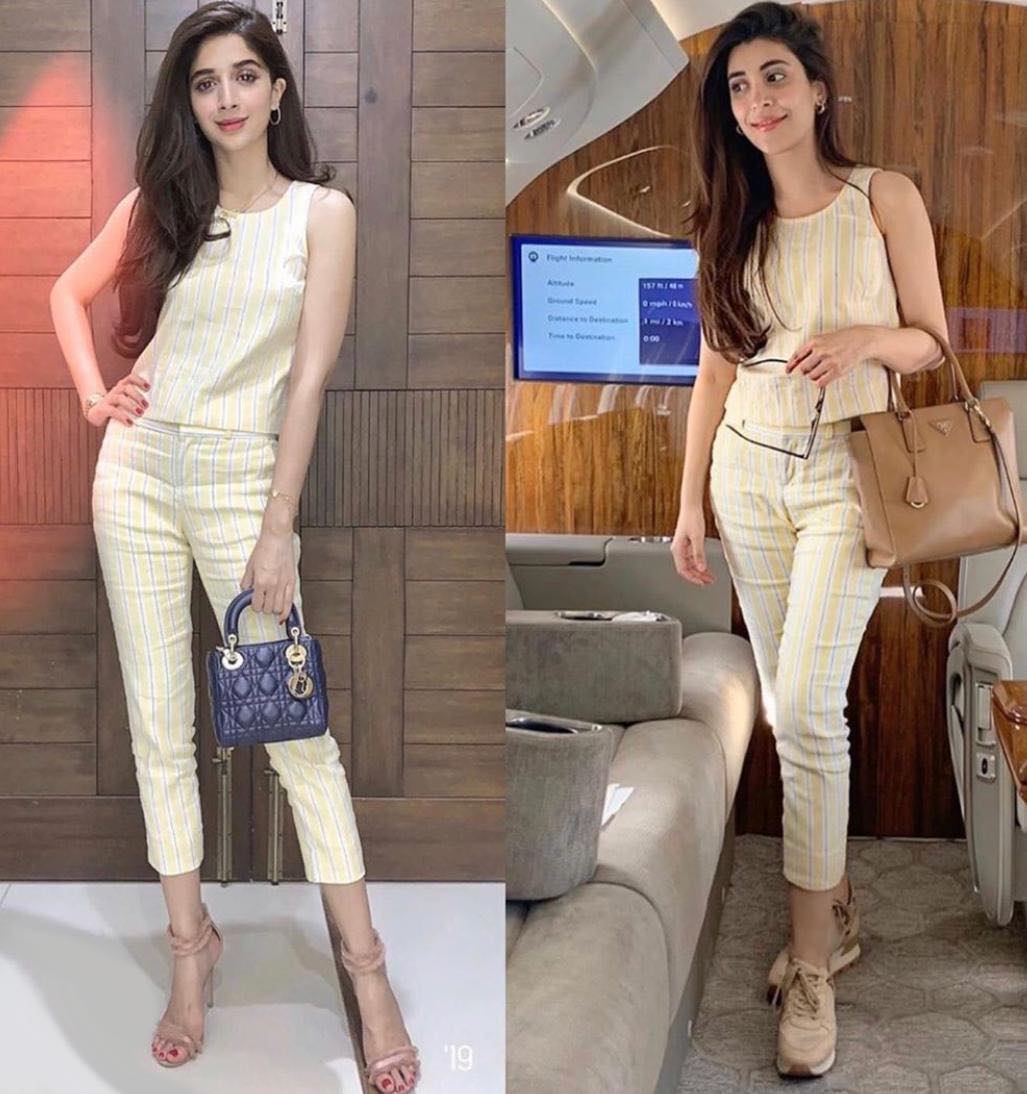 Completely In Tune
We love this musical number! The color combination is nice and cool. Zara Noor Abbas and Nida Yasir carry it with grace and style.
Whose look is your favorite?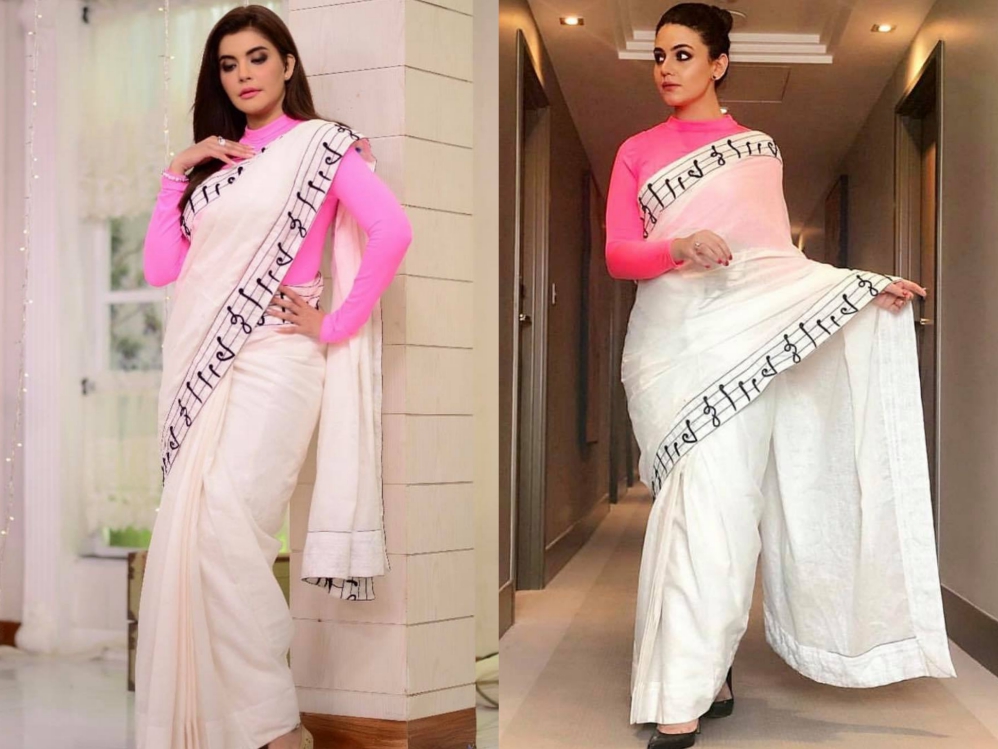 Ayeza Khan and Aiman Khan
Two really popular ladies from the world of showbiz, Ayeza Khan and Aiman Khan, were seen wearing the same outfits. The color of the dress is appealing and we love how it is designed. This is also a Faiza Saqlain outfit which is popular among celebrities.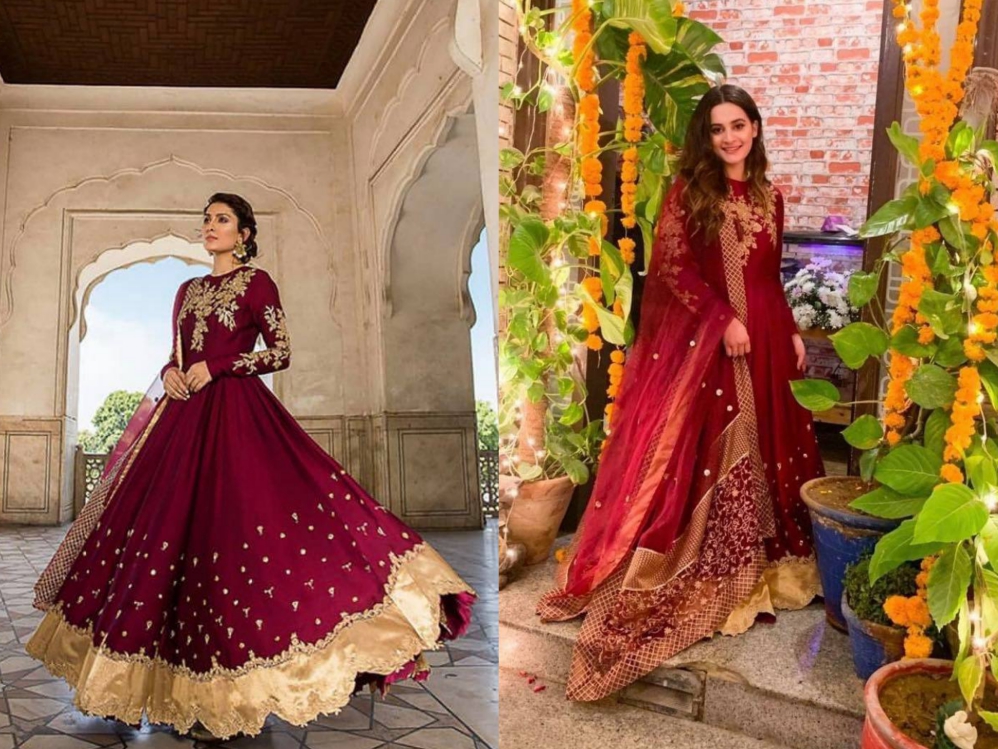 Fairytale Look
Mahira Khan wore this stylish outfit while promoting her film and Momina Mustehsan at an award function. Both of them look like the walked out of a fairytale.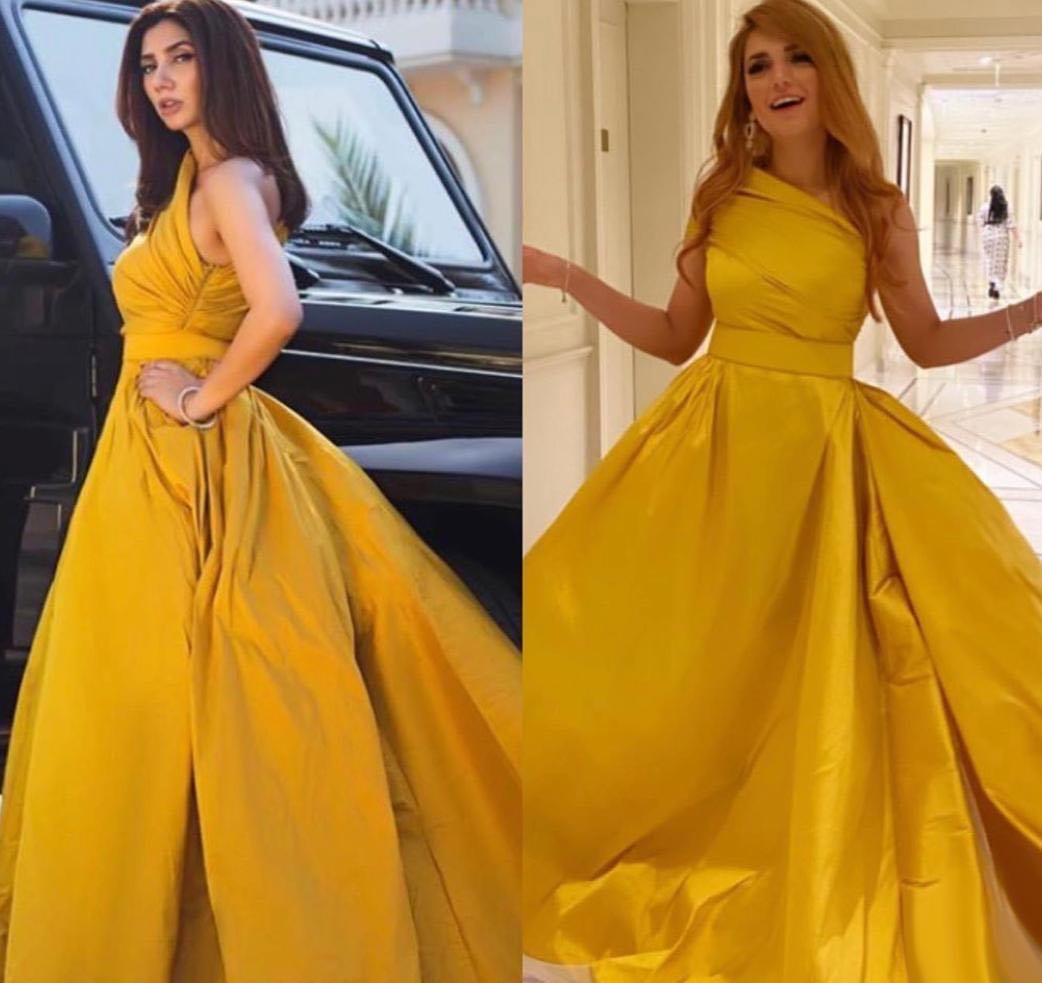 Which one of these outfits do you like the most? Share your views in the comments section.