"Shadi kabhi bhi is tarah nahi kurni chahyeh ke kuch ke liye bhoj. Kuch ke liye tamasha aur kuch ke liye hasrat bun jaye."
 Don't these four lines describe the kind of marriage most girls dream of having nowadays? Most of the people who can afford it and those like Ayza and Hammad's family who cannot afford it too become a part of the rat race because of their children. Asghari and Amna had to be only two people who talked sense all through these two episodes. The men did not think they would have much of a say so mostly they decided to keep quiet and rest of the family members gladly followed Ayza and Hammad's lead. Although Aima is a very sensible girl but somehow personally I am not enjoying the stark difference in the personality of the two sisters, probably because we have had an overdose of sisters who are complete contrasts in the past one year. I would have liked it better if the story was about Ayza alone and it showed how a woman can change everything about a household (and not always in a good way!).
I have to say that I really enjoyed the way Hammad changed overnight, every little change in Hammad's personality made me chuckle because I have seen many such men around me. The way Hammad changes his priorities and does not even bother asking or even informing his mother was no exaggeration at all. Hammad takes everything in his own hands from the wedding cards to the changes in the function and gives the excuse "ab hamei dosto aur rishtedaron ke samne sharmindgi nahi ho gi" and Rafia buys it too. Am I the only one who felt like this line seemed like one of the funny –sarcastic-lame jokes that we hear at the end of Ufone advertisements?
I must give due credit to the director for doing a great job of showing the wedding functions, the details shown were totally in line with the story. Usually there is a lot of hullabaloo about marriage functions in dramas but they are never shown properly because of obvious reasons. Hamnah's In Laws also expect a grand wedding like that of Hammad and I am thinking that this is only the beginning of the series of problems that Rafia is going to face due to the changes Hammad has decided to made in their lifestyle in general too and not just the wedding function. Honestly speaking, I was not expecting Rafia to be as understanding as she is being till now. Could it be because of all the things that her bahu brought with her? It was very evident that Ayza was out to impress her In Laws and she succeeded too. I really liked it when Asghari said, 'agur unhu ne apni aukat se unchi chalang lagai hai tu iska yeh matlab tu nahi ke hum bhi thapar maar maar ke apna muu laal kur lei"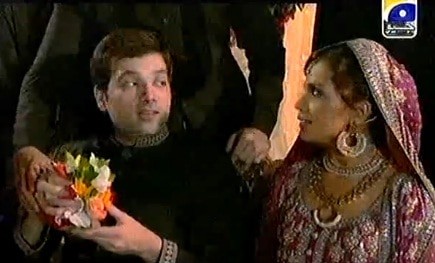 The Ayza/Hammad track definitely kept me hooked through these two episodes because I found all the happening extremely relatable. The Aima/Hashim track on the other hand seemed to be quite repetitive and the contrast factor did not appeal to me much. Although Aima told Hashim loud and clear that her parents could not afford to buy her a car but he is still expecting one…all I can say is that shame on him and every man like him! Sadly there are many such men in our society who openly ask their wives to be or their families for things and later on boast about it too.
All the actors did a wonderful job in these two episodes but there were times when I felt like Amina Sheikh wasn't very well-suited for the role. Samina Ahmed and Ayesha Khan(senior) both are spot on as Asghari and Akbari. Some of the scenes were more predictable than usual, I could actually tell what response someone is going to give to someone and when someone is going to hang up the phone, on what note the conversation will end etc. Overall, I enjoyed these two episodes much more than any of the previous episodes mainly because I found the changes in Hammad very relatable and interesting, Umera Ahmed most definitely has great observation and she has penned down these characters perfectly.
Fatima Awan.