Shafaq (Rahma Ali) sees the silhouette of a "mystery man" in her dream. She is terrified of him, and wakes up gasping for breathe.
This was the opening sequence of Chupke Se Bahar Ajaye, A-Plus Entertainment's latest offering. It has been directed by Owais Khan (director of Marasim) and is Ahsan Khan's first production, along with Meraj-ud-din.  The writer is Mansoor Saeed.
I don't normally like dramas that involve social issues, mainly because they lose their element somewhere in the middle of the first episode and I have the "been there, seen that" feeling, but this opening sequence was enough to attract me, mainly because it involved mystery.
The main protagonist of the play is Saira (Sajjal Ali) who is an irresponsible, messy, dreamy and complaining girl. Saira has many complains about her life. She hates the fact that she was born in a poor family and has BIG plans for her future . Lakh pati se bhi shadi hogai tou lag pata jaye ga!  
Ek tum aur tumhari hasratein!  Saira's sister is getting married and on her wedding day, cherishes the moments she spent with her sister. The conversation between the two sisters depicted Saira's inferiority complex. Aesi zindagi se tou jitna door hojao acha hai! 
Shafaq is Saira's best friend and even though she is rich, she too, has a complex. She thinks she is not as pretty as Saira. I don't understand the point of casting Rahma Ali for this role since she is really beautiful.
Shafaq suffers from different allergies since childhood and has to use a lot of medicinal drugs. That is the probable cause for her dullness. The medicines never get to fulfill their purpose because Shafaq refuses to use them and throws them away.
Laila Zuberi plays the role of Saira's khala who is married to Faiq (Javeid Sheikh) and is well-off. She has a son named Saqib (Ahsan Khan). Saqib is the part 2 of Hashir from Mausam.  No kidding! (The only exception is his good relationship with his mother)
Saqib's mother tells him that her sister married without their father's consent. That's why he cut off all relations from her. He not only stopped the sisters from meeting each other but told Faiq to do the same. Despite this, Saqib's mother used to meet her sister. Saqib is aware of this. Chupke chupke se milti hain na unn se ?
After arriving at the wedding, the conversation that took place between the two sisters was cute as well. The way Saira's mother hugged her sister and said Ab mujhe tanha nahi chorna, aati rehna milne, was heart-warming.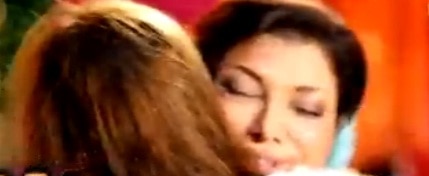 Saira and Saqib meet when Saqib brings a truckload of wedding gifts inside his khala's  house on his mother's orders. He falls for Saira the moment he sees her. This again reminded me of Masuam. He had planned to leave for a movie with his friends, but stops when he sees Saira dancing. Yani ke rishta pakka?
Shafaq senses that Saqib has fallen for Saira. Tumhe ghoor ghoor kar dekh raha thha!  The reply was, bandar bhi nache tou log usse dekhte hain!
After the boring dance scene, came the last scene of the episode. The reunited family stands in a circle and Saqib tries to make conversation with Saira and Shafaq. Shafaq's facial expressions suddenly change and she remembers that Saqib is no other than the man from her dream! That's when she loses consciousness.
So a lot happened in this episode of CSBA. It kept me hooked despite the stereotypical "love-at-first-sight" and the weird dance scene . The direction and acting was definitely top-notch. I am already looking forward to episode 2!
Do share your thoughts about this episode of Chupke se bahar ajaye!
Areeba Mohsen