Throughout the episode I was feeling sorry for Maryam and all that she was going through. The drastic change in Zayaan's attitude towards Maryam is very shocking, I expected his attitude to change once he got to know about the upcoming baby but I was left disappointed. My heart went out for Maryam when she imagined a caring Zayaan who was happy to hear this good news, but that was all her imagination and it was totally different from the reality. Maryam is making excuses on his behalf to try to make sense out of the situation.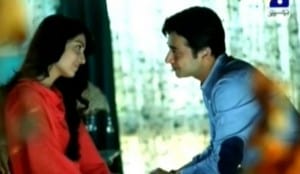 Zayaan is least bothered about Maryam now and she is left all on her own to deal with her mother-in-law and sister-in-law whose behavior towards her is turning worse by the day. The way Afshah rudely told Maryam to go away when she came to sit with her was pretty insulting. I do not know how Maryam stands all these insults from her in-laws! Even Nusrat is a heart less woman who does not even care about Zayaan's child. Her attitude has not changed one bit and she has also started to brain wash Zayaan against Maryam and her family.
Zayaan gave her family a very cold treatment when they came to his house to congratulate him. He rudely excused himself and announced that he was going to Singapore. The surprising part was that he did not even inform Maryam that he was going to Singapore before hand but he did remember to inform his mother about his upcoming trip. Maryam's mother saw all this and she started regretting her decision to get her daughter married in that house. What is the point of regretting now that her life has been totally ruined! Even Zayaan is no longer by her side and there is no one to support her in that house.
Faiza again plays her game and goes to Zayaan's house to congratulate Maryam and mixes the solution Umair gave her in Maryam's juice. This caused Maryam's health to deteriorate and when she went to Nusrat's room to seek her help she got no response from her. There is simply no limit to Nusrat's cruelness towards Maryam, atleast she should have helped her for the sake of humanity if nothing else. When Tasneem informed her about Maryam being in the hospital, she gave a very stern reply and she did not bother to go and meet Maryam as she was not important enough. It seems doubtful that her attitude towards Maryam will ever change now! She is trying her best to manipulate Zayaan and he always listens to her mother which is the main reason for the growing distance between Zayaan and Maryam. If Zayaan married Maryam then it is his responsibility to keep her happy but his indifference towards her is breaking Maryam's heart.
This is what you call a big mess! Why does Faiza always fall for the guys who have no interest in her? First she fell for Zayaan and now Umair! Fazia thinks the reason why Umair is helping her is because he likes her and apparently she has also started to like him. She is totally unaware of the truth that she is just a pawn in Umair's revenge game and that he is already involved with a married woman. She also admitted her feelings to Afshah who was relieved to hear that she has started to like someone else. I cannot even imagine what will happen when Faiza will get to know the truth about Umair!
Faiza was upset that her plan to get rid of Maryam's baby did not work and now I am sure she will come up with some other plan to hurt Maryam and the baby. In Maryam's eyes, Faiza is a true friend who is always there to make her happy. Faiza even went to meet Maryam when she was admitted at the hospital and Maryam again got touched by her thoughtful gesture.
Maryam is in for a rough time ahead now that Zayaan is not supporting her anymore. She will have to deal with every difficult situation alone. I am curious to know what will happen next. Will Faiza's plan succeed? Will Nusrat be able to create more differences between Zayaan and Maryam? There is a huge misunderstanding coming up according to the preview of the next episode. Let's see what happens next!
Till then!
Mariam Shafiq