The story definitely took a big leap forward in this latest episode and the "pattern" that was being followed till now was broken. Mina's decision to patch things up with Asad may just have a very positive impact on her life. For now she maybe staging everything to win Asad's confidence but gradually when he starts giving her the love and attention she has been looking for, she might just change for good. But then Asad's new secretary may prove to be a threat; I find Asad's interest in his secretary off putting perhaps because I don't like her at all. Her confidence and khuddari hasn't appealed to me one bit till now. The character could have been very impressive if it was being played by someone else. 
Shaheen's efforts seem to be bearing fruit. It is quite apparent that Mahmood will not be falling for Shaheen anytime soon but Atiqa feels insecure because of Shaheen's behavior. The confrontation between Shaheen and Atiqa went to show that Atiqa will do anything to keep Shaheen away from her husband; I am waiting to find out what she is capable of doing because until now she seems like a very harmless person.
The mystery regarding Mina's sessions with the psychiatrist was solved today too. The viewers were wondering whether the psychiatrist actually was falling for Mina's lies or he knew that she was only making up stories. How is the psychiatrist going to deal with Mina now that he knows that she was telling lies? Until now he has been confused but I must say that he took a great deal of time to talk to someone in the family in order to clear this confusion. The psychiatrist has not been able to help Mina in any way at all apart from helping her vent out her anger.
This episode did not revolve around Mina alone like all the previous episodes. An equal amount of time was given to Shaheen and Asad's track. For a change the latest developments in the Shaheen/Mahmood track have made it more engaging but I could happily fast forward the scenes with Asad and Asma in them. Just like Daniyal and Alina's romance, this new relationship has absolutely no charm.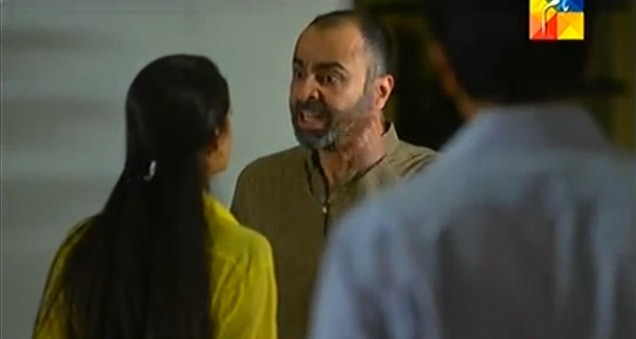 Despite of everything that Mina has done till now, I still feel for her character and hold her father responsible for her condition. Even today what Mahmood says today after hitting her was very wrong. This episode was much more entertaining than the last one. I hope that the show moves in the right direction now that the pattern of Mina's adventures has been broken for some time. Right now, I am more interested in finding out how Atiqa teaches Shaheen a lesson. I have a feeling that there might just be trouble ahead for Atiqa and Mahmood. Sanam Saeed like all the other episodes was the star of the show even today. She has added small touches to this character that makes it stand out.
Fatima Awan