Hum Awards 2019 took place in Houston, USA today and just like any other award function, this was a star-studded event which was attended by all the big names of Pakistani showbiz industry. Award functions always give a chance to the celebrities to look as glamorous as they can. Award functions are lit with the celebrities and they get to experiment and carry the looks they usually do not get to in the dramas or movies that they appear in. In dramas and movies, celebrities take up the looks of the characters they play but when it comes to award functions, they get to showcase their personal styling preferences and their choices.
In any award function, there are always some celebrities that stand out for the right or wrong reasons and Hum Awards 2019 was no different. Just like all the previous years, this time around we got to see some 'creations' that left us speechless, not because they wowed us but purely because they came as an utter shock. With such amazing designers and stylists that our celebrities have access to, some of them chose to look fashion faux pas. Our celebrities represented Pakistan and its showbiz industry on an international level, so they definitely should have gone for the styling which had represented the potential of Pakistani fashion designers in its full potential.
Here is the list of Top 10 Worst Dressed Celebrities at Hum Awards 2019:
Iqra Aziz
Chinese Copy of Barbie
Iqra Aziz is gorgeous and yes, she looks like a doll but not at the night of Hum Awards 2019. The moment we looked at Iqra Aziz, the first thought to cross the mind was that her dress was nothing but a disaster. It is good that she went all out with the color choice but then again, Iqra Aziz proved why this color is a lethal choice because it is hard to make it work and look good. The overall styling of this dress was totally off. Some sprinkles of rhinestones on her sleeve and creases of the dress, that huge frill which is nothing but a distraction – all of this screams a recipe for disaster. It was amusing to see Iqra Aziz looking bad with so much confidence. Her dress reminds us of the Barbie replicas that are sold at a Dollar Shop, where the doll itself is cute but the dresses that they are clad in are poorly stitched with cheap fabrics and bad fashion sense. The hair and makeup was the best that she could do but somehow it has added a lot more age to her than she is. Better luck next time Iqra!


Sanam Jung
She Is A Disco Dancer
We are not sure whether Sanam Jung was inspired by the Star Wars or Mithun Chakraborty's classic song 'I'm a Disco Dancer' because whatever she is wearing (doesn't even deserve to be called a dress) is a hideous mystery. The stripes are never out of fashion but this piece shows how attempting to take stripes on a glamorous level can be such an epic fail. Sanam Jung has lost a lot of weight and seems like she felt comfortable with the thought of rocking a modern western outfit but this looks like an experiment gone absolutely wrong. The fit of this hideous mystery is totally unflattering on Sanam Jung's curves. The designer tried very hard to accentuate her slim waist after her weight loss but failed miserably because the overall look is such a fail. Oh yes, this hideous mystery seems to have picked the pattern from the infamous night suits of Bananas in Pyjamas or may be Cleopatra? Sanam Jung was one such celebrity who always wore gorgeous eastern outfits on award functions which used to bring her a lot of positive and appreciative attention in the past, so not sure why she didn't opt for an eastern outfit this year around too? May be after her weight loss, Sanam Jung is trying to experiment more and make a statement but we'll suggest Sanam to stick to what she looks the best in. Better luck next time Sanam!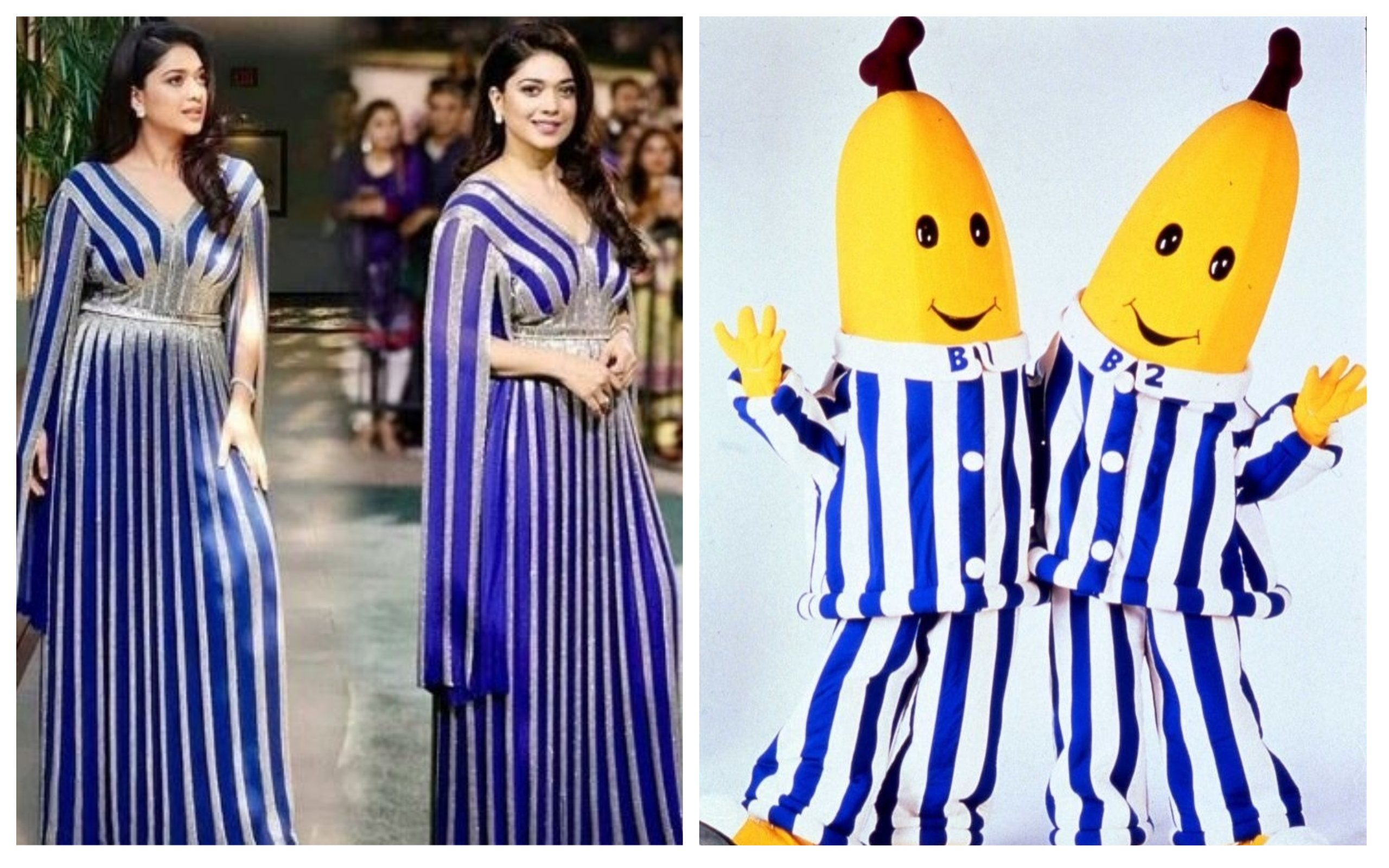 Ali Rehman
Heer Maan Ja Has Already Released!
When a celebrity spends a lot of time imbibing a character that they are playing on-screen, it is very much natural for them to take their time to unwind from that character and come back to their real self. Ali Rehman seems to be in that transitional phase right now. His movie Heer Maan Ja which released this year on Eid ul Azha was all about him playing the role of a dulha so it seems like he hasn't been able to come out of that character. Ali Rehman chose to wear an eastern outfit, a sherwani which is all about grace and elegance but he has shattered our trust in sherwanis for now. Yes, it is nice to be quirky and experimental but the classics that are already perfect should remain untouched. It is so obvious that Ali Rehman took his Ammi's shawl, gave it to his so-called fashion designer friend and got this in return. It also seemed like Ali Rehman was dressed as an ambassador for the wildlife. How many animals and plants can you spot on the sherwani he is wearing? The print, the color, everything about it is so feminine that it doesn't look good on a man that too in a Sherwani Better luck next time Ali!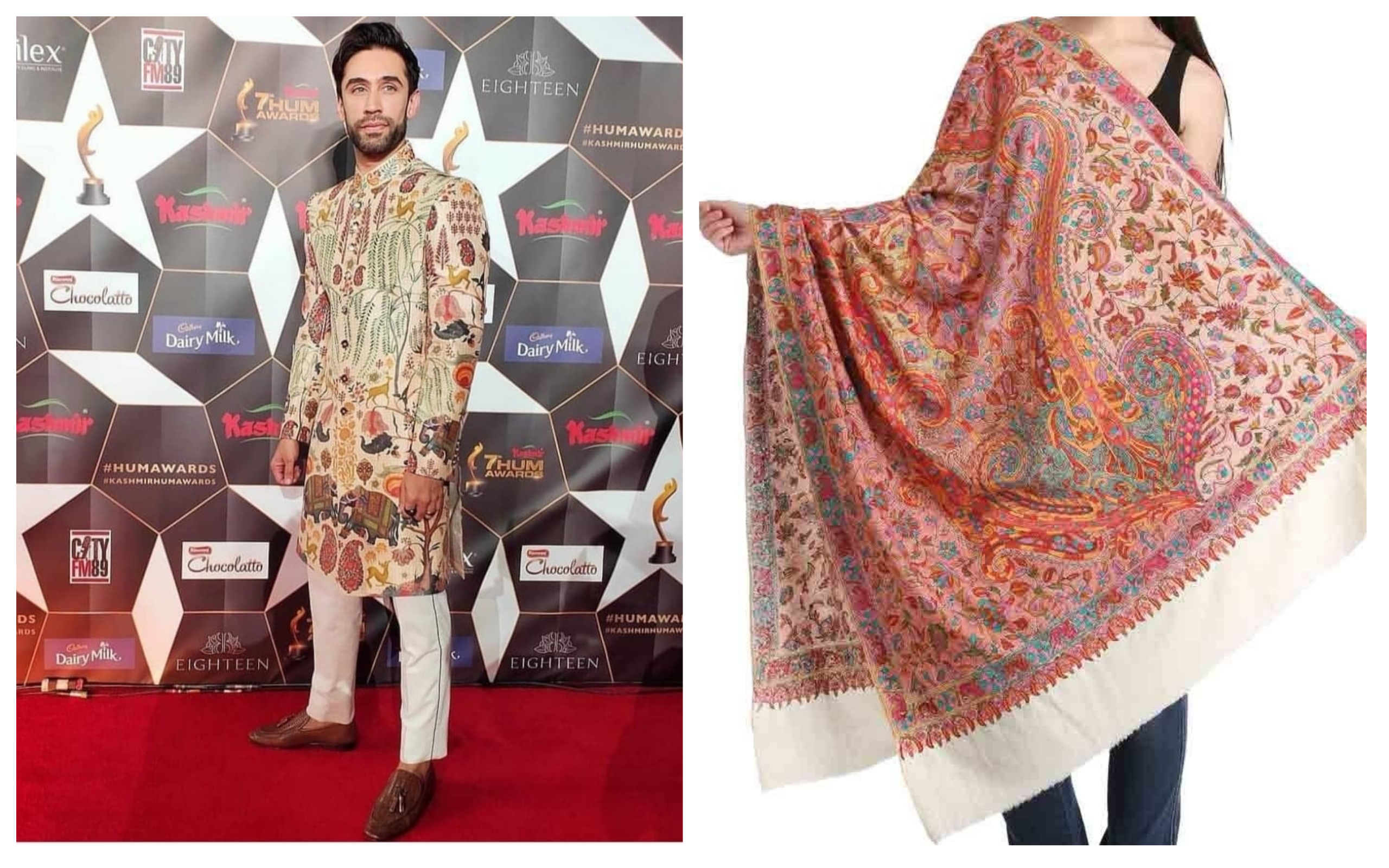 Muneeb Butt
Hum TV's Personal Butler
Muneeb Butt is a good boy, he does charity but on top of that he believes in spending when it comes to his personal happiness. Masha Allah Muneeb Butt has a lot of spending power, this was showcased last year when he and Aiman Khan got married. As a celebrity who loves everything on a larger-than-life scale and glamorous level, we are not sure how did Muneeb Butt end up looking like a butler? We are pretty sure he spent a lot on this tuxedo but didn't really have the aesthetics and taste for what actually works and looks good. The round shaped waistcoat and shimmery bow and coat is just too much. It is very fancy on a very gaudy level. Muneeb Butt tried very hard to make a statement with a shimmery tux matching his shimmery skin, but we hope he has learnt that he may rocking a shimmery skin in dramas or award functions is still alright but rocking a shimmery coat is actually shocking. Better luck next time Muneeb!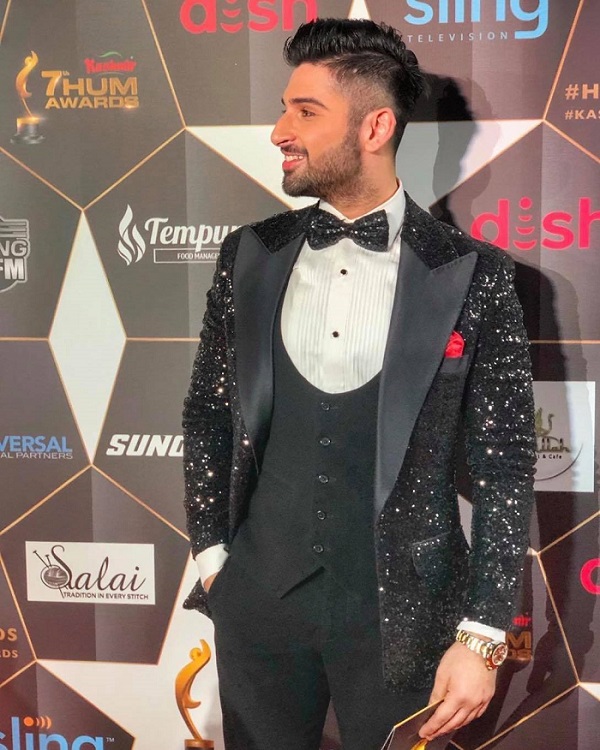 Nadia Afghan
Taking Nightgown to an International Level
Nadia Afghan is a phenomenal and natural actor but sadly, her sense of styling has mostly remained off throughout her career and she proved it yet again on Hum Awards 2019. We are unsure of the last time we saw Nadia Afghan and said wow! Yes, that actually has never happened. Nadia Afghan has always had an unconventional take on things in life but we so hope, she hadn't taken this trait too seriously when she was picking up her outfit for Hum Awards 2019. This outfit actually looks like a nightgown, nighty, a maxi that a woman wears for a comfortable sleep after a long day of work. Puffy sleeves, net fabric, the floral pattern at the bottom, everything about this nightgown is so outdated. Yes, we have always heard that fashion is what you feel the most comfortable in but Nadia Afghan should've known that taking the sleeping comfort to an award's night level was a bad decision. Nadia Afghan's hair and makeup is also quite loud but it is not doing her any favors. The curly side set hair, puffy backcombing, plum lipstick, kohled eyes – phew, it is all too much for us to process and grasp. Better luck next time Nadia!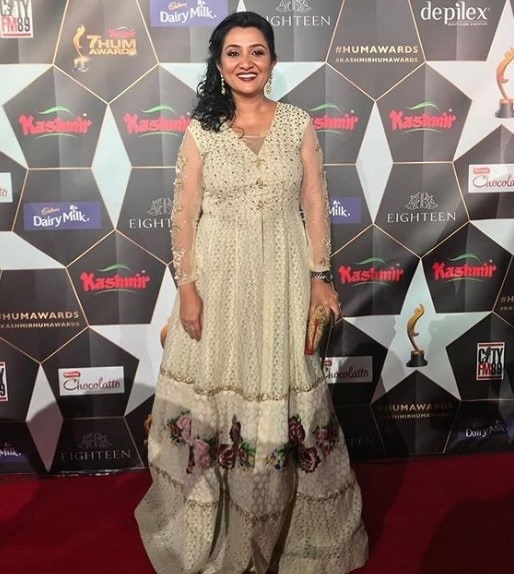 Ayesha Omar
Knitted Curtains Saree
Ayesha Omar was another one of those celebrities at the HUM awards who stood out for all the wrong reasons. She played it safe by sticking to the kind of dresses she is very often seen in. Ayesha Omar's take on a saree wasn't the least bit appealing. The colors she chose were extremely dull and her version of the saree looked like it was made with a knitted curtain. Ayesha Omar's excessive weight loss also showed clearly in this revealing outfit. Better luck next time Ayesha!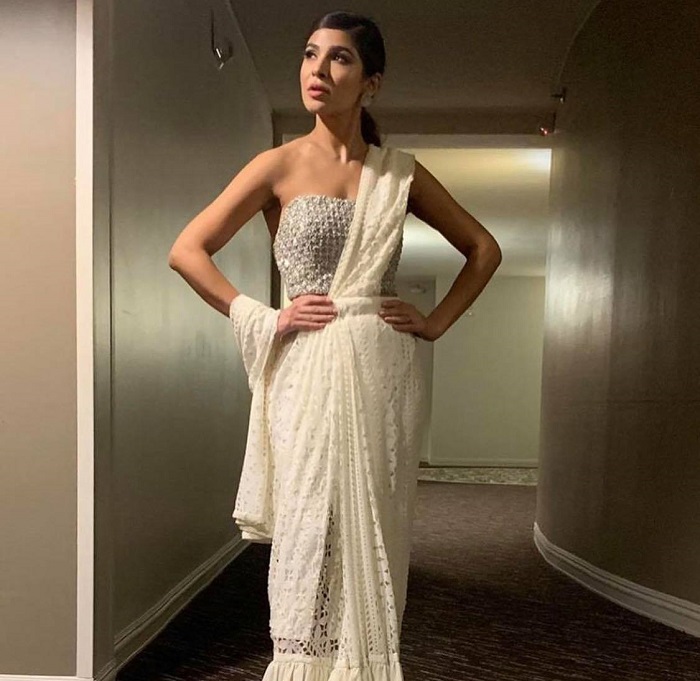 Kinza Hashmi
Cannes Look Gone Wrong!
Kinza Hashmi's dress, make up and even her styling is a complete disaster. Kinza's designer was definitely inspired from all the famous looks at the Cannes Film Festival and decided to experiment with them all! The final look was an over the top  hideous dress which lacks the finesse needed to make it look classy. Kinza is a young girl who could have gone with something more vibrant and fun instead of sporting a look which has done-to-death written all over it. Kinza's glowy overdone makeup does not do justice to her pretty face. Instead of accentuating her features, the makeup artist went overboard to perhaps give her a more formal evening look which did not work at all. As if this was not enough Kinza Hashmi decided to go with an equally fancy hairstyle. Kinza Hashmi unfortunately looks like the girl who waited all her life to go to an award function and when she finally got the chance to do so, she made sure she carried the fanciest possible look, leaving class far behind. We are wondering how Kinza carried that dress and how many cleansers it took for her to take off that bridal look make up which was definitely not well-suited for an award function. Better luck next time Kinza!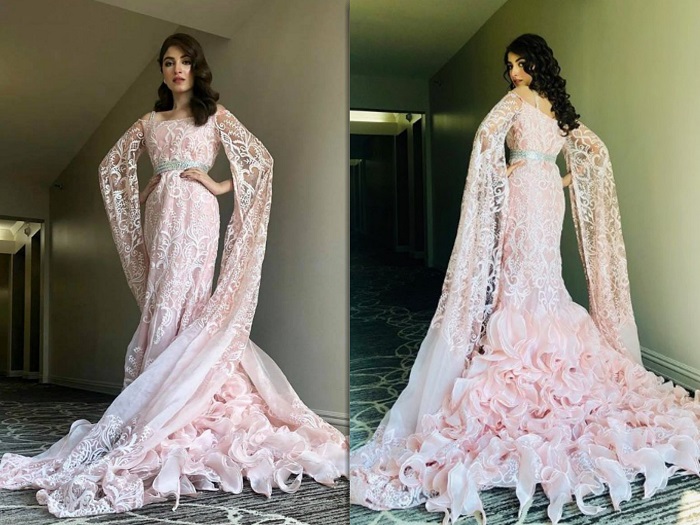 Mawra Hocane
Sanam Teri Kasam
There was nothing exciting about Mawra Hocane's outfit or her overall look. The worst part of her look was her aunt-ish hairstyle and her make up. Even with the best people at their disposal sometimes celebrities can make the worst choices. Once again, Mawra carried her clutch like a prized possession which she was really keen on flaunting. We are wondering why Mawra's stylist thought it would be a good idea to pull her hair back since she looks far better with her hair falling on her face. Also, her dress doesn't have much going for it either. Mawra has ditched the Cinderella look for good but it seems like she has a difficult time giving up the Sanam Teri Kasam avatar. Her tiny top and her overall look is inspired from her look in her Bollywood debut film. Mawra Hocane definitely needs to hire some good stylists who can broaden her vision so that she can start experimenting with her looks. Mawra Hocane's designer relied more on showing the hard work she had put into toning down her body and less on making her look perfect for the occasion by designing a stylish outfit for the occasion. Better luck next time Mawra!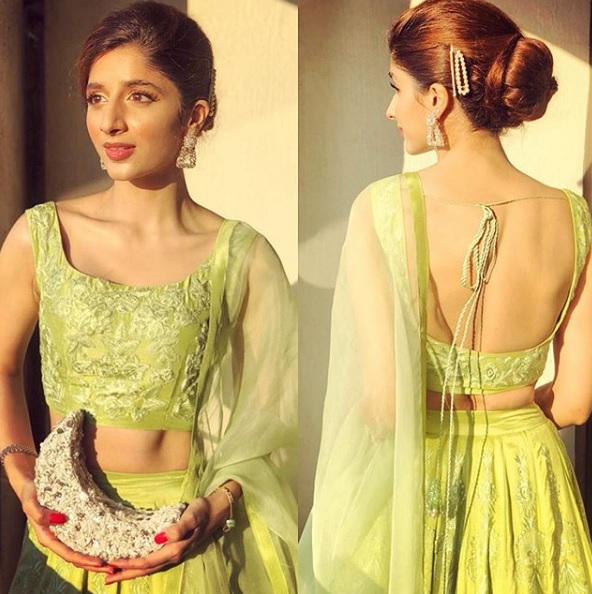 Hajra Yamin
Gola Gunda
Hajra Yamin's dress was the worst part of her entire look even though she carried it with confidence but it still looked like a colorful popsicle. Hajra's look is too plain for an award function. Her casual top and the texture of her skirt makes it look like she did not want to spend a lot of time looking for an outfit for the award function. None of the other celebrities wore a skirt therefore if Hajra pulled off this look properly, she could have stood out in the crowd but that was most definitely not the case here. Why would someone even think that it is okay to wear something like this to an award function where every single celebrity is the center of attention? Hajra Yamin's look is not only casual but her outfit represents the lack of creativity of the person who designed it. Better luck next time Hajra!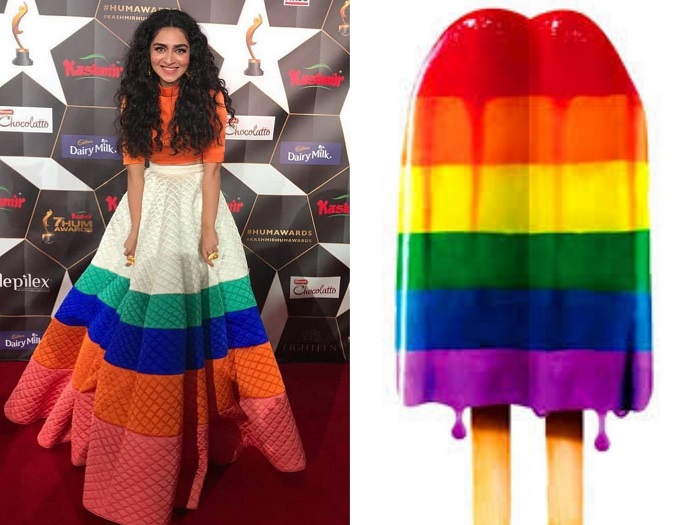 Kubra Khan
Bat Woman
Kubra Khan's dress was a complete disappointment, the color combination and the designing both left a lot to be desired. The frills on the sides were the worst part of this dress. Also, Kubra Khan is continuously seen sporting the same look in all the shows. The pattern of Kubra's dress is just as unflattering as the designing. This dress could have passed as a decent outfit if the frills on the sides did not make it look like they were going to open up at any given time and Kubra will be out there saving the day. This looked more like a formal Halloween party look. We love Kubra and would like to see her wearing more trendy outfits on award shows. Better luck next time Kubra!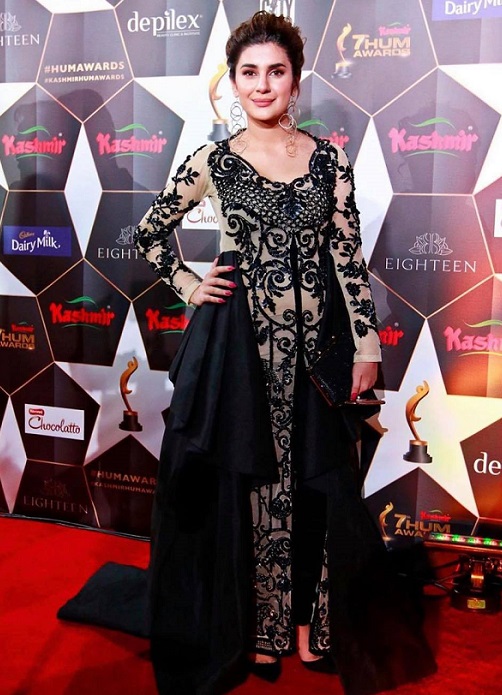 Do share your views in the comments section. Please feel free to add more names to the list.