Today's episode reminded me of the few Kashaf/Zaroon interaction scenes from college since there was absolutely no change in Zaroon's behavior towards Kashaf and Kashaf's behavior towards Zaroon remained the same too. Kashaf's attitude towards Zaroon was quite justified but watching Zaroon resort to the same old tactics was actually quite disappointing and somewhat annoying! Has he forgotten that he is engaged? He expects Asmara to change her ways because she is engaged to him now but he obviously feels that the same rule does not apply to him. I could not help but wonder what Zaroon meant when he said that Kashaf had changed. She was always confident and distant just like she is now. Was Zaroon talking about her appearance? It was actually nice to see Kashaf snub Zaroon when he talked to her right in the beginning of the episode since that was more in line with Kashaf's character than Kashaf's behavior in the brief scene at the end of the last episode.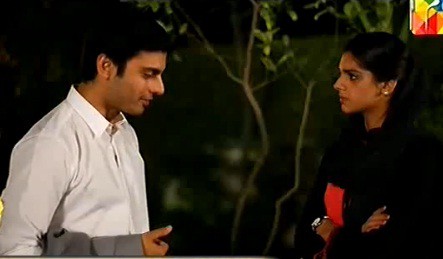 Kashaf has to be the only girl in Zaroon's life who did not fall for his charm immediately (remember the one week deadline) and that could possibly be the reason why Zaroon finds it impossible to let go of her. After Zaroon and Kashaf's meeting I really missed Sidrah and was delighted to see Kashaf having a conversation with Sidrah later on. I am glad that Sidrah is still in the picture because Kashaf's conversations with her give us more of an insight into what is going on in Kashaf's head than anything else.
This episode proved further that Murtaza is void of all feelings and is easily allured by whatever works for his benefit. His attitude towards his second wife and son has greatly changed and so has his behavior towards Rafia. I was hoping that Murtaza would have realized that he was wrong but I think that he is only being nice to Rafia because of Kashaf's new status.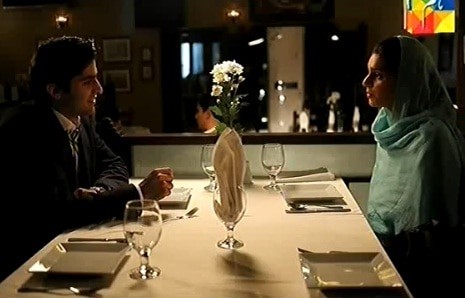 Osama and Kashaf have grown into good friends since they have been in touch with each other all these years. I was as surprised as Zaroon when Osama told him that he was in touch with Kashaf because no one mentioned it before this, not even Kashaf while talking to her sisters or writing her diary. It was somewhat surprising that Osama decided to propose Kashaf even after his conversation with Zaroon. But I must give the guy credit, he has guts! I am waiting to find out how Kashaf will respond since there was talk of a proposal in the next episode's promo. I remember Kashaf was very happy for Sidrah when she got married and thought that her husband was a nice man, since Kashaf has known Osama for so long she should know that he has the "character" she has been looking for in a man. I see absolutely no reason for her to reject this proposal but I wonder what is going to happen if she decides to consider it.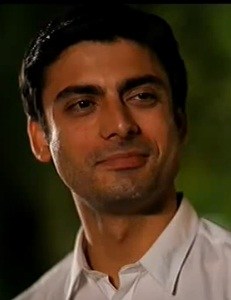 I am sure that other people have also noticed that the background music can be extremely strange (somewhat cartoonish) sometimes especially in scenes with Zaroon in them. Fawad Khan was absolutely brilliant in today's episode, his body language and dialogue delivery could not have been better. This latest episode gave me something to look forward to and I can't wait to find out how the story unfolds now.
Fatima Awan.