Let me start by confessing that the excitement with which I look forward to the next episode of Zindagi Gulzar Hai every week was completely missing during this week. Honestly speaking I was not exactly looking forward to being disappointed more. The last two episodes of Zindagi Gulzar Hai did not work for me, although there were bits that I enjoyed but they were not the kind of episodes that would make you look forward to more.
Zaroon and Kashaf finally talked about some of the most important things in their lives today. Kashaf makes Zaroon understand that even if two people are married, they still need some breathing space and trusting each other was such an important part of any relationship. Zaroon and Kashaf both were much more mature about everything today which was a relief and the communication between the two was much better than it had been in the previous few episodes. Kashaf may have married Zaroon but she has not completely made him a part of "her" world. The reason for this obviously is that she does not want to be "rait ki dewar" because she is too scared of being led down. I was expecting Zaroon to start another fight over the loan issue but that did not happen – another thing to be thankful for. Kashaf also did not react immediately when she found out that Zaroon had been reading her mail and later on when they talked about the issue, they resolved it like grown ups.
Zaroon shares how he felt about not having a mother by his side when he was young with Kashaf in detail and Kashaf briefly tells him about how difficult it was for her to trust men because of the kind of life she has lived. Kashaf may not write it in her diary or say it out loud but it was very apparent from her behavior that she still isn't sure if Zaroon will value daughters just as much as a son. Honestly speaking, the last scene did not exactly leave me with anticipation to find out what would happen next because I am quite sure that Zaroon will have absolutely no problem with having two daughters. He will probably have something nice to say about having two daughters.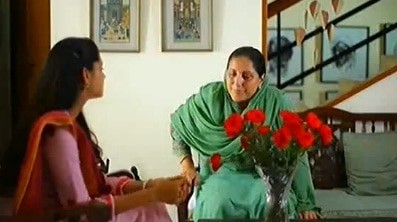 Ghazala had a complete change of heart today and she pleaded guilty! Kashaf has proved to be a role model for her which goes to show that she isn't such a bad person after all…at least not even half as bad as Murtaza – the real culprit who seems to have gotten away with everything. Rafia's reaction when she sees the roses in the living room was actually very cute. She asks Kashaf who bought the flowers and when she tells her that Zaroon brought them, she inquires "kis liye"!! I really felt for her at that point, obviously when you are married to someone like Murtaza such things do strike as odd!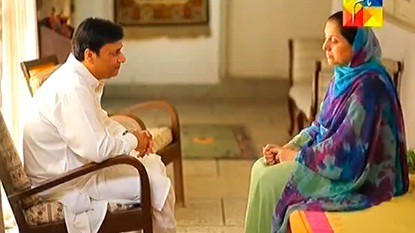 So, Murtaza apologized in the previous episode, handed Hammad over to Rafia and we thought everything was sorted between them but it came as a surprise that Murtaza is not going to help Rafia out with her problems. So, it is still a one way road; Rafia is going to go out of her way and help Murtaza out with his problems but she should not expect Murtaza to do the same for her. It was good however to see Kashaf and Sidrah helping their mother out without even informing her – all parents should have children like that.
How many married men and women out there could relate to the line, "Yeh jo tum poochnay se pehle poochti hun na us se mujhe bara dur lagta hai"?  Apparently, Zaroon will only have coffee dates with Asmara only if he does not have prior commitments with Kashaf and the two are not on good terms with each other.  The preview for the next episode suggests that Zaroon's ties with Asmara will cause a major rift between Zaroon and Kashaf. I hope that the entire issue is handled nicely and Zaroon finally realizes that in most cases the same rules apply to husband and wife both. I have to say that this episode covered a lot of things but it did seem like too little, too late. The preview for the next episode, however seems very enticing indeed, let's hope that it delivers. Today's episode can best be described as the calm before the storm. Please share your views about this recent episode.
Fatima Awan