This episode started off on a very positive note and I really did not see all the fireworks coming. Zaroon and Kashaf's conversation about good parenting, sharing and not talking about problems was very mature and Zaroon deserved the credit for it completely. He wanted to listen to Kashaf's problems and do something for her but Kashaf is still too used to solving her problems herself and won't allow Zaroon to do so for her. The whole "sharing" conversation actually seemed ironic later on in more ways than one! Kashaf was so sure that Zaroon won't hide anything from her ever …why would she expect that by the way if she believed in leading a "secret life" herself! Does Kashaf have double standards too? Okay that was a joke, lets not even go there!

Of course we all knew that there was going to be a confrontation between the two but I had no idea it was going to be so intense and fiery. Sanam Saeed and Fawad Khan both were brilliant in that particular scene and the timing was perfect. Kashaf said everything to Zaroon that she should have said and Zaroon also came out with everything that had been weighing on his mind till now. The confrontation could have been even better if the same issue of "why did I ever get married to you in the first place" did not pop up and Kashaf did not accuse Zaroon of having an affair directly. Kashaf did prove today that she really is too emotional and too insecure for her own good. Zaroon's reaction to the Osama proposal now seems much less unreasonable considering what Kashaf did today. The accusation just went to prove that deep inside Kashaf still feels the same way about Zaroon as she did years back and had never really learned to trust him fully. Yes Zaroon is a hypocrite, he has double standards but surely a wife should know her husband better. My thoughts are based on what we have seen till now, in the next episode it seems like Zaroon is actually going to be talking to Asmara about his marital problems (Fawad Khan Stop doing that! First Madiha, now Asmara!). That of course is something very very wrong, So, I may have something completely different to say after watching the next episode. I am all for Kashaf walking out on Zaroon but only to teach him a lesson and to make him realize how wrong he was with his double standards, not because she thought he was cheating on her.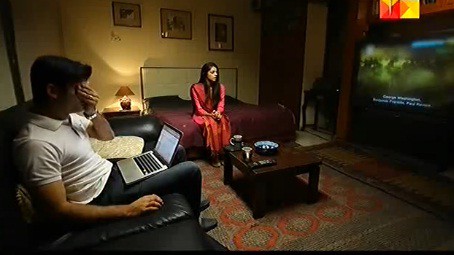 Everything that happened in the past few episodes went to show that Kashaf was still in the process of trusting Zaroon without any reservations, so this new revelation came as a rude shock. Kashaf may have walked away from Zaroon but her reaction to the "divorce nightmare" went to show that she was not ready to leave Zaroon. It is obviously not that easy to walk out of a relationship and Kashaf realizes that now.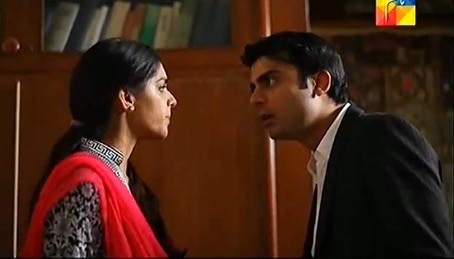 The most satisfying aspect of today's episode had to be the way Rafia refused help from Murtaza. Not only this, but Rafia also feels for Murtaza because he managed to ruin his life with his own two hands. She feels she has managed to make the most out of her life whereas Murtaza completely lost everything. I loved the way Rafia explained to Kashaf how she had won and Murtaza was left with nothing. This whole time Rafia was being "polite" to Murtaza only because she felt sorry for him and not because she wanted recognition from him. Today, after so many days I felt the same way about Rafia's character as I used to in the beginning episodes; absolutely loved the positivity of her thoughts and the way she looks at things.
This episode proved to be very engaging and intense – I guess we all deserved it too! This was a great episode in terms of acting and the direction was excellent too. The only problem I have with the show is ke Kashaf ko shukar ki philosophy abhi tuk samajh nahi aye – wasn't this shikway se shukar tuk ka safar? It seems like Zaroon and Kashaf's problems will not be resolved in the next episode…how many more to go?

Fatima Awan